This post may contain affiliate links, which means we may receive a commission if you purchase through our links. Please read our full disclosure here.
This post will show you 13 group Halloween costume ideas that you can easily recreate with your friends.
Are you and your friends still stumped about what to be for Halloween this year? Try one of these easy group Halloween costume ideas that will incorporate your whole crew into the fun! (Plus make for the cutest group photos.)
Many of these costumes can be created using clothing or accessories you already own, though it's up to you whether you'll want to keep your look simple or go all out. Either way, you and your friends are sure to nail these eye-catching group Halloween costumes.
Related reading: 50+ Easy College Halloween Costumes from Clothes You Already Own
13 Best Group Halloween Costume Ideas
1. The Powerpuff Girls
Are you a trio of friends looking for a cute Halloween costume? Then you can't go wrong with The Powerpuff Girls!
Bubbles, Blossom, and Buttercup are crime-fighting, superpowered sisters, each with a distinctly adorable look:
Bubbles is blonde and always wears baby blue.
Blossom is a redhead and always wears pink.
Buttercup has black hair and always wears green.
You and your two pals can either get the same dress in blue, pink, and green and accent it with The Powerpuff Girls' signature black belt, or you can modernize your group's costume by each wearing a different monochrome outfit (so long as it keeps with each character's color palette).
Depending on you and your friends' hair colors, you may also want to wear wigs with each girl's hair signature hair color, since it is a big part of their look.
2. The Seasons


Get creative by dressing as the seasons: fall, winter, spring, and summer. This group Halloween costume is ideal for a group of four friends.
There is a lot of room for creativity with this group costume since there is no one "right" way to execute this. Here are some ideas:
Each friend can wear an outfit featuring the color palette that coordinates with her season. For example, winter could wear white, fall could wear orange or brown, spring could wear pink, and summer could wear yellow or green.
To emphasize that you are a group, consider each wearing one item that is the same but in a different color, like a tutu skirt.
Head to a craft store to pick up a garland that coordinates with your season, which you can either wrap around your body or make a flower crown out of. Think a garland of colorful leaves for the fall, a garland of flowers for the spring, a garland of greenery or fruit for the summer, and a garland of snowflakes or silver tinsel for the winter.
Make sure to play around with your makeup (draw designs, add glitter, etc.) to accentuate your seasonal looks!
3. Euphoria Cast
If you and your friends want to look stylish and culturally relevant on Halloween, dress up like the cast of HBO's Euphoria. No doubt you'll be able to use clothes you already have in your wardrobe since this modern-day show features current-day fashion—and while you may not be wearing their outfits to class as the characters do, the outfits definitely work for Halloween!
To dress like Maddy Perez, opt for cut-outs, low waistlines, tight-fitting clothing, and don't forget some long, clacky nails.
When dressing like Cassie Howard, keep it sweet with feminine clothing in either pink or blue.
Rue Bennett goes for graphic print t-shirts, sweatpants, and Converse Chuck Taylor All-Star sneakers.
Kat Hernandez's style on Euphoria changes a lot from Season 1 (corsets, latex, etc.) to Season 2 (trendy and feminine), so take your pick from these two aesthetics.
Go for a unique, layered look if dressing like Jules Vaughn, with layered tops, a plaid pleated mini skirt, and combat boots or platform sneakers. Don't forget cool makeup.
Channel Lexi Howard with retro-inspired clothing that has an academia aesthetic; think corduroy, collared shirts, cardigans, and plaid pants.
For a deeper dive into each Euphoria character's style, check out our comprehensive Euphoria style guide here!
4. The Spice Girls
You just can't go wrong by dressing up as the Spice Girls! The iconic girl group from the '90s and early 2000s makes for a classic Halloween costume for five friends that isn't too difficult to put together using items you may already own.
Posh Spice is known for her LBDs (little black dresses) and strappy heels, along with sleek hair.
Dress as Baby Spice with anything that has a babydoll silhouette, plus knee-high socks, platforms, and pigtails. Bring along a lollipop, which was her signature accessory.
Embrace animal prints (cheetah, leopard, etc.) when channeling Scary Spice.
When you think of Ginger Spice, no doubt you think of her signature Union Jack mini dress and platforms. Wearing anything featuring the flag of the United Kingdom should do the trick, or red, white, and blue.
Go for an athletic outfit like a tracksuit and sneakers to dress like Sporty Spice.
For an added accessory, each friend can carry a pretend microphone or all wear matching microphone headsets.
5. Mean Girls Cast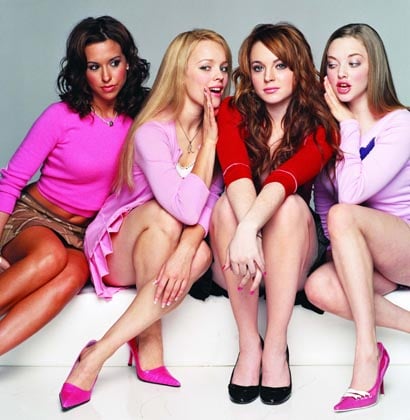 Mean Girls is arguably one of the most iconic movies of all time, having made a huge impact on pop culture — nearly two decades since its release, we are still referencing this movie!
To dress like "The Plastics" Regina George, Grethen Weiners, and Karen Smith, plus Cady Heron, you'll want to pull out the plaid pleated mini skirts, kitten heels, cardigan sweaters, and logo print tops for a girly Y2K vibe. Try to incorporate lots of pink into your outfits, too.
Some more Mean Girls costume ideas:
Carry a "Burn Book" that you can DIY or buy online.
No middle parts allowed! Note that all four girls have side parts, plus whoever is dressing as Gretchen will want to ensure that their hairstyle is voluminous since it needs to look like it's "full of secrets," of course.
For Regina's costume, you could cut two holes in a white tank top and wear it over a purple bra/bralette (or a purple tank top) for an instantly-recognizable look.
Your group can also dress like the characters during their talent show dance routine by wearing matching Santa outfits, or the characters during Halloween, with Regina as a bunny, Gretchen as a cat, Karen as a mouse (duh), and Cady as a zombie ex-wife.
If you have a larger group of friends who want to get in on the fun, others can dress as gothic Janice Ian, Damian in his blue hoodie and sunglasses ("She doesn't even go here!"), and sports star Aaron Samuels.
6. The Cheetah Girls
'Cause we are sisters, we stand together!
Throw it back to the aughts by dressing like The Cheetah Girls from the Disney Channel Original Movie that will always be a classic.
Not only is this group costume a chance to wear Y2K-inspired clothing that happens to be on trend right now, but you can also dress comfortably on Halloween, since wearing velour tracksuits is the most recognizable way to channel Bubbles, Chuchie, Aqua, and Do.
Galleria, known as "Bubbles," wears a pink velour tracksuit with a matching pink cheetah print headband.
Chanel, known as "Chuchie," wears a purple velour tracksuit with a matching purple cheetah print headband.
Aquanette, known as "Aqua," wears a light blue velour tracksuit with a matching blue cheetah print headband.
Dorinda, known as "Do," wears a yellow velour tracksuit with a matching yellow cheetah print headband.
Complete your costumes with sneakers and Y2K-inspired jewelry like pendant necklaces and thin hoop earrings.
7. The Kardashians
Love them or hate them, there's no denying the star power of the Kardashian family. As one of the world's most famous families, these ladies are always in the headlines, and you can't help but "keep up" with them!
This costume is a chance for your friend group to get glam, but all with a slightly different twist, since each Kardashian sister has a unique, identifiable sense of style.
For Kim Kardashian, steal the scene in an outfit that shows off your curves: think a full-body catsuit with gigantic sunglasses or a tight-fitting dress with stiletto heels. At the same time, you could opt for a more laid-back, Kim-inspired ensemble with some jogger sweatpants, cool sneakers, and a fitted t-shirt (as a nod to her brand, Skims).
Kourtney Kardashian's style has evolved since getting together with Travis Barker, so embrace her newfound rocker chick vibes with items like a biker jacket, platform combat boots, a choker necklace, fishnet tights, and anything leather, pleather, or studded.
Khloé Kardashian is a fan of tight-fitting clothing (like bodysuits and bodycon mini dresses), oversized sunglasses, ultra-long nails, and over-the-knee boots. She also embraces animal prints and sparkly sequins from time to time, giving you lots of options to work with.
Kylie Jenner's style is difficult to describe since it is ever-changing, but that's part of the fun when it comes to dressing like her. Put together a bold, fashion-forward outfit that has daring details like cut-outs, sheer fabrics, abstract prints, or a plunging neckline. Be sure to play with proportions, too: loose-fitting pants paired with a crop top is definitely a Kylie-approved look. (You could also wear a crown as a reference to her "King Kylie" persona, too).
Since Kendall Jenner is the model of the family, this gives you two versions of her that you can dress like: a runway model or model off-duty. Kendall's street style involves stylish clothing that isn't over-the-top, like jeans, tank tops, and boots; basically, anything you might wear yourself when you want to look extra put-together. You can also dress up more with heels and a runway-inspired look. (Kendall is also known for her love of riding horses, so you could also get away with an equestrian outfit as your costume).
If you're in need of one more costume, don't forget the matriarch of the family, Kris Jenner! Kris is almost always wearing a color palette of black and white and is known for her power pantsuits.
8. The Power Rangers
It's morphin' time! Morph your friend group into the Power Rangers, superheroes who wear color-coded evil-fighting outfits that are traditionally spandex full-body suits and helmets with opaque visors.
With this group costume, there's plenty of room for interpretation: you can either purchase actual Power Ranger costumes, or dress head-to-toe in your Ranger's designated color (pink, red, yellow, blue, black, green, etc.), preferably in leggings, bodysuits, or bodycon dresses.
9. Riverdale Cast/Archie Comics Characters
With Riverdale soon coming to an end, this Halloween is the perfect time to dress like the characters adapted from the famed Archie Comics.
You and your friends can either go the classic route with retro outfits inspired by the comic books or opt for the modern version with outfits inspired by the TV show.
There are tons of characters to choose from, so this group costume works for groups of all sizes, small and large!
Considering the TV characters wear modern-day clothing, they are going to be easier to dress as, since you can use items already in your wardrobe. Keep these Riverdale style tips in mind (and see our Riverdale section for more on each character's vibe):
Veronica Lodge wears classy clothing that often includes button-down shirts, structured mini skirts, pumps, and red or dark lipstick.
Betty Cooper has a more relaxed, bookish sense of style involving jeans, printed tops, sweaters worn over collared shirts, and her signature ponytail hairstyle.
Cheryl Blossom always wears red to match her red hair, along with red lipstick. Get Cheryl's look with a red biker jacket, red dress, or a red mini skirt, plus over-the-knee boots.
Toni Topaz is the badass Serpent Queen, so a biker jacket is a must, along with snake print clothing and combat boots. Plaid flannel shirts are also one of Toni's staples.
Other characters you can dress as include Tabitha Tate, Archie Andrews, Jughead Jones, and more.
10. Disney Princesses
Because honestly, who doesn't want to be a Disney princess?! At least for one night, anyways. With so many princesses to choose from, you and your friends shouldn't have a problem each picking a princess that suits you best. From old-school princesses like Cinderella and Jasmine to more recent princesses like Moana and Tiana, options abound.
You and your crew can decide how "official" you want your costumes to be — of course, you can buy your princess costume or DIY it by simply wearing colors that are associated with your princess. For example, wear yellow and blue for Snow White, green for Tiana, and light blue for Cinderella. Everyone can accessorize with a cute (and cheap) crown to emphasize their royal role.
11. Saved By The Bell Cast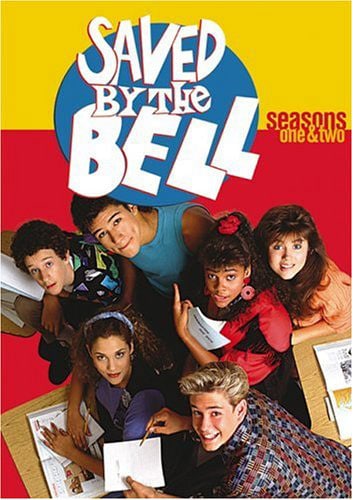 Take it back to the '90s by dressing like the cast of Saved by the Bell. This is easier than it looks because so many of the pieces you'll need are in fashion right now!
For Jessie or Lisa, grab some acid or light-wash jeans (preferably high waist or with a tapered leg), your favorite loose sleeveless t-shirt, some Converse or Keds, and a brightly colored windbreaker or cropped jacket.
For Kelly, grab a dress with dated puffy sleeves or a loud print and your favorite neon scrunchies. In short, anything you were wearing in elementary school should work.
If you're bringing guys, make sure they grab plaid button-ups to wear with their light-wash jeans.
Beauty Tip: For Kelly and Jessie's hairstyles, try a look with tons of volume–blow dry hair upside down, with curl mousse for Jessie, or with a root-lifting spray for Kelly.
12. Bratz Dolls
Do you and your friends have a passion for fashion? If so, try being Bratz dolls for Halloween! This group costume is an opportunity to glam it up with over-the-top makeup and outfits that give off major Y2K vibes.
The four main Bratz are Cloe, Jade, Yasmin, and Sasha, and while each doll has a unique look that you and your friends can individually try to emulate, there's also a lot of overlap, meaning your costumes don't have to get super specific to achieve the general Bratz doll effect. You can easily nail these costumes with clothing that you already wear for a night out on the town (crop tops, bodycon dresses, mini skirts), plus platform heels, trendy sunglasses, and ultra-glam makeup.
13. The Wizard of Oz Characters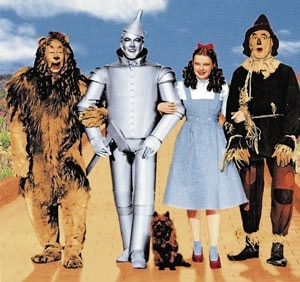 The Wizard of Oz is a no-brainer if you and a couple of friends are stumped for ideas. Lion ears and the right makeup can instantly transform you into the Cowardly Lion. For the Tin Man, attack a friend with a roll of tin foil. Scarecrow's look can easily be achieved with a plaid shirt, overalls, and some straw sticking out of the sleeves and collar, plus scarecrow makeup.
Dorothy is an easy costume to find in stores, or wear your own blue dress layered over a white top. Finish up the ensemble with some super simple braids that curl at the ends and a pair of red shoes (bonus points if they're sparkly!).
What do you think of our group Halloween costume ideas?
Are you doing Halloween with a group this year, or are you flying solo? Tell us about it in the comments!