This post may contain affiliate links, which means we may receive a commission if you purchase through our links. Please read our full disclosure here.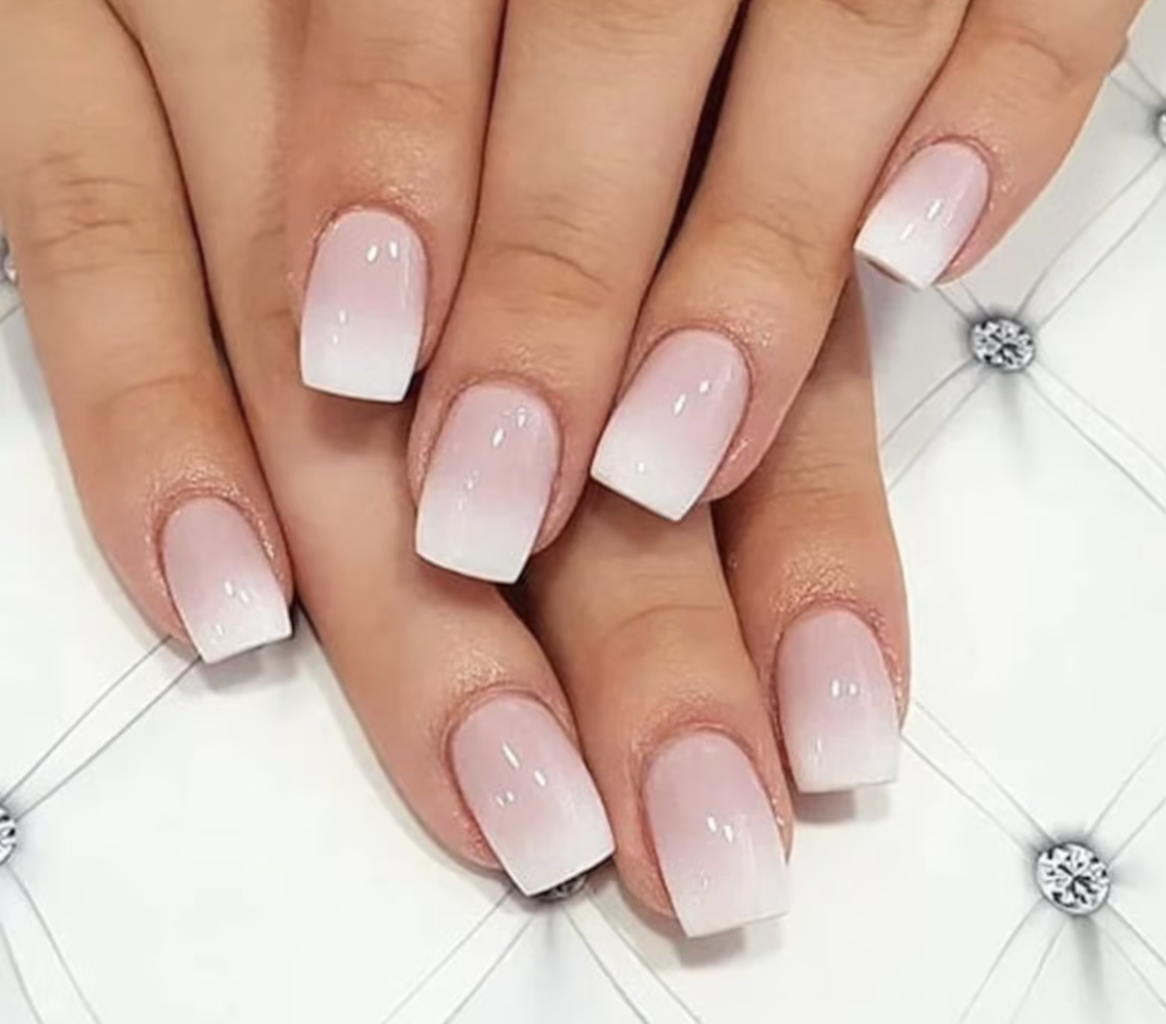 Guess what is making a comeback in 2023? The square nail look!
Once extremely popular in the 2000s, this nail shape has become a hot nail trend again, which means you should start thinking about all the new square nail looks you want to try this year.
But, if you haven't had square nails in a long time, you may be wondering what kind of square nail designs will give you a stylish nail look!
What I love about square nail designs is whether your style is classic, edgy, or somewhere in between, there's a square nail design that's just right for you.
But how do you find the perfect square nail design for yourself? Here are a few tips to keep in mind when picking out your next favorite square nail look!
How to Decide on a Square Nail Design
First, understand your style. Do you want a simpler square nail look, or are you going for something with more intricate designs? Also, are you looking to keep up with trendy nail designs?
Then, you need also to decide how long you want your square nails to be. What's great about the square nail shape is you can go super short or super long, depending on your lifestyle and preference.
And lastly, you should experiment and have fun with your square nail designs! Just because square nails are a simpler nail shape does not mean you can't have fun with your nail designs. Express your personality and go for it!
Now that we, to help you in your search for the perfect square nail design in 2023, I have compiled this list of 20 of the best square nail looks that you should totally try!
Square Nail Design Ideas
1. French Acrylic Heart Nails
This design is perfect for those of us who love French nails, but want to add a trendy design! With this look, you will be getting the classic French manicure look with a heart design that will make your French manicure stand out.
Just check out this video tutorial to see exactly how to get this fun and trendy square nail look at home. As a bonus, this can be done with any color you like, so you can express your style with this mani.
2. Colorful French Tips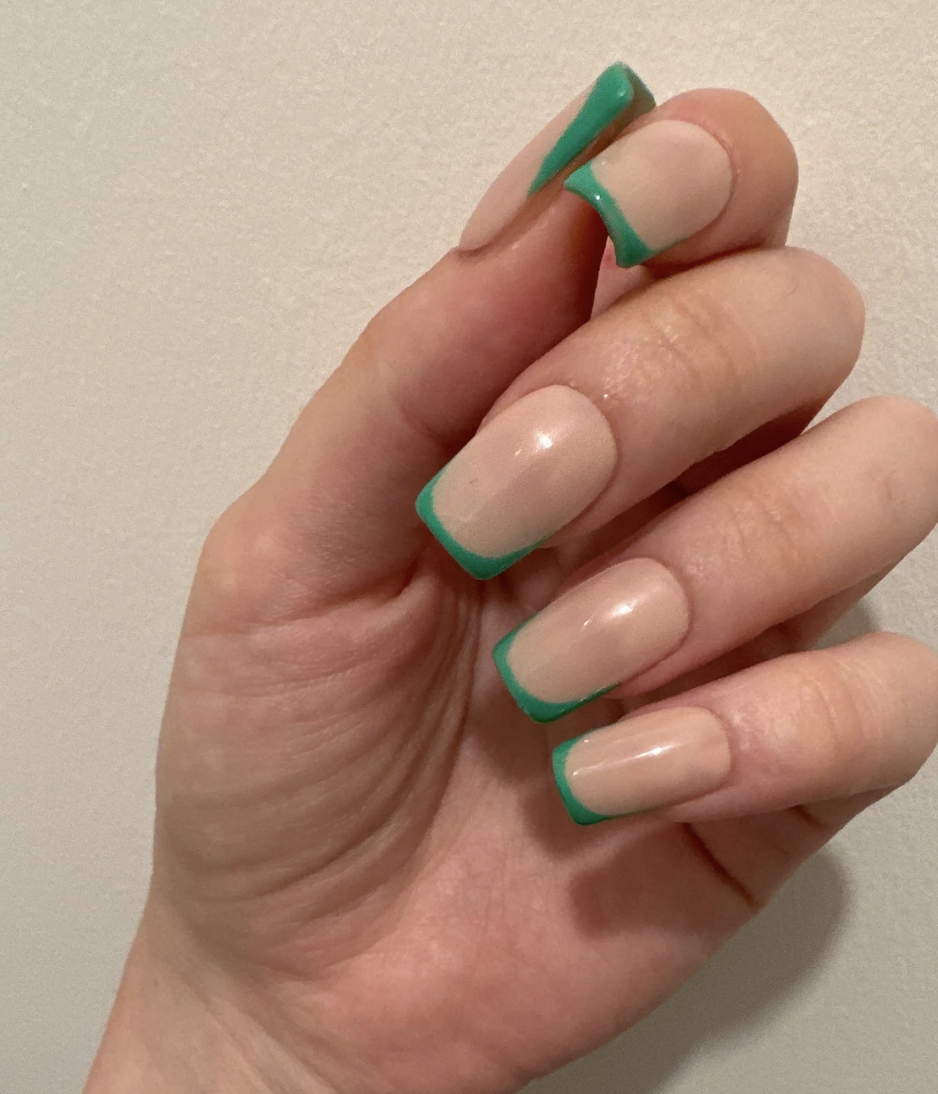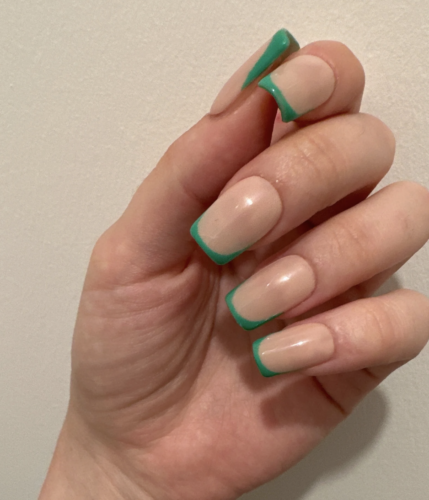 The traditional French tip gets a splash of color with this vibrant design. Choose from an array of shades to match your outfit, your mood, or the season, and turn heads with your bright, playful French tip look.
To get this look at home, you can also purchase these stunning press-on green French tip square nails.
Related reading: 15 Trendy French Tip Nail Ideas to Take Your Mani to the Next Level
3. Pink Heart Nails
This pink hearts design will be perfect for those of us looking for a girly nail design to add to our square nails. (Hello, Barbie vibes!)
With this look, you will get a soft and charming feminine nail design with heart designs and light pink French tips.
You can even add some rhinestones to this look to make it stand out more!
4. Croc Print Nails
Bold and edgy, this croc print nail look brings a touch of the exotic to your look! The textured design mimics the pattern of crocodile skin, which is sure to make a statement.
And, if you have never tried animal print or 3D nail designs before, don't worry because this video tutorial will show you exactly how this look is done. You can attempt to DIY at home if you have nail skills, or head to the salon and ask for this.
5. French Swirl Nails
I am sure we have all seen the swirl nails trend. This trend has been popular for a while and would be a great design choice for a square nail shape.
And, if you want to add something a bit different to this look, you can add some French tips to have a trendy but also classy French manicure look.
6. Floral Nails
You will love this look if you love adding floral designs to your nails. This floral nail look will add the illusion that you have real flowers on your nails.
Just watch this video tutorial to see how to get this look on square nails.
7. Butterfly Nail Art
You can also try some cool nail designs like this butterfly nail art design on your square nails!
With this look, you will add butterflies to your nails with a gorgeous silver and purple base coat that will give you a stunning design for your square nails. This look is so Y2K and is absolutely stunning.
8. Smokey Marble Nails
This smokey marble nail design offers a blend of colors and patterns similar to swirling smoke. You won't be able to stop staring at your nails!
Just make sure to use fun colors like the gorgeous shades of bright green in this video tutorial to make the design more fun.
Related reading: 15 Marble Nail Designs You'll Love
9. 3D Nail Art
This square nail idea takes nail art to a new level with its 3D design. 3D nail designs are some of my personal favorites because they make your nails stand out.
And, this look will be perfect for your next square nail look. These 3D French tip pink nails in a square shape are everything. You'll be obsessed!
10. Swirl Nails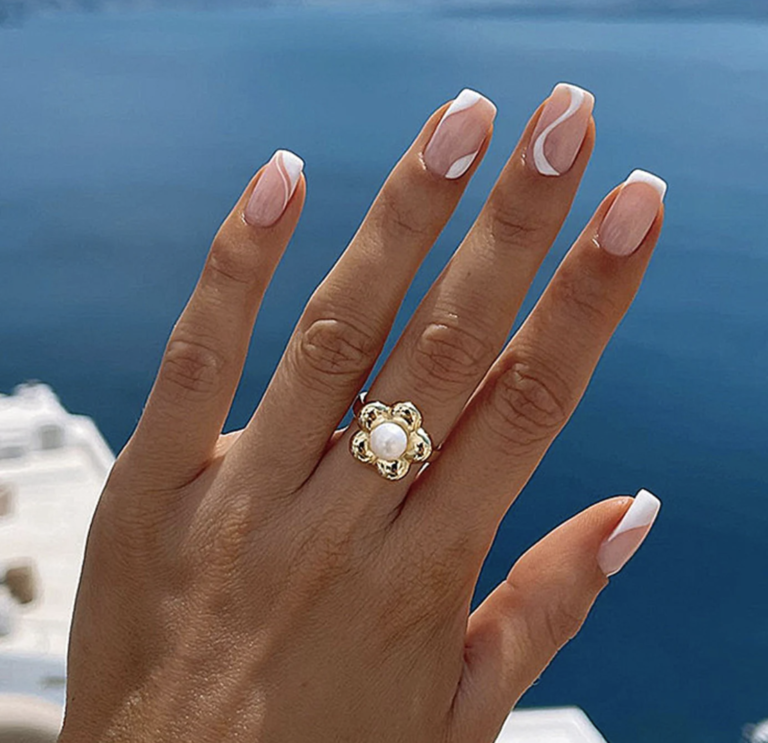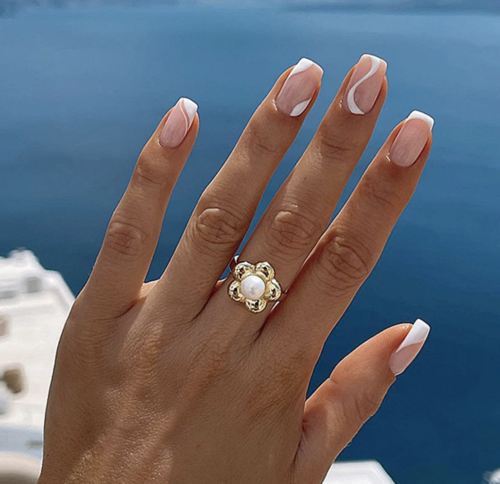 You can also totally go for the iconic swirl nail look with these press-on square nails!
These press-on nails will give you a gorgeous square nail look using white nail polish to add a trendy swirl nail design to your look. And because they're press-ons, you can wear them again and again.
11. Rhinestone Nails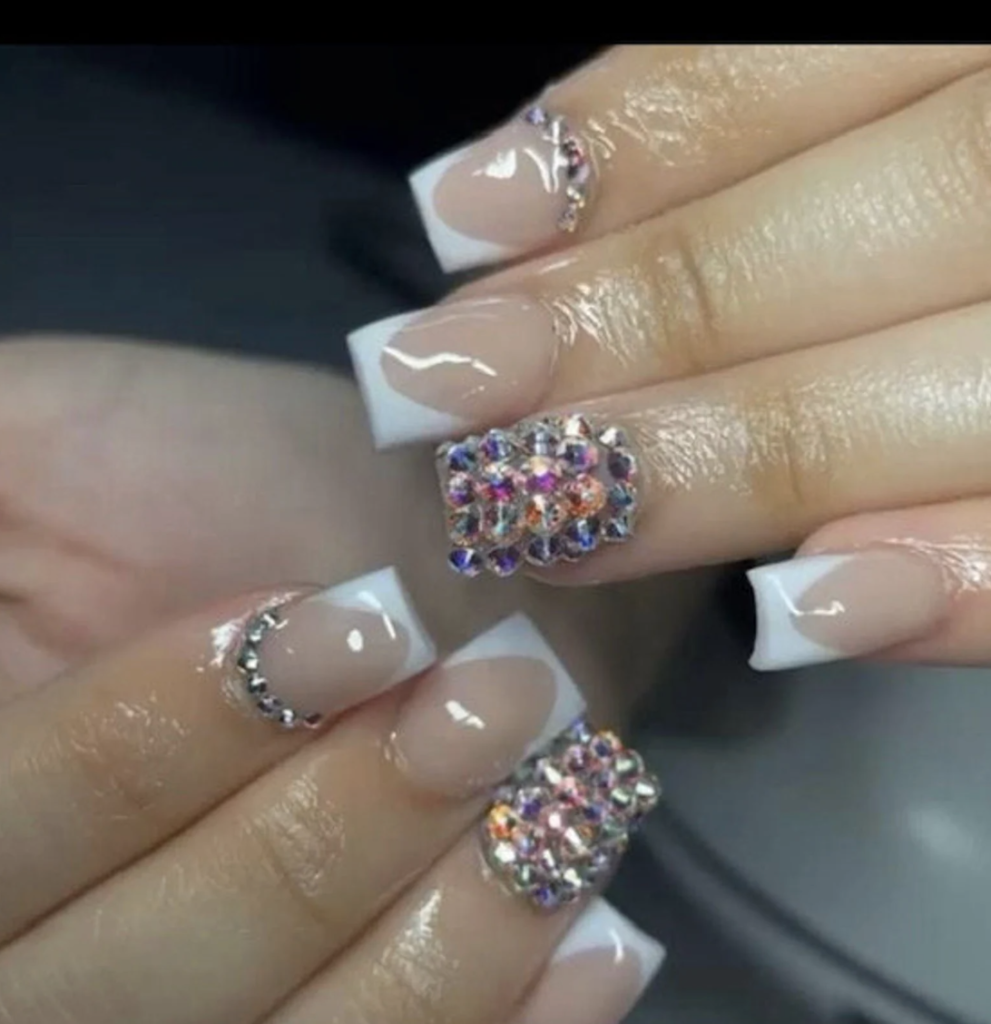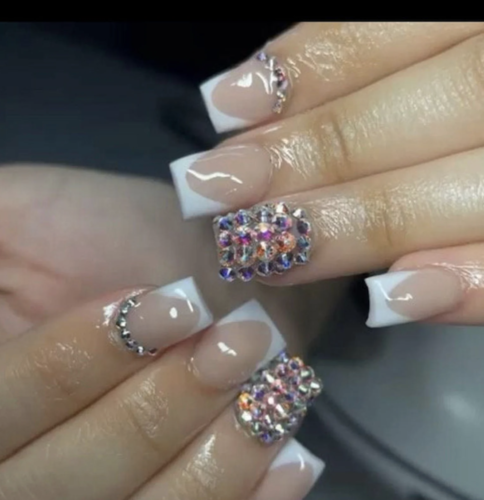 Add a bit of glamour to your nail look with this rhinestone nail design for square nails!
With this look, you will want to add some French tips to your nails while also adding on some sparkly rhinestones to make your look stand out.
And if you want this exact design on your nails, good news — it couldn't be easier to achieve because these are actually a set of gorgeous press-on nails.
12. Designer French Tips
Unleash your inner fashionista with this nail design! This nail look will let you wear your favorite designer logo on your fingertips, making a fun and bold statement that you will love.
Just pick out your favorite designer logo to add to your nail look and watch this quick video tutorial to see how to get this fashionable look at home on square nails!
13. Abstract Nails
If you want an elegant and stylish manicure for your square nails look, I recommend checking out this abstract nail design!
For this look, you will add some fun lines, shapes, and colors to create a gorgeous nail design that you will be obsessed with.
Check out this video tutorial for all the details on how to get this look!
14. Simple Nail Design
This look emphasizes clean lines and minimal color use to create a look you will love if you like more simple and subtle nail designs!
What you will love about this square nail look is that it will also go perfectly with any outfit, and it's also totally workplace-appropriate.
15. Minimal Swirl Nails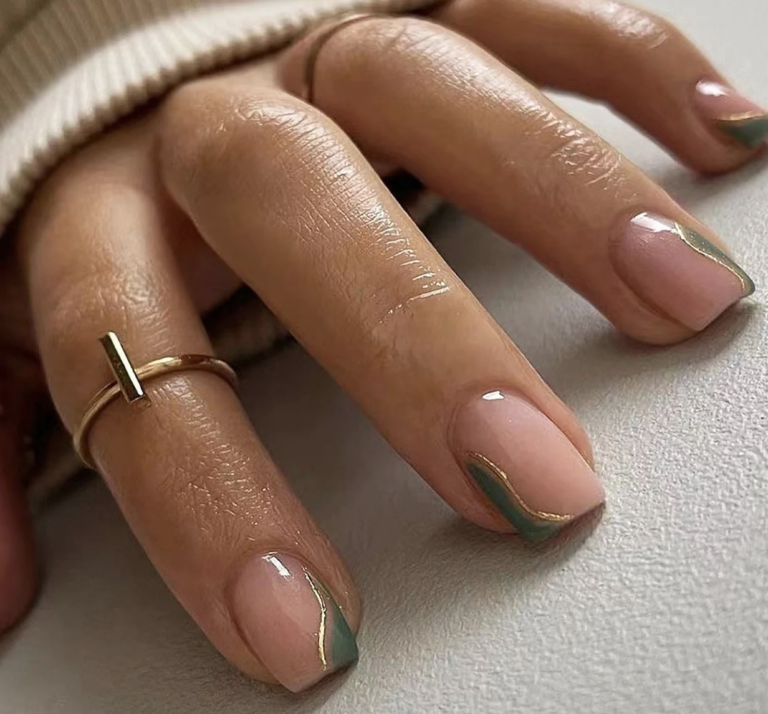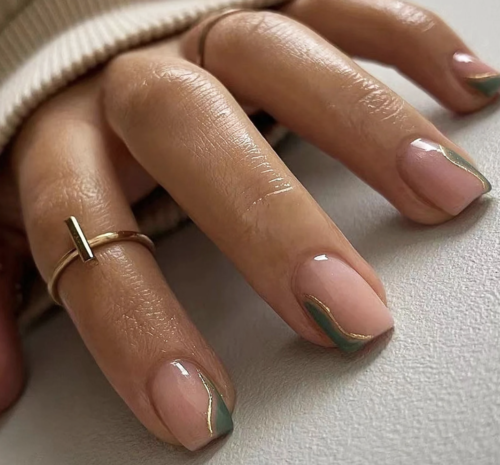 This design combines minimalism with creativity. This beautiful green and gold swirl nail look with a nude base color will give you a sophisticated and modern design for your next square nail look.
Just purchase these press-on nails to easily achieve this look at home!
16. Black & White Nail Design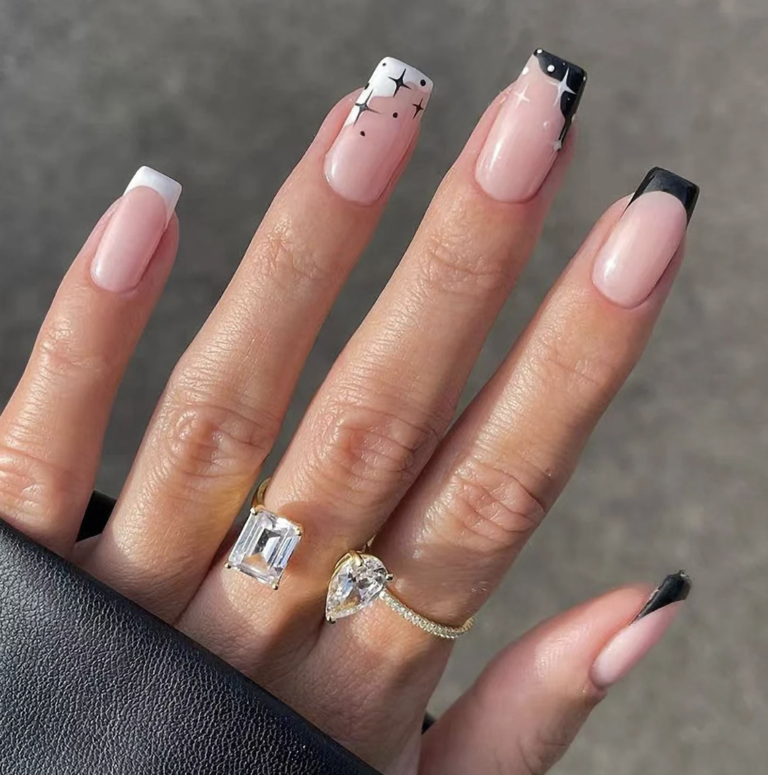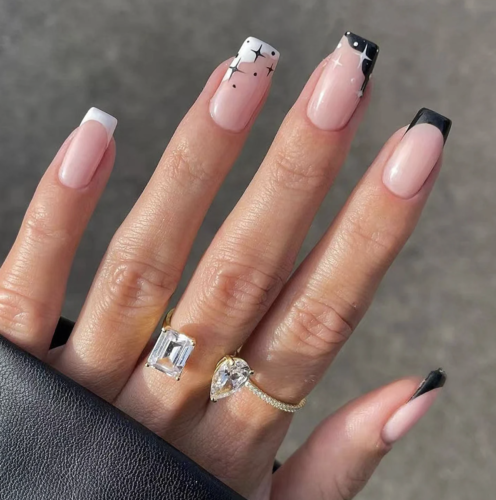 If you are looking for a pretty nail design with less color, I suggest going for this black & white nail design.
This look will be stunning on square nails and will also give you a nail design that stands out but isn't too bold or eye-catching.
So, if you want something pretty, but not too flashy, I definitely recommend purchasing these black & white press-on nails.
17. Ombre Nails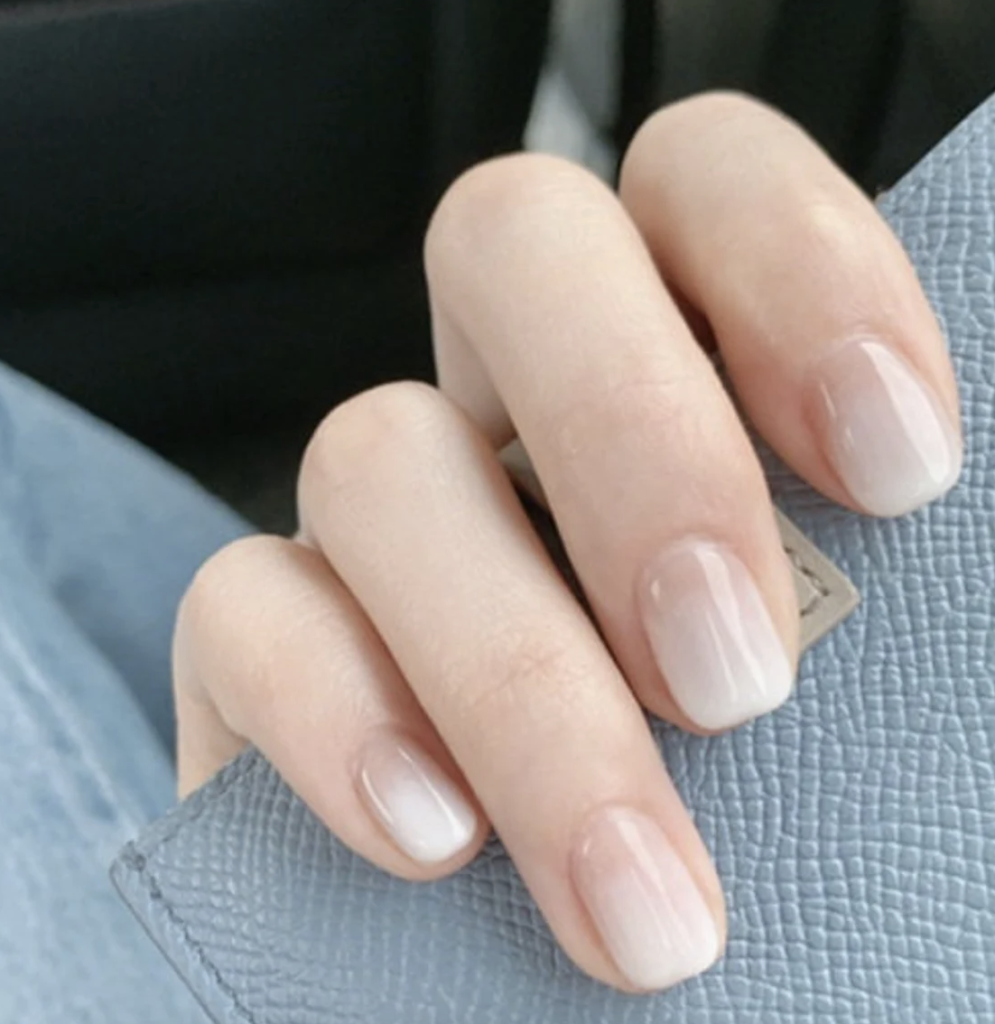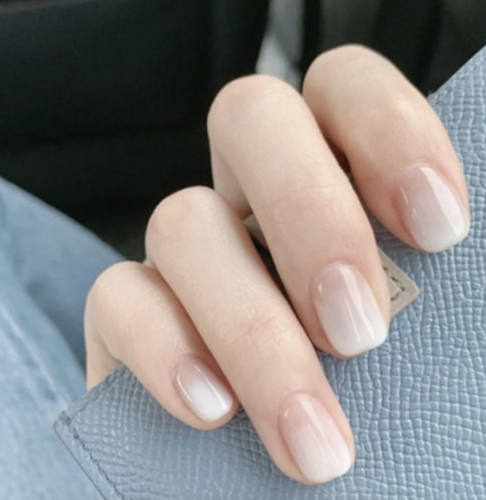 A simple but also trendy nail look that will be perfect for the square nail shape is also the ombre nail design.
I love this nail look because it always looks simple and elegant and goes well with any outfit! So, if you want the ombre nail design with a square nail shape, get the exact look above with these nude ombre press-on nails.
18. Multi-Colored Nail Art
With this look, you will use bold and bright colors and patterns to create a stunning multi-colored nail design.
This look may seem a little daunting for beginners at nail designs, but if you watch this video tutorial, you will know how to create this look in no time (and you can always hit the salon if you're not up for tackling it).
19. Color Block Nails
Geometric patterns meet vibrant shades in this color-block nail design that will be perfect for your next square nail look!
This design will let you express your creative flair and make a bold statement with its bright colors and striking designs.
And, if you have never tried the color block nail design before, don't worry because it can be easily achieved at home by watching this video tutorial.
20. Classic French Tips
Of course, the classic French tips nail look never goes out of style and is a perfect choice for square nails.
So, the next time you want to go for a super simple and classy nail look, I definitely recommend going for the classic French tips manicure for your square nail look. You can never go wrong with this timeless look!
Which of these nail designs will you be trying?
Will you be wearing square nails in 2023? What is your favorite square nail design?