This post may contain affiliate links, which means we may receive a commission if you purchase through our links. Please read our full disclosure here.
This post will show you eight airport outfit ideas that are cute and comfy.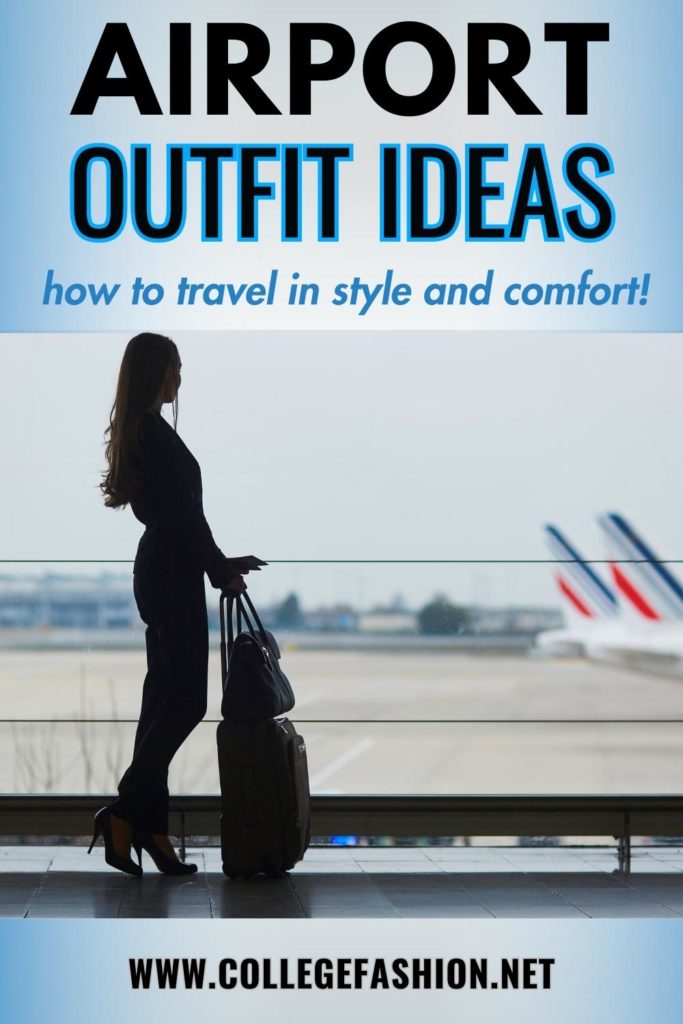 So you've packed your bags and planned your whole vacation wardrobe… but what about your airport outfits?! Many of us overlook our style on travel days, focusing more on what we will wear at our destination, rather than to our destination.
But as we all know, it's about the journey, not just the destination. So make your journey as stylish as possible with a well-planned airport outfit that will look great while also keeping you comfortable even on a cramped, freezing-cold airplane.
Get ready to travel in style and comfort with these eight affordable airport outfit ideas that are perfect for your next trip. It's time for take-off!
Joggers & A Hoodie Airport Outfit
I'm kicking things off with pretty much the exact outfit I wear every time I travel—and with all the traveling I've done, I have it down to a science! While I know this may not be the most *exciting* or eye-catching look, I can promise you that it is one of the most functional outfits you could wear to the airport.
If you have a long trip ahead of you, be it a long-haul flight or a long layover, you want to be as comfortable and fuss-free as possible.
I love leggings, but a pair of lightweight athletic joggers are my #1 pick for long flights because they have a roomier fit, pockets (which really come in handy when you need to quickly stash your phone, boarding pass, etc., especially if they are zippered), and look great with sneakers, which are a travel must. New Balance sneakers are just as comfy as they are on-trend, and they pair well with non-athletic clothing, too.
A black zip-up hoodie is the ultimate outer layer for travel because it's easy to put on or take off (have you ever tried taking off a pullover hoodie while sitting in a middle seat? I don't recommend it!) and fits under a coat or jacket if you're traveling in the winter. Plus, a hood means you'll be able to keep your hair/face from touching the airplane seat backs, which usually aren't so clean…and it'll keep you extra cozy when trying to rest during the plane ride.
By wearing all black, you'll easily be able to coordinate these items with other pieces in your suitcase during your trip, and most importantly, you won't have to worry about accidental spills or stains during travel! Dark colors are the way to go during travel, as they tend to be the most forgiving.
Travel-Friendly Dress
If you want to step it up a notch while still being able to move easily through an airport during the summertime, try an athletic dress with built-in shorts underneath, a.k.a. a tennis dress.
Normally, I'd advise against wearing a short dress for airplane travel, but this is a travel-friendly dress thanks to its attached shorts underneath, which, BTW, have a pocket that is perfect for stashing your phone or boarding pass.
Since airports are almost always chilly, be sure to bring a sweater or a zip-up hoodie—this one has a shorter length that will look flattering when worn with the dress.
Complete the ensemble with some stylish sneakers and a convenient belt bag that you can wear across your body both at the airport and at your destination (an ideal bag choice for exploring a foreign city or doing sporty vacation activities).
Casual Chic Airport Outfit
A classic beige trench coat will make you look like *that girl* in the airport—you know, the chic one who travels the world in style.
It's a stylish, lightweight layer that is perfect for spring and fall travel and looks great with many different outfits. Rather than pack it in your suitcase, wear it to the airport with some wide-leg pants; though this pair looks polished thanks to their tailored design, they're actually made with a breathable, moisture-wicking fabric and have a stretchy elastic waistband, making them ideal for travel.
On top, wear anything from a simple fitted t-shirt to a button-down shirt or sweater, depending on the season. As for shoes, you could wear flats or mules for an even more elevated look, but I suggest some casual low-top sneakers for maximum comfort (and in case you need to run through the airport to catch your plane!). These retro-inspired Reeboks are a versatile option that will pair well with your packed outfits.
Bring it all together with a cute, matching baseball hat and functional weekender bag.
Athleisure Airport Outfit
When it comes to traveling, athleisure outfits are *the* way to go. They're the perfect balance of leisure and athletic wear (duh), meaning whether you're cozying up on a long flight or running through the airport to reach your gate on time, you'll be prepared either way!
For travel during warmer months, consider some stretchy black biker shorts, which are as comfy and versatile as leggings. (I'd avoid short shorts, which are not as comfortable to sit in for hours at a time.) Style them with a long t-shirt, hoodie, or sweatshirt, including university merch if you want to show some school pride.
Opt for sporty extras like a logo baseball hat, backpack, and athletic sneakers, which will keep your feet happy during the entire trip.
Cozy Cute Airport Outfit
For a cozy, cute airport outfit, go for loose-fitting clothing that feels like you're wearing sweats, but looks a bit more elevated and put-together. These pull-on wide-leg pants have an elasticated drawstring waistband for a comfortable fit, plus a crinkled effect throughout for a textured look.
Pair them with a matching tank top or t-shirt, plus a soft, slouchy cardigan sweater over the top. I adore the periwinkle hue of this snuggly cardi, but it comes in a bunch of other colors, as well.
Consider wearing some slip-on shoes like Ugg boots or Birkenstock clogs, which are comfortable and easy to take on and off (and can also be worn with socks, because who really wants to walk barefoot through TSA?).
Matching Sweat Set
Matching sweat sets are one of my favorite things to wear for travel: they make getting dressed so quick and easy since they already match!
The straight-leg design of these athletic pants gives them a modern look, while their drawstring waist and slouchy fit keep them ultra comfy—a must if you'll be sitting on a plane or at a gate for hours. You'll look extra put-together when you wear them with their coordinating funnel-neck zip-up.
If you want a bit of added warmth (again, airports and airplanes are usually chilly), break up the tonal look with a denim jacket, which is a versatile jacket to bring along on practically any trip.
Any sneakers will work with this outfit, but slip-on sneakers are especially convenient when hitting the security check—just grab your weekender bag (this puffer bag matches the ensemble perfectly), and you're ready to go!
Black Leggings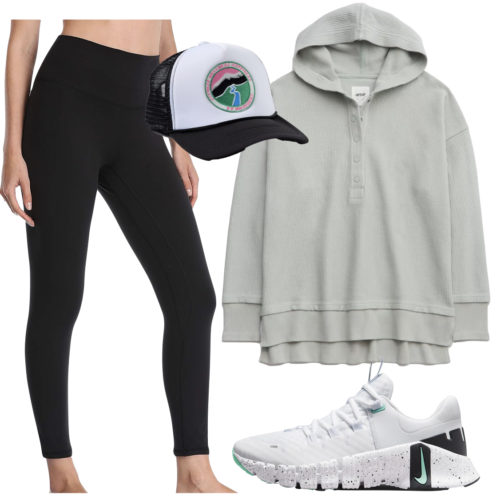 Products: Leggings, Hoodie, Hat, Sneakers
You simply cannot go wrong with a pair of black leggings when traveling. They're comfy and flattering, and they go with countless different looks.
I vote for keeping it simple and sporty by wearing them with some athletic sneakers and a long, legging-friendly pullover top. This textured henley hoodie has an oversized fit and longer length, meaning you won't feel exposed when pairing it with leggings.
Add on a graphic print trucker hat or baseball hat that will add flair to the outfit while also keeping your hair tamed while you travel.
Other ways to style your leggings for the airport include wearing them with a long cardigan, an oversized graphic print t-shirt, or with a lightweight jacket, like a bomber jacket.
Trendy Airport Outfit
If you're a fashion girlie who doesn't want to sacrifice her style for comfort, good news: you don't have to! Go for a model or celeb "off-duty" vibe with this trendy yet laid-back ensemble.
These ribbed fold-over waist pants are comfy and stretchy, but their slim-fitting design and classic black hue make them look super sleek.
Style them with some on-trend sneakers like classic Adidas and with an oversized faux leather biker jacket (which, BTW, will save you space in your suitcase by wearing it instead of packing it).
Along with some dark sunnies and an oversized graphic print t-shirt, this ensemble will have everyone in the airport wondering who that girl is.
What do you think?
Would you wear these airport outfits? Which travel outfit is your favorite? Leave a comment and let us know!