This post may contain affiliate links, which means we may receive a commission if you purchase through our links. Please read our full disclosure here.
This Leo style guide features fire sign-inspired fashion tips and outfit ideas.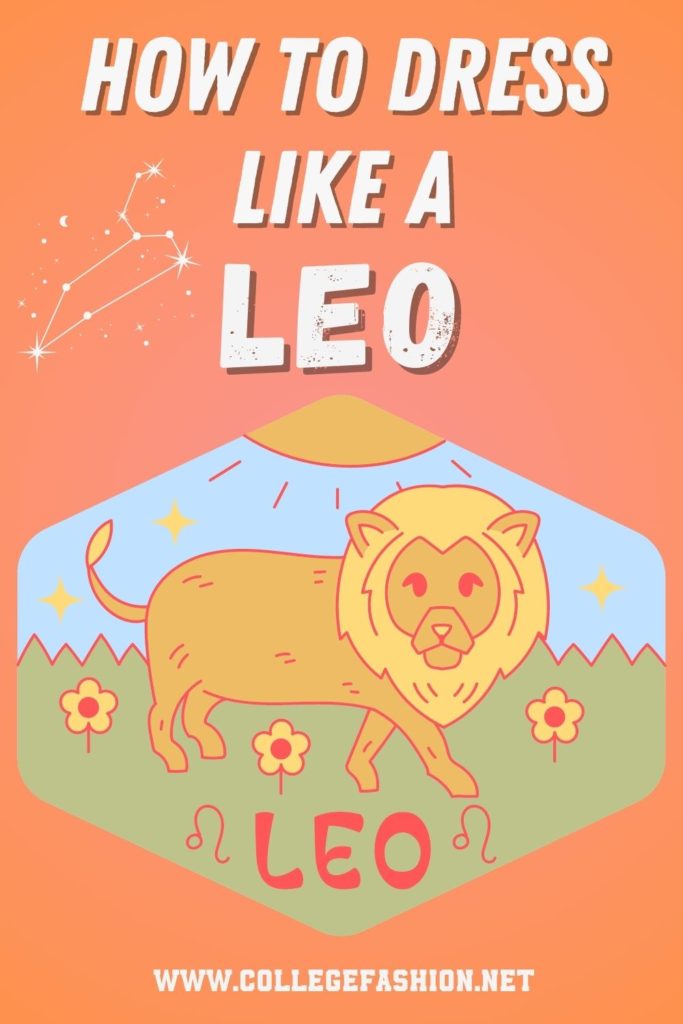 Welcome back to our zodiac fashion series, where we give you fashion tips inspired by your sign and show you how to dress to maximize your best qualities based on astrology.
We're continuing our series with Leo, a fire sign represented by the lion that applies to birthdays between July 23 – August 22.
If you're a Leo looking to refresh your wardrobe or are just curious about how a Leo would dress, read on for our Leo style guide, full of tips on incorporating your sign's style into your everyday look.
How to Dress Like a Leo
We're shining the spotlight on you, Leo… which is right where you like it! Leos are pretty much made for the spotlight, with lively, outgoing, vivacious natures and star power to boot. (Look at famous Leos like Jennifer Lopez, Dua Lipa, and Kylie Jenner, for example.).
It's no wonder you find yourselves at the center of attention (and drama, sometimes) when you have such big, magnetic personalities and unshakeable confidence. This also means that your social calendar is generally packed, so a Leo has to have plenty of statement-making party clothes on hand, ready to steal the scene at all times. No matter what you wear, you're always going to rock it with total confidence.
The lion represents Leos, so it's no surprise that they are bold and fearless, and this goes for their clothing, as well. They aren't afraid to wear something loud, extravagant, trendy, or attention-calling—in fact, they prefer it! Whether it's bright colors, daring silhouettes, or eye-catching prints, Leos like to use their clothing as a way of expressing themselves, and turning heads while doing so. They also love luxury, so they will happily indulge in designer labels and wear them proudly.
Known as the fieriest of the fire signs, Leos are ruled by the Sun, which, fun fact, never goes into retrograde. They are drawn to bold, fiery colors like red, orange, gold, and yellow, which help them stand out in the crowd.
As a strong, ambitious sign, Leos don't like to lose, so their style is going to be on-point, along with everything else about them!
Leo Outfits
Want to wear a Leo outfit? These Leo-inspired pieces are based on the zodiac sign's defining personality traits and are all under $100.
"I Love Me" Cropped T-Shirt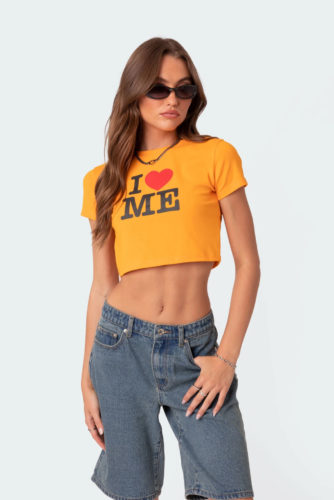 If anyone is going to wear the internet-famous "I Love Me" t-shirt, it's going to be a Leo, first and foremost. Self-love is the best love, and Leos know that better than any other zodiac sign—and they're proud of it, too (as they should be!).
Not only is this trendy graphic print cropped t-shirt a slay, but it's a total conversation starter that will draw attention, making it something a Leo would love. It's also perfect for taking selfies in; style it with some baggy, low-rise denim and trendy sunglasses.
Red Vegan Leather Mini Dress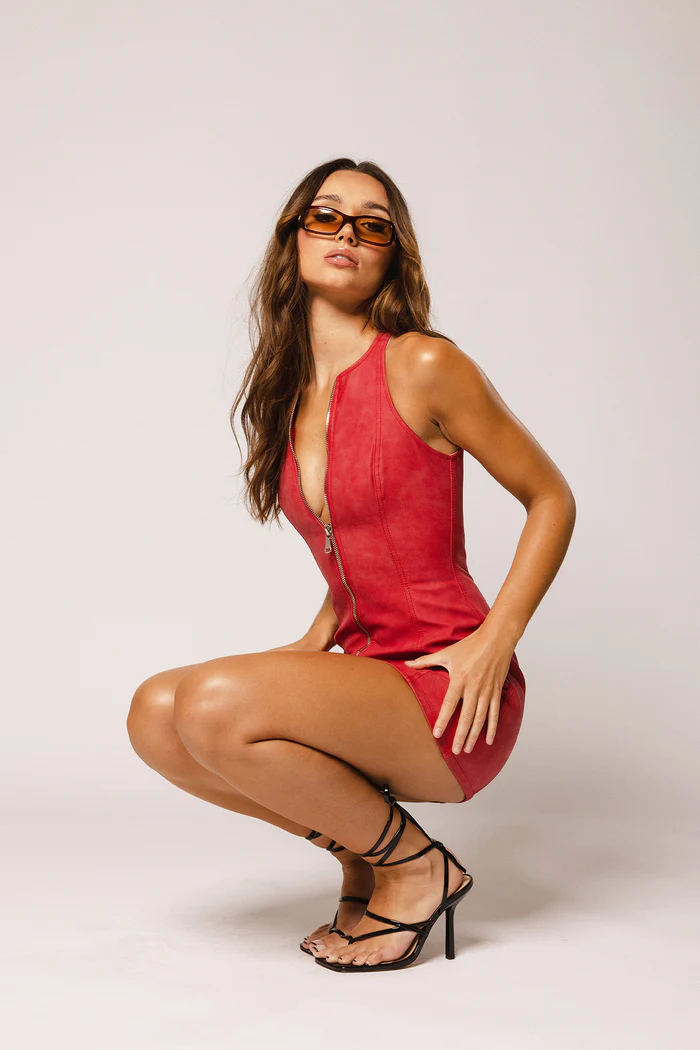 Turn up the heat in a red vegan leather mini dress that's sure to make you the life of the party—not that you needed much help with that!
As a fire sign, wearing red is definitely the move. And it doesn't get hotter than a mini dress made of vegan leather with a double zipper detail down the front… no wonder this dress is named the "Vixen."
Wear it with some strappy heeled sandals and get ready to sizzle.
Metallic Low-Rise Jeans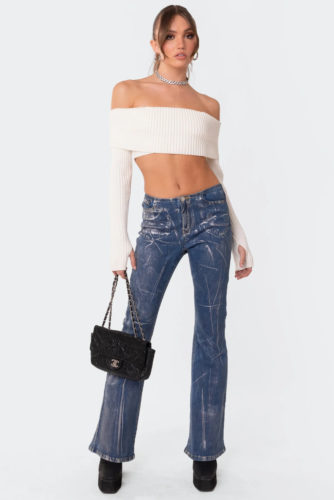 There isn't much a Leo is afraid of, so it's no surprise you take on fashion trends like the fearless fashionista you are. That's why you're first in line to rock the metallic trend and the low-rise jeans trend, all at once.
These metallic-coated low-rise jeans with a flared fit are total show-stoppers, and as trendy as it gets this season. Wear them on your next night out on the town with a crop top and heeled sandals or booties, plus silver jewelry.
Cropped Blazer and Cargo Skort Set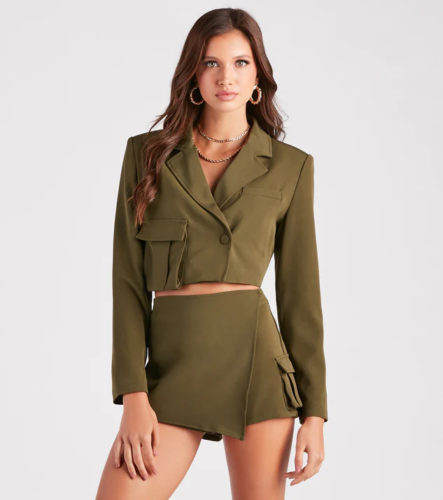 As the Lioness of the Zodiac, why not go for a "safari chic" look? This olive green cropped blazer and coordinating cargo mini skort have a safari-inspired aesthetic, but with a sexy twist thanks to the cropped proportions.
And since your social life tends to be bustling as a Leo, you need plenty of show-stopping looks like this one for when you're hitting the scene.
Orange Ribbed Cut-Out Midi Dress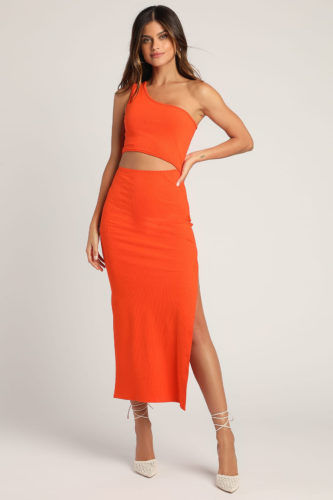 Spice things up this summer with an orange ribbed cut-out midi dress. With the vibrant orange hue, one-shoulder design, thigh-high side slit, and sexy cut-out, you're sure to turn heads in this number.
The stretchy rib knit fabric makes it perfect for the summertime—you can dress it up with heels, or wear it with flat sandals for a more casual look. Don't forget some gold-tone jewelry to jazz it up.
Silver Metallic Knit Top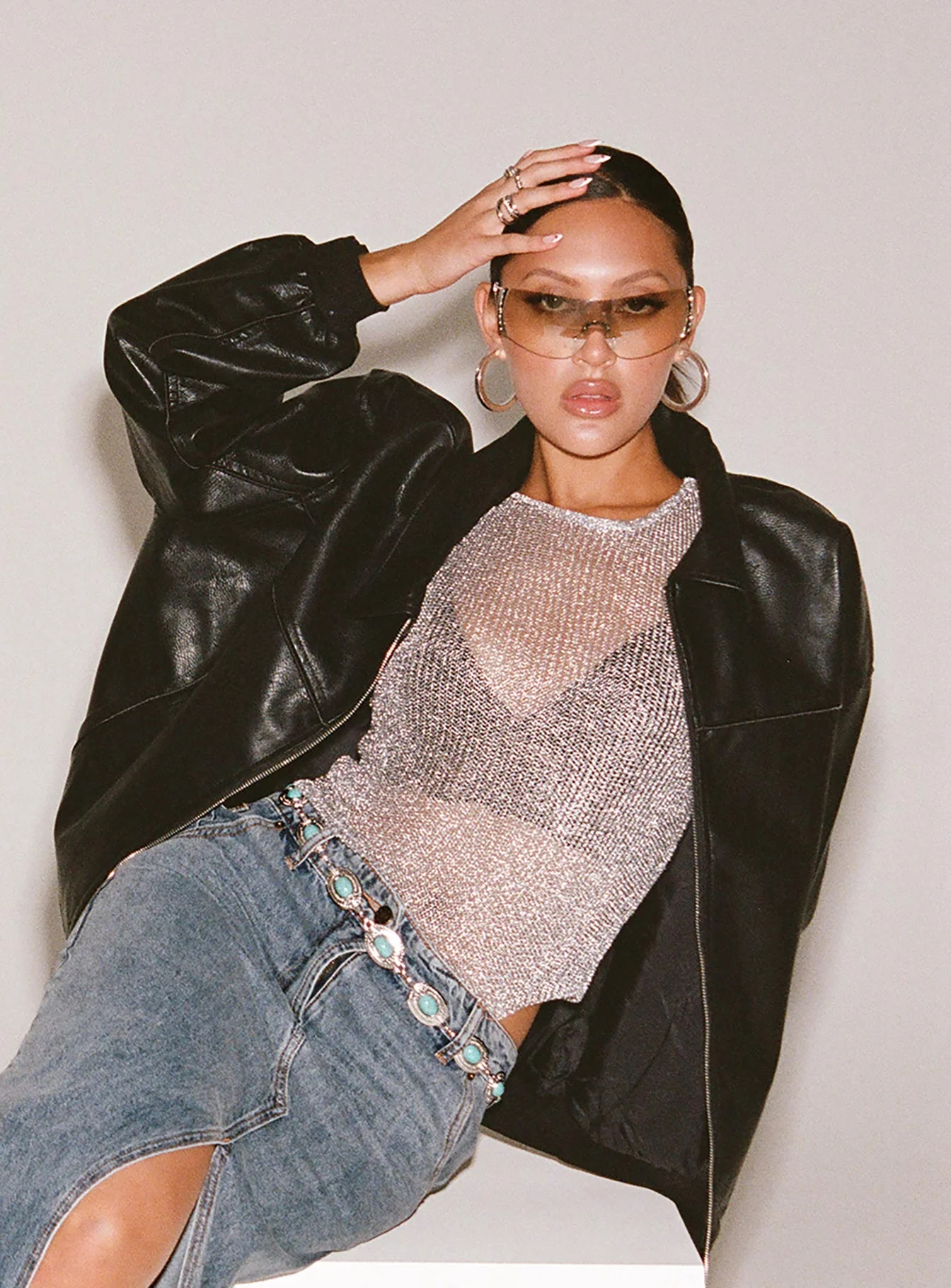 A top fit for a star, this silver metallic knit top is perfect for layering over a cute bralette for a slightly sheer, shiny look that will have all eyes on you. Metallics are trending, and this top is a stylish way to wear the trend, especially on a night out.
Style it for the summer with a denim skirt or flowy white pants, and swap them out for faux leather pants in the fall. Who knew a silver metallic top could be so versatile?!
Oversized Leo Graphic Print T-Shirt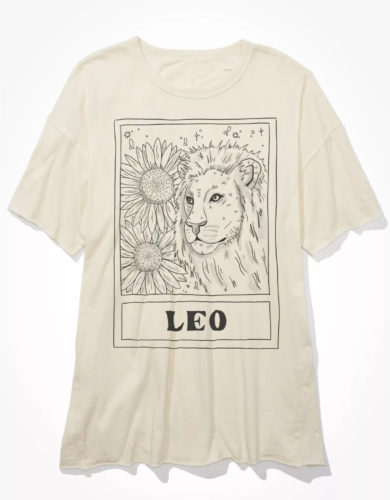 Show off your star sign with this stylishly oversized Leo graphic print t-shirt that features a lion and sunflowers, which are the birth flower of the Leo zodiac sign.
This super soft cotton t-shirt is the perfect way to proudly rep your zodiac sign while being comfy and casual, whether you pair it with denim or leggings.
Leo Accessories & Shoes
Next up, we have the accessories portion of our Leo style guide.
Leos know that accessories are the perfect way to add an extra touch of glam or trend appeal to their outfits, so they aren't afraid to pile on the bling, rock some sky-high heels, or tote a designer bag.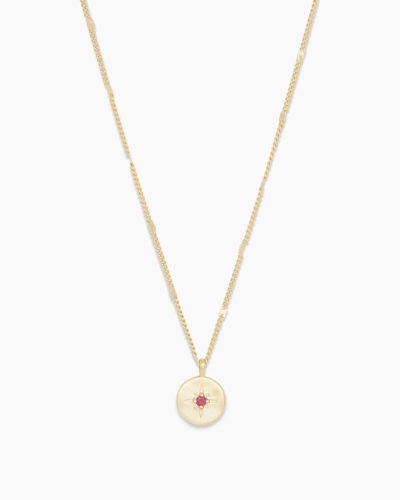 If your birthday is in July, your birthstone is a ruby, which makes total sense: this stone, which is often a fiery red color, goes hand-in-hand with your fire sign. Rubies represent love, passion, vitality, and wealth, which are all things that Leos appreciate and often try to cultivate in their lives.
This gold coin birthstone necklace features a precious ruby gemstone at its center, and by wearing it, you'll be encouraged to pursue your aspirations and listen to your heart along the way.
August Birthstone Ring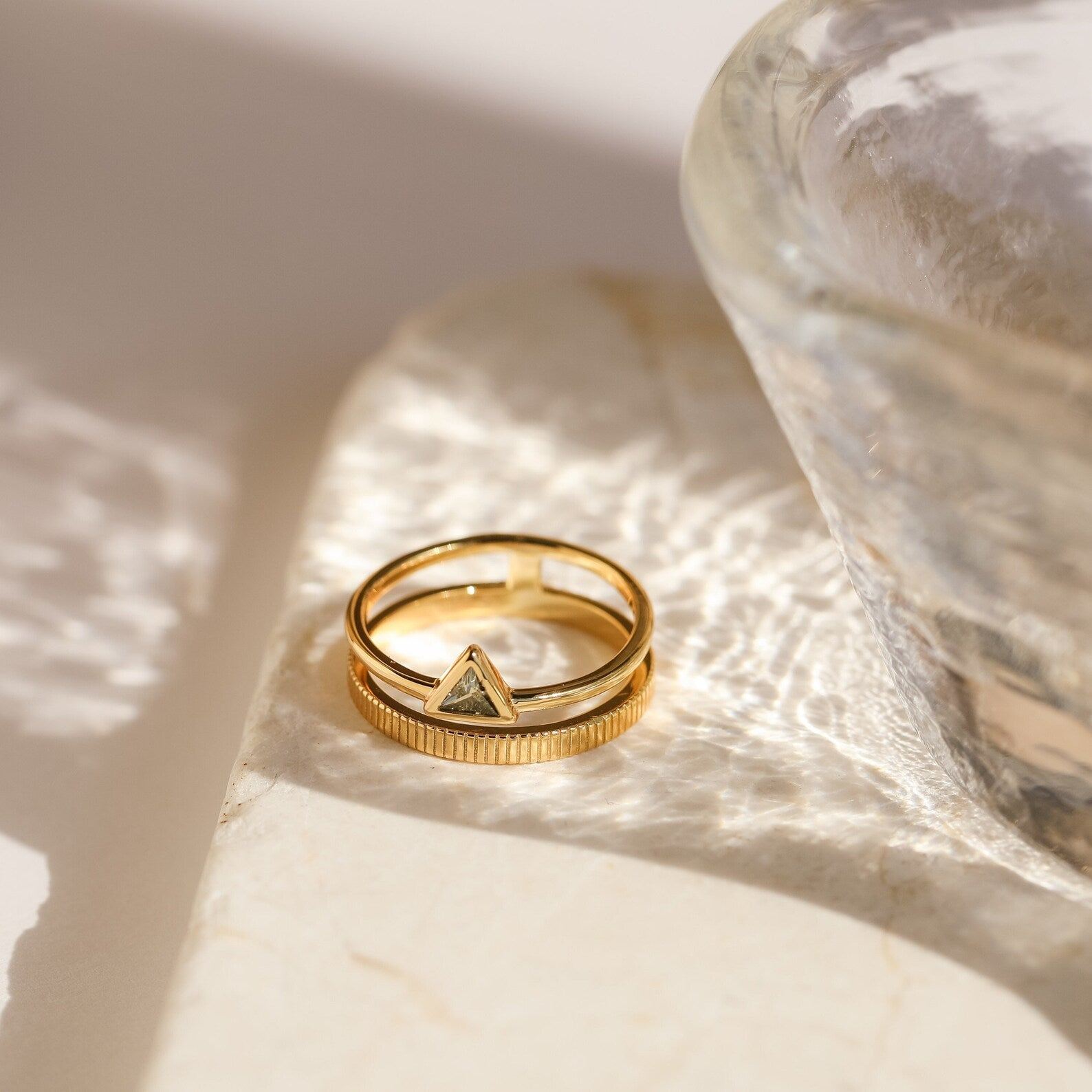 Leos with an August birthday have not one but three birthstones to choose from: peridot, spinel, and sardonyx.
Peridot is considered the primary birthstone of the three and is known as the "sun gem," which is perfect for Leos, who are ruled by the Sun in astrology. Unlike the Sun, this gemstone is actually green in color, (sometimes with a yellowish tint) and is believed to bring about balance in one's emotions, peace, and good fortune.
Wear it in the form of a duo birthstone ring that features a CZ peridot gemstone on a striking, gold textured double band ring with an Art Deco-inspired design. This ring gives you the look of two rings layered together for a luxe feel.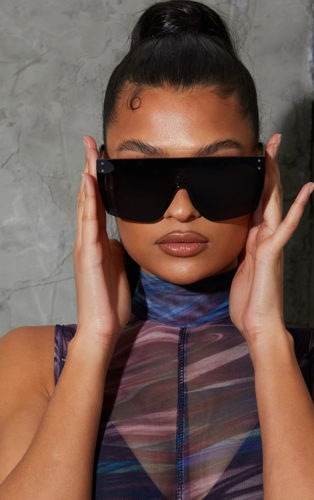 Block out the flash of the paparazzi cameras with some dark, super oversized sunglasses. They'll make you feel like a celeb, whether you are or not!
This pair with an oversized shape, ultra-dark lenses, and shield-like design are giving major Kardashian vibes (Kylie Jenner is a Leo, remember?) with a luxe, designer-inspired look.
Metallic Gold Platform Sandals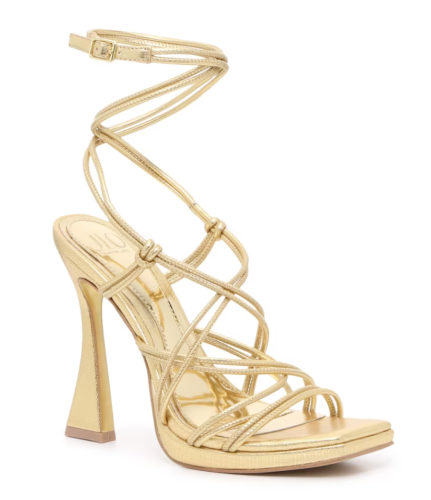 Look to your fellow Leo queen Jennifer Lopez for the perfect pair of sky-high gold platform heels that will help you stand out in the crowd (quite literally, thanks to their five-inch heel)!
These JLO Jennifer Lopez platform sandals were made for strutting your stuff with their strappy ankle-wrap design and regal gold metallic hue.
Coach Nolita 19 Handbag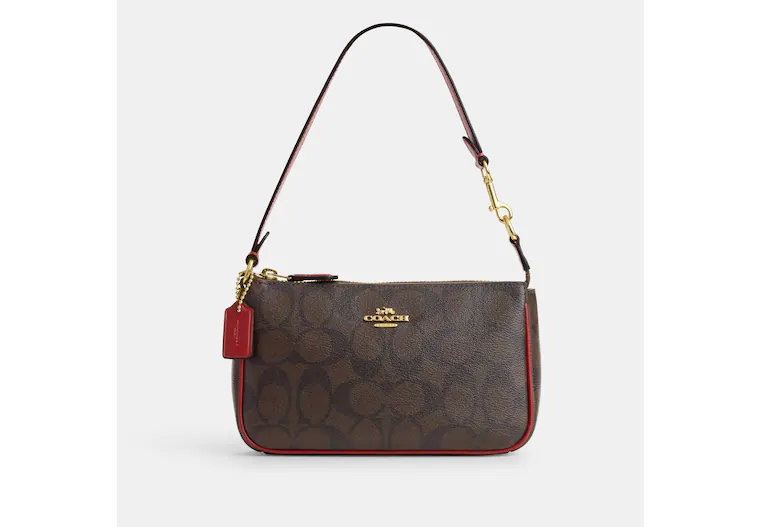 Leos love labels and indulging in luxury products, especially when it comes to fashion. They generally aren't ones to shy away from treating themselves!
But this doesn't mean you have to break the bank for a designer bag.
This adorable Coach handbag is under $100 and has a classic-meets-Y2K aesthetic, with contrasting red trim for added flair. Its compact size makes it the perfect complement to all of your going-out outfits, giving them a luxe look.
What do you think of our Leo style guide?
Do you agree with these Leo fashion picks? Which of these looks is your favorite? Leave a comment and let us know!