This post may contain affiliate links, which means we may receive a commission if you purchase through our links. Please read our full disclosure here.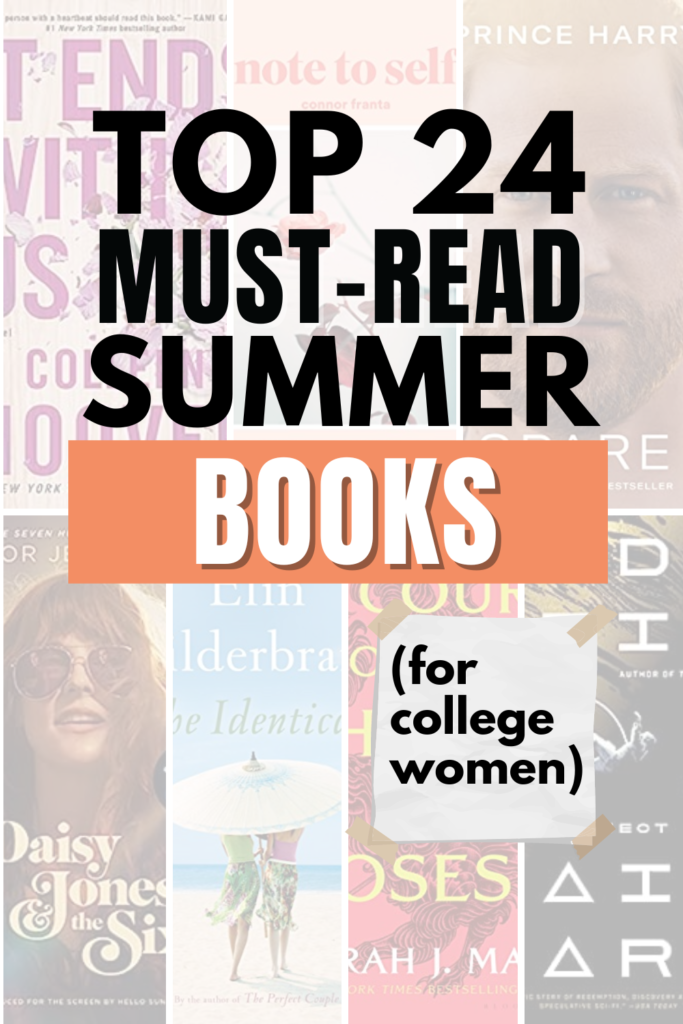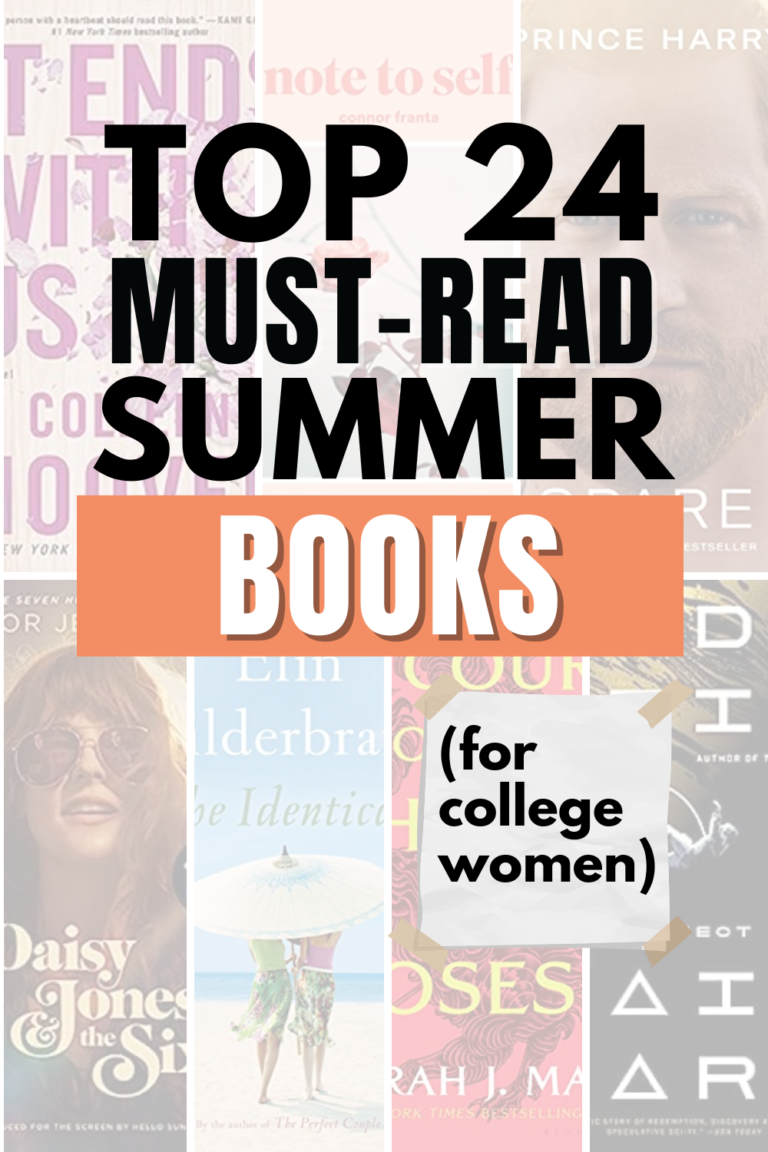 Summer is in full swing, and I couldn't be happier! One of the things I love most about summer break is having time to read things for fun. It's been so long since I've read a book that isn't for school, and I am PUMPED.
Whether you're looking to finish a series or do a little self-discovery, this list is sure to help you in your search for a perfect summer book. Maybe you'll even find one you read every year!
Below, we've listed the best books to read this summer, either by the pool or beach or cozied up indoors with the A/C cranking. Most genres are covered, so there's something for everyone. Let's get into it!
The Best Books to Read This Summer
Along for the Ride by Sarah Dessen
I don't know what it is about summer, but it always makes me want to re-evaluate everything to do with my life. Something about not being in class, and the prospect of a new school year, makes me feel like I need to get back to basics.
For the last four years, that meant reading Along for the Ride by Sarah Dessen.
Dessen is one of my favorite authors. She writes teen romance, but the kind of teen romance that's more about a character and her life, of which romance happens to be a part.
I always learn something when I read one of Dessen's books.
In Along for the Ride, Auden is an insomniac overachiever who stays with her dad at his beach house for the summer. While there, yes, she does meet a guy (Eli) with a complicated past, but more than that, she learns that what she thought was true about her family is more complicated than she expected.
Every assumption she makes about who other people are, including who she is herself, is tested. She learns that what people seem to be on the surface is rarely who they are under the surface.
And every summer, I get to join her in this lesson. 
One of the things I love about this book is the concept of "questing," as Auden goes on a quest with Eli to do all the things she never got to do as a kid, including learning how to ride a bike (hence the title). This notion has led me to stay up late to stargaze, finally try a Big Mac, and do things that scare me in summers past.
Reading it every year is like a reset button for my brain, reminding me that there's more to life than just school and being accomplished on paper — and by the same token, there's always more to learn about other people.
Lovely, Dark and Deep by Amy McNamara
Though I'm not sure it's clear what time of year this book is set in, I get a strong summer vibe from Lovely, Dark and Deep, probably because it's about self-discovery.
Wren, the main character, struggles for much of the book with severe depression and, arguably, post-traumatic stress disorder. As someone who struggles with depression myself, I find McNamara's first-person narrative of what it's like to have depression to be both extremely realistic and heartbreakingly beautiful.
The book is not just about Wren's struggle with depression, though. It's also about her relationships with family, forgiveness, and, yes, romance.
More than anything, the book is hopeful, which for me, is another hallmark of good summer lit.
The Unexpected Everything by Morgan Matson
I'm just gonna be real here: Other than Sarah Dessen (and Elin Hilderbrand, who I'll talk about below), no author screams summer reading as much as Morgan Matson.
Not only are her books set during the summer, but they also fit the themes of self-discovery and going back to basics.
And the best part? They come with playlists that are perfect for driving or running, or whatever you like to do during the summer!
The Unexpected Everything is about Andi, who only wants to leave her town to do a medical internship. When it's suddenly canceled, she has to take a job walking dogs (she doesn't like animals), ends up dating a novelist (she doesn't date), and learns how to communicate with her father (which never happens).
This book is really about everything unexpected and how plans going all wrong can be exactly what you need. Plus, it's just plain fun to read.
Since You've Been Gone by Morgan Matson
Since You've Been Gone, another amazing Matson novel, is about two best friends. One of them leaves suddenly, bestowing upon the other (Emily) a list of challenges she must complete.
Desperate to find her friend, Emily completes the entire list, including skinny dipping and attending a fancy gala. Accompanying her is an acquaintance from high school (who might be more), a pizza delivery driver, and a guy who works at a rock climbing gym.
I mentioned playlists before — the best part of this book is how many of them there are. They're actually central to the plot, and it's wonderful.
This book is, at its essence, about figuring out who you are independent of others, and not finding your value in what other people think of you –something I certainly need to remember any time of year, but which feels especially important before starting another semester.
Throne of Glass by Sarah J. Maas
This book itself has nothing to do with summer — it is, however, perfect summer reading. This is because there are several books in the Throne of Glass series, and if there's one thing college semesters (and winter breaks) don't allow, it's reading a full series.
This first book is about Celaena Sardothien, a female assassin, and all-around awesome woman. She's brought out of prison to work for the king, and she has to navigate court politics, assassination, and a love triangle. Oh, and magic.
If that doesn't make you want to read it, I don't know what will.
While this book isn't really about self-discovery like the realistic fiction above, it is about adventure, which is the next best thing.
A Court of Thorns & Roses Series by Sarah J. Maas
Another Sarah J. Maas series that can't be missed is A Court of Thorns & Roses. This series starts off as a "loose retelling of Beauty and the Beast," but quickly evolves into something unforgettable and entirely its own. Though it involves fairies, it's far from a typical fairy tale.
Also, while I liked Book 1, the second book in the series is one of my favorite books OF ALL TIME. Trust me, it's incredible — you won't be able to put it down, and you'll be thinking about the characters long after you finish. You need to commit to the full series if you're going to read these.
A word of warning, though — these books do include some racy scenes sprinkled throughout, so if NSFW isn't your thing, skip this series!
Silo Series by Hugh Howey
If you have Apple TV, you may have seen the new sci-fi series Silo. The Silo book series (also known as the Wool series) inspired the popular show and is a fantastic summer reading choice for sci-fi fans. It's also a must if you appreciate detailed world-building.
In case you aren't familiar with Silo, the series presents a dystopian world, namely a future Earth where humanity's survival depends on massive underground silos protecting residents from a toxic surface. (Or is the surface actually toxic? Just one of the book's many mysteries.)
The intricate society within the silos is rife with power struggles, secrets, and enigmatic history. Read these and you'll find yourself entangled in a web of mystery, conspiracy, and thrilling adventures — trust me, you won't be able to stop reading!
Spare by Prince Harry
I'd be remiss to leave one of the bestselling memoirs in recent memory off this list. Prince Harry's detailed book, Spare, is a must-read for anyone interested in celebrities or the Royal Family.
Harry does not pull any punches with this memoir, describing everything from losing his virginity to his tour in Afghanistan to physical fights with his brother William. It's a compelling story, offering an insider's look at a world that none of us non-royals will ever understand.
Read this if you're an anglophile, if you follow celebrity gossip, or if you just want to feel extra posh for a week.
Project Hail Mary by Andy Weir
Another excellent Sci-Fi book is Project Hail Mary, written by Andy Weir, author of the popular book "The Martian" (made into a motion picture starring Matt Damon).
This captivating adventure takes readers on an interstellar journey with an astronaut who wakes up on a spaceship with no memory of his mission. Weir's blend of enthralling storytelling and scientific details creates an immersive and unforgettable experience. (And, yes, extraterrestrials are involved.)
Whether you're a fan of Weir's previous works or are new to his writing, "Project Hail Mary" is a must-read page-turner that showcases his mastery of modern science fiction.
Untamed by Glennon Doyle
If you somehow missed this bestseller a few years back, Untamed is still as relevant as ever for anyone who wants to break boundaries and unleash their full potential.
This timeless gem offers wisdom, encouragement, and practical advice to ignite your journey of self-discovery. Universally appealing, its transformative power inspires readers of all ages and professions to embrace greatness and make a positive impact.
Read this if you want to feel utterly inspired and ready to take on the world. (And never forget, you are a g**damn tiger!)
It Ends with Us by Colleen Hoover
Want a pageturner that will make you feel all the feelings? Pick up It Ends with Us.
Colleen Hoover's novels have skyrocketed in popularity lately, and this is her most famous of the bunch. It follows the story of workaholic Lily, who finds herself in a relationship with the brilliant but complicated neurosurgeon Ryle, all while thinking of her first love, Atlas.
This book is an emotional rollercoaster and — to be 100% honest — a heartbreaker. At the same time, it's a book about the gray areas in human relationships and how the cycle of abuse can happen to anyone.
If you want your summer read to really make you feel something, this is the one to choose.
Daisy Jones & the Six by Taylor Jenkins Reid
Another book that's now a popular TV series, Taylor Jenkins Reid's Daisy Jones & the Six is the perfect summer read if you like rock n' roll, '70s fashion, and California bohemian vibes.
This mesmerizing tale transports readers to the world of '70s music and the tumultuous rise of a fictional iconic rock band.
What I love most about this book is how it delves into the lives of its charismatic characters, particularly Daisy Jones, the enigmatic and alluring lead singer, and Billy Dunne, the brooding frontman of the band. Their chemistry and creative dynamic drive the narrative, weaving a story of passion, ambition, and artistic brilliance.
The Identicals by Elin Hilderbrand
If you ask me, Elin Hilderbrand is the undisputed QUEEN of summer fiction for adults. What Sarah Dessen and Morgan Matsen are for teen girls, Elin Hilderbrand is for adult women. Think glamorous summers on the Vineyard, small-town secrets and intrigue, and all the coastal grandmother vibes.
In The Identicals, Hilderbrand introduces us to identical twin sisters Harper and Tabitha Frost, each living on separate islands off the coast of Massachusetts (Nantucket and Martha's Vineyard). Despite their shared appearance, they couldn't be more different in temperament and life choices. As the narrative unfolds, readers are drawn into a captivating web of family secrets, misunderstandings, and personal growth as the sisters' lives intersect in unexpected ways.
Trust me: Once you read this, you'll be hooked on Elin's novels. And honestly, you can't go wrong with any of them if you need another beach read!
An Abundance of Katherines by John Green
When people think of John Green, they usually think of The Fault in Our Stars, Paper Towns, or Looking for Alaska, the first two having been made into feature films, and the last even included in some school curricula.
However —
An Abundance of Katherines is my favorite John Green book. 
It's quirky, it's fun, it's about a road trip (how much more summer can you get?), and it's totally got that adolescent realistic fiction emphasis on self-discovery.
Another thing that makes certain books perfect for summer is how easy it is to read them (I call this textbook fatigue). By that token, this book is the perfect cure for textbook fatigue.
The Darkest Minds by Alexandra Bracken
I'm seriously so excited to share The Darkest Minds with you guys. Like Throne of Glass, this one is more adventurous and less self-discovering…
But it's one of my favorite series of all time. It's a trilogy, which means you have plenty of time to read it this summer. The movie adaptation is great too, so if you read it this summer, you'll have a new film to watch afterward.
The trilogy is about Ruby, Liam, Chubs, and Zu, four teens with powers in a dystopian America, where all the adolescents without powers die, and those with powers are put into internment camps. These four escape in a car called Black Betty (road trip?) and try to survive.
Ruby is one of my favorite characters ever written. I legitimately can't decide if I'd rather name my hypothetical future daughter Ruby or Diana (after Wonder Woman). The other characters are also brilliant, the romance is believable, and ugh, the feels, and I seriously miss hanging out with them in Black Betty.
13 Little Blue Envelopes by Maureen Johnson
Ginny's Aunt Peg sends her the first of thirteen little blue envelopes that inform her that her aunt has died and left behind a scavenger hunt of sorts for her to follow all across Europe. What follows is a cross-country trip that changes Ginny's life forever.
A little cheesier and more light-hearted than some of my other suggestions, 13 Little Blue Envelopes is one of my favorite books and is the perfect airplane read for anyone heading out on an international trip this summer.
The Other Typist by Suzanne Rindell
Set in the mid-1920s, The Other Typist by Suzanne Rindell is an incredibly compelling, suspenseful tale that will have you addicted from the first chapter.
Narrator Rose Baker takes the reader on a spin through New York's underground and illegal party scene as she obsesses over Odalie, the newest girl working at her police station—a girl who might just be her undoing. The innocent girl that Rose could always claim to be slowly disappears as Odalie introduces her to the dark side of the city that never sleeps, laws that were made to be broken, and murder.
Rindell's writing and Rose's act as an unreliable narrator work together to place the reader in a state where they never know what will coming next, where they're never quite sure what the truth is, and where they will be absolutely blown away by the novel's conclusion.
Wonder Women by Sam Maggs
Wonder Women by Sam Maggs provides brief insights into the hidden history of women inventors, spies, scientists, and adventurers and the women who defied societal expectations to aspire to greatness. 
If you watched and enjoyed Hidden Figures, you'll love the chance to meet the forgotten heroines that star in these pages. Wonder Women also includes interviews with modern-day women in STEM, focusing on what their experiences have been like, and how girls today can get involved in those fields.
This book promotes the idea that girls can grow up to do anything and contributes role models to guide them along the way. A perfect read if you're looking for inspiration or representation.
Note To Self by Connor Franta
Alternating between gorgeous pictures and personal entries from his journal, and covering mental illness, self-image, love, and everything in between, Note To Self by Connor Franta has been high on my Need To Read List. And I'm finally reading it this summer!
Outside of his books, Franta is a successful social media star and an LGBTQ+ activist, but inside these pages, he comes through as a relatable, three-dimensional human being.
Beautifully written, this open diary is one of the most intimate works you can get your hands on this summer.
Love Lasts Three Years by Frederic Beigbeder
"Ooh la la," gasps the Administrator of the Stereotype Bureau. Ask the French about love, and you're in for quite a story. 
Love Lasts Three Years is a book that flirts with the reader as much as the hero does with the heroine. It scorns our American and somewhat pragmatic sensibilities. Admit it, Beigbeder seems to say, love is still the greatest adventure you can think of, no matter if it lasts a week or a few centuries. 
What's length to the depth of a feeling? Is love in the 21st century an unanswered text? Read this and find out.
The Prime of Miss Jean Brodie by Muriel Spark
The Prime of Miss Jean Brodie is a short book that's surprisingly complex and weighty for its length.
How about this adventure? You are a manipulative, charming teacher in a town school, who recruits a group of girls into her "team," educates them, molds them, and (sometimes) wrecks them. 
Charm the art teacher. Have dubitable political affiliations. Create authority. Be "at your prime" all the time. When you're the sole sociopathic center of a book, the possibilities are endless. If you want something that'll have you captivated until the end, pick up this short read and be impressed.
Rebecca by Daphne du Maurier
Fair warning: This adventure is somewhat darker than the others on this list.
Imagine you're a simple, good-hearted girl with no dowry. Suddenly, what luck! You fall in love and marry a fine man, suave and aristocratic. Soon after the honeymoon, you move into his castle…Only to discover some female spirit is still wandering in your house, destroying your new happiness. 
Rebecca is a novel about becoming so you can make another narrative "unbecome:" in the end, not to recognize yourself may be the greatest adventure of all.
Mysteries by Knut Hamsun
Nagel is a fascinating weirdo and the talk of the small town. No one knows why he is there and what he is up to, and everyone is curious, yet no one can ask him. 
This has been dubbed a "psychological novel," and the description couldn't be more fitting. Mysteries is a book with a creepy atmosphere, the source of which the reader can't entirely pin down.
By the end of it, I found myself half-charmed by the main character and half-wanting to be him.
Chocolat by Joanne Harris
Considering the last two books are somewhat serious – they have a flavor of approaching fall – I decided to end with a book that is pure pleasure: Chocolat. 
You have probably seen the movie, but I read the book after seeing the film, and it was still amazing. The prose is seductive and decadent, like, well, chocolate.
If Hamsun's protagonist disturbs and confuses the town, Harris creates a heroine who changes it for the better or, at least, makes things sweeter with her indulgent Mayan magical shop.
What are your favorite summer books? Tell us below!
For more book recommendations, be sure to see our list of glamorous books to read whenever you feel blah.
Do you have books you love to read in the summer? Adventure series? Adolescent romance? What books do you read every year? Tell us in the comments section!
If you enjoy our college girl book collection, we suggest checking out the related posts listed below –