This post may contain affiliate links, which means we may receive a commission if you purchase through our links. Please read our full disclosure here.
This post will show you the best boots for fall and winter, with 15+ styles under $200 and styling tips.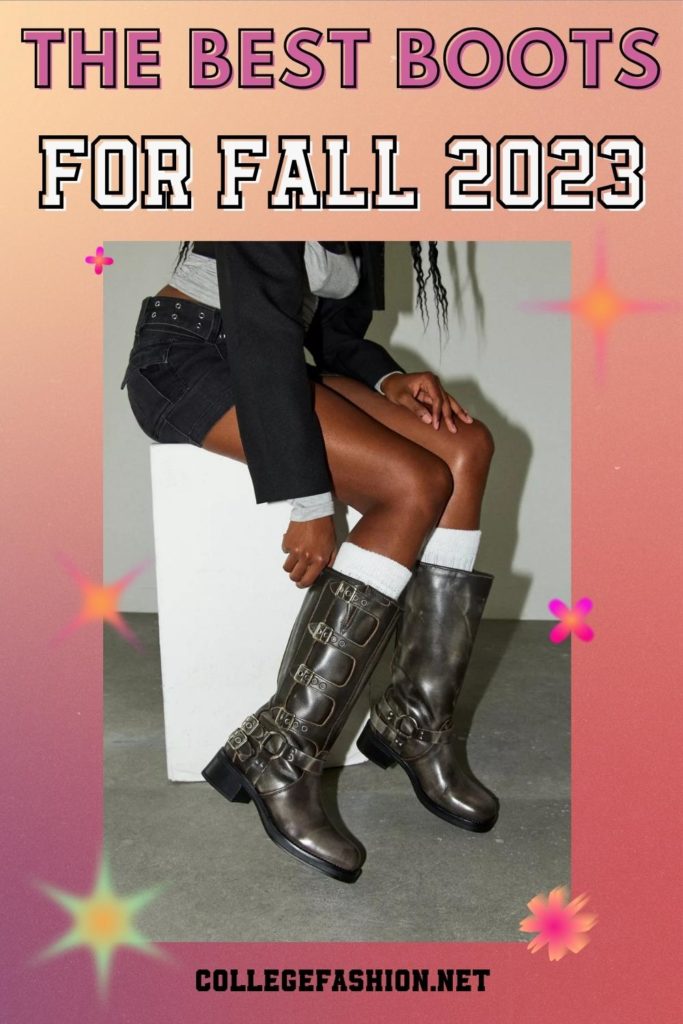 When it comes to fall footwear, it's no secret that boots reign supreme.
As cute as ballet flats and loafers are, nothing will keep your feet warm and toasty during the fall and winter like boots will. In fact, they are pretty much the only shoes I wear from November – March!
And this season, the boots are better than ever, with tons of options that are as functional as they are cool. So, if you're ready to update your shoe game and find the perfect pair of affordable boots that will take your fall and winter outfits to the next level, read on for the best boots under $200, along with the season's top shoe trends and boot outfit ideas.
Fall 2023 Boot Trends
Wondering which boot styles are going to be this season's biggest stars? These are the top 3 boot trends you'll want to make sure you add to your shoe wardrobe this upcoming fall.
Moto Boots
Moto boots are officially back! Motorcycle-style boots, also known as biker boots and engineer boots, were popular several years ago, so if you have any stored in the back of your closet, it's time to pull them back out.
(If not, keep reading for plenty of new yet perfectly distressed moto boots that are perfect for the upcoming season.)
Why the sudden trend revival? We can thank Miu Miu for its "Sienna" and "Stivali" leather biker boots (worn by Dua Lipa, above), which quickly became the must-have shoes of the season after their runway debut.
Cowboy and Western-Inspired Boots
Yep, cowboy boots are still going strong this season! Opt for mid-calf and knee-high cowboy boot styles, which, BTW, look adorable when paired with shorts or mini skirts for the fall (with a sweater or jacket, of course).
Also, consider styling your cowboy boots with another one of this season's fashion trends: denim maxi skirts.
Lace-Up Boots
From Fendi to Gucci, many fashion houses showcased chunky lace-up boots in their Fall/Winter 2023 collections, indicating that grunge-inspired footwear is going to be big this autumn.
Whether you opt for classic combat boots or knee-high variations, you'll be on point with any lace-up boot style. These boots will surely give your outfits an edgy, grungy vibe while also being ideal for battling the elements (you'll be able to take on the rain, and, in some cases, the snow, in style).
The Best Boots for Fall 2023
Now let's get to the good part: shopping! Read on for our round-up of the best boots for Fall 2023, with styles that balance trend appeal and function, and are all under $200.
1. Steve Madden Brocks Knee-High Moto Boots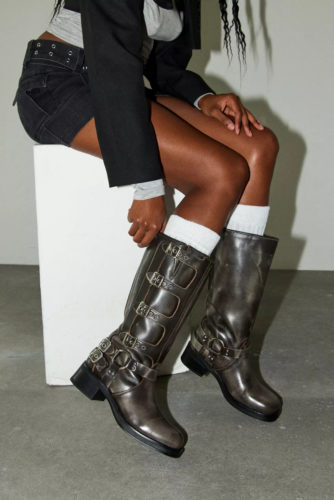 Arguably one of the best dupes for Miu Miu's moto boots, this Steve Madden pair has got all the makings of this season's It Shoe. With tumbled leather for a vintage look, tons of buckles, and a "stompy" silhouette, you'll feel like a true biker babe in these boots.
Available in black and brown, these block heel moto boots are as badass as it gets.
2. Free People Jones Lug Sole Lace-Up Boots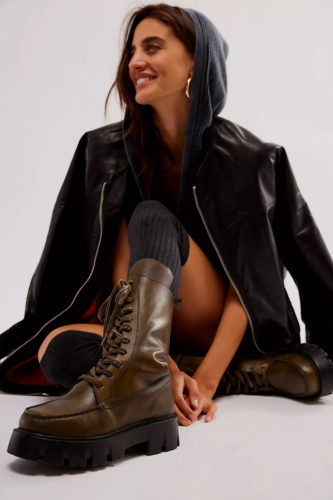 Combat-boots-meet-loafers—the perfect combination for fall and winter wear! These edgy mid-calf lace-up boots feature an ultra-chunky lug sole with loafer-style stitched details and convenient interior zipper closures for easy on-and-off (because who wants to lace and unlace their boots each time?!).
They come in four different colors of buttery smooth leather, so you're sure to find the perfect shade to complement your fall wardrobe.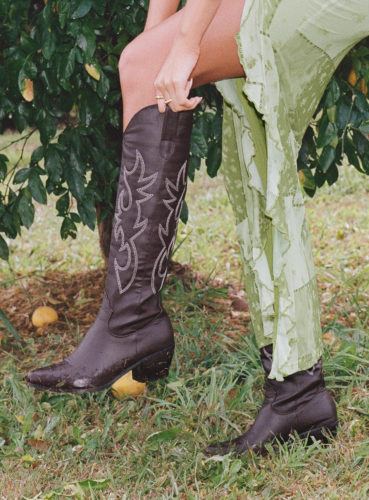 The Western-style stitching on these knee-high cowboy boots makes them pretty much perfect in my eyes, especially combined with their rich chocolate brown hue (though they come in white, as well!). This darker hue is ideal for the fall season, and the low heel makes them wearable during the day and night.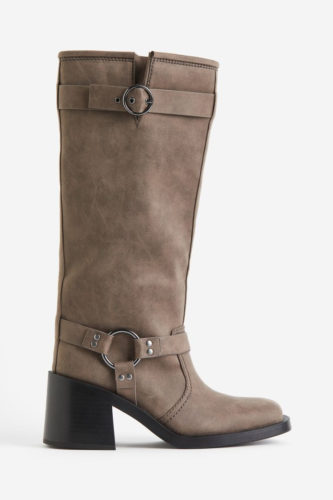 You'll want to snag these knee-high biker boots that are moto-style with buckle detailing and rounded square-toes before they sell out (which I predict that they soon will).
They have a bit of a dressier look than other biker boot styles, making these a match for more elevated outfits (like your weekend 'fits). Style these with a flowy dress or a long, drapey skirt for a fashion-forward look that appears much more expensive than it actually is, since these boots are a total score at under $100.
5. Dolce Vita Falon Boots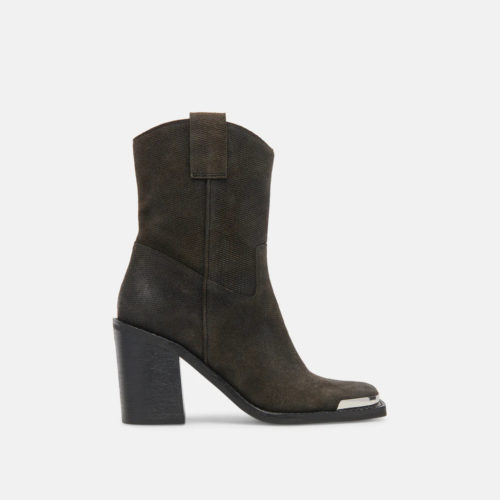 If you want to try out the Western boot trend but don't want to go full-on cowgirl, try Dolce Vita's Falon boots. These have a subtle Western flair thanks to their metal toe detail and overall silhouette but are a more luxe, refined take on the look.
These heeled booties are ideal for wearing out and about at night; throw on a faux leather moto jacket and you'll be all set.
6. Steve Madden Brycin Booties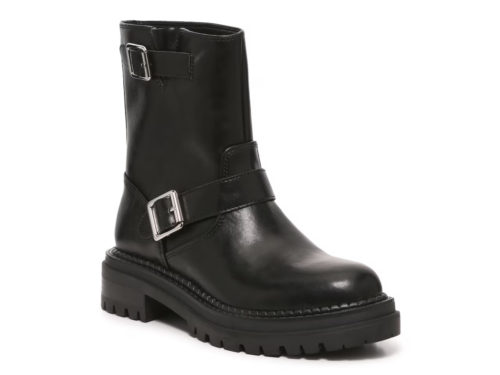 Moto boots come in all shapes and sizes, like these moto booties that are ankle-height and incredibly wearable for day-to-day.
Their short silhouette makes them easy to pull on with jeans, skirts, and dresses (plus tights if it's cold out), while their tough, rugged exterior means you'll be able to tackle anything the day may throw at you.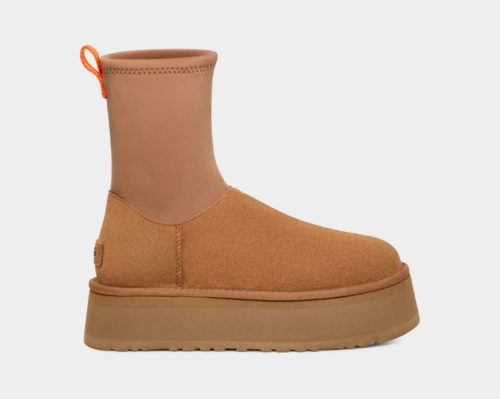 It's no secret that platform Ugg boot styles have been at the forefront of fashion and comfort in recent years, and this fall, Ugg is introducing a new style set to take the main stage: the Classic Dipper boots.
These cozy boots feature the platform heel we know and love, with the addition of a neoprene shaft that allows these to easily tuck under jeans and pants without rumpling the hemlines (plus side zippers for convenience).
Similar to a sock boot, this calf-hugging addition means a bit of added warmth, too, which is a major plus during the wintertime.
8. Dr. Martens 1940 Pascal Virginia Lace-Up Boots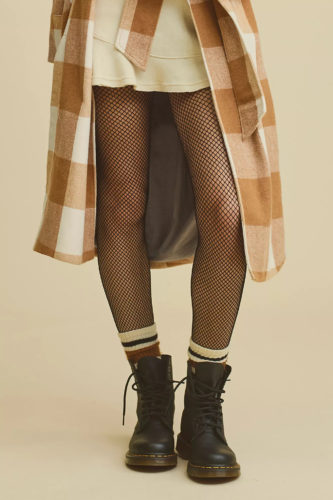 You can't go wrong with a pair of Dr. Martens lace-up boots, a fashion staple for over 70 years. These classically punk boots have been updated with a smooth, fine-grained leather exterior and air-cushioned outsoles for comfortability.
If you're searching for the perfect boot to wear on campus, these are a top contender thanks to their durability, comfort, and ability to pair well with just about any casual outfit.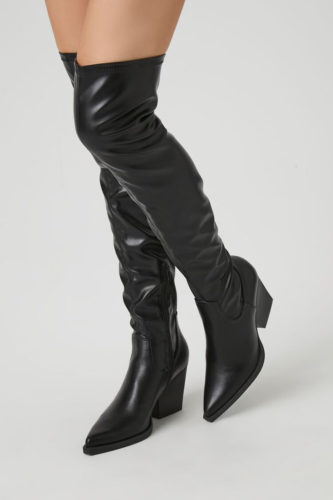 Over-the-knee boots always make for a fashion statement, but this season, you'll want to keep an eye out for slouchy styles for an updated look.
These faux leather over-the-knee boots have a slightly slouchy silhouette, along with a Western-inspired pointed-toe and block heel for added trend appeal. Best of all, they are under $50!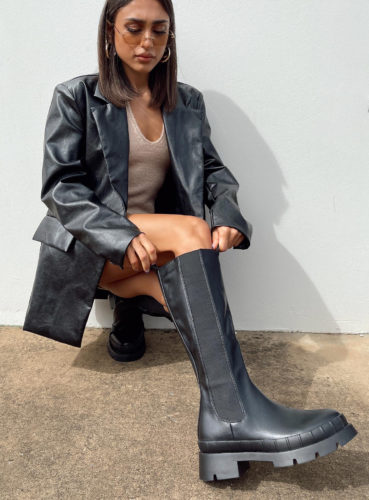 Stomp around in style with these chunky knee-high boots with platform lug soles and elasticated side panels for easy wear.
These boots will add a dose of edge to your fall and winter outfits while taking on colder weather conditions with ease—wear them with thick socks, leggings, and a puffer jacket during the wintertime for a cute cold weather look.
*Elevate* your fall and winter looks (literally) with these Chelsea boots with XL lug soles. The super-chunky platform soles make these boots stand out from the crowd, while the calf-high shafts with elasticized side panels keep them looking sleek.
These boots come in black, brown, and blonde, all of which will effortlessly complement your wardrobe.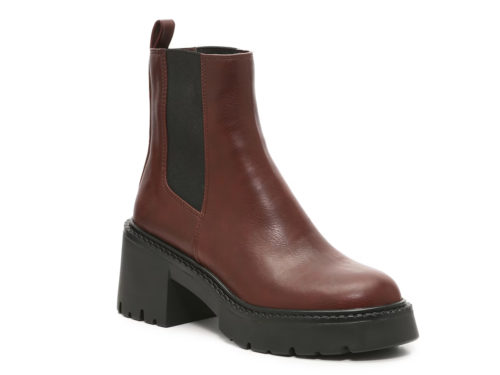 Not looking for such a big boost in height? No worries. Try Madden Girl's Trust Chelsea booties, which feature a thick yet lower block heel with a rugged lug sole.
They still have the classic Chelsea boot silhouette that makes them perfect for everyday wear, but they can easily be dressed up, as well.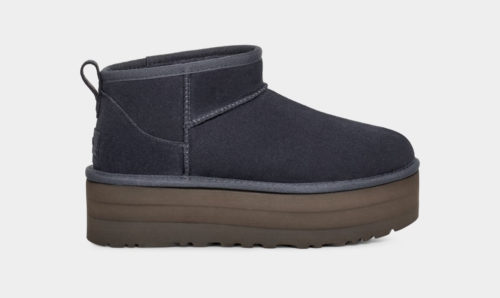 When it comes to winter boots, it doesn't get much comfier or cozier than a good ol' pair of Ugg boots. Ugg's platform boots and slippers have made a big fashion statement as of late, so you'll want to add some Classic Ultra Mini Platform Ugg boots to your shoe wardrobe this season—but in a fresh, eye-catching colorway, like navy blue or bright red.
These new, colorful hues make the boots' rich suede pack that much more of a punch.
14. Vintage Foundry Co Kelly Tall Lace-Up Boots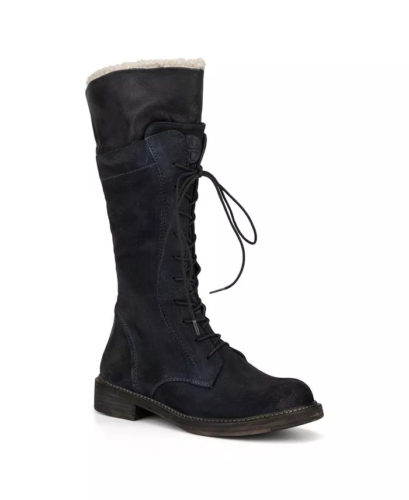 Winterize your footwear with these tall lace-up boots that feature a cozy inner Sherpa lining.
These boots feature this season's lace-up trend with the added warmth (and style) of the faux fur interior lining. Plus, they give you the option to fold over the top for a different look.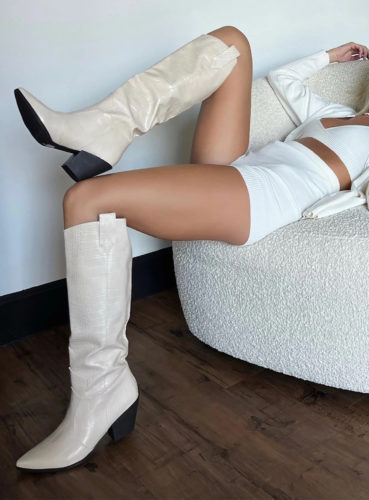 Turn heads in this pair of ecru knee-high Western boots with a faux croc print.
These stylish boots will add a major dose of style to your outfits. Their light color and shiny faux croc print make them a bit dressier than your average Western boots, making them the perfect addition to your going-out 'fits.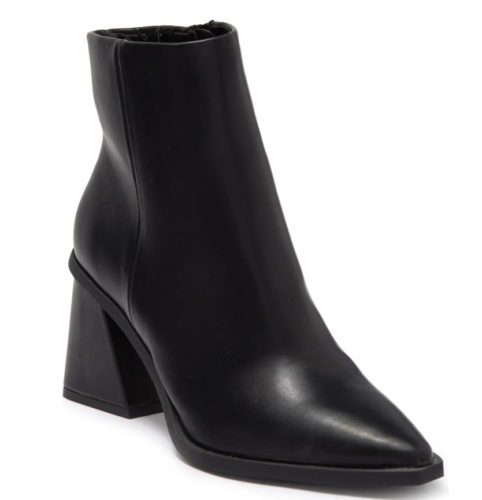 Every girl needs a go-to pair of classic black ankle booties, which never go out of style and are some of the most versatile shoes to own.
When it comes to picking the perfect pair, opt for ankle booties with a sleek, uncomplicated silhouette, which will give them longevity, rather than go for details that make them overly trendy.
This pair is a great example of the latter, with a classic pointed toe, mid-height angular block heel, and a super sleek silhouette.
Boot Styling Tips and Outfit Ideas
Need some inspo when it comes to styling your new boots? I've got you covered with these outfit ideas featuring some of the season's best boots.
Moto Boots Outfit
Wondering how to wear this season's hottest boots, a.k.a. moto boots? Consider contrasting them with a girly skirt for a fashion-forward fall look.
This utility mini skirt is just the right amount of girly while still having the utility aesthetic that works well with the rugged, buckled moto boots.
Along with a faux leather bomber jacket, silver hoop earrings, and the top of your choice, this outfit is going to be a major slay.
Cowboy Boots Outfit
Believe it or not, there are so many ways to wear cowboy boots. If you want to go the trendy route, try wearing them with one of this fall's biggest fashion trends: a denim midi or maxi skirt.
This 'fit is definitely worthy for an #ootd, as it features a black puff sleeve tie-front top, a denim midi skirt, and black knee-high Western boots.
Since red is the color of the season, add a pop of color to the ensemble with a small, structured red shoulder bag (this one features a chic chain detail), and wear a corded necklace with a silver heart pendant for a feminine, vintage-inspired touch.
Daytime Casual Boots Outfit
For an everyday fall and/or winter outfit that is stylish yet functional, start with some classic black Chelsea ankle boots. This isn't your average pair, though: these booties are water-resistant, so that you can wear them on rainy days without worry. You'd never know, considering how sleek they look!
Style them with some relaxed-fitting denim, a cozy sweater (stripes are big this fall), and a warm jacket. This oversized faux leather jacket adds a cool-girl vibe to the ensemble while also keeping you toasty thanks to its teddy-fleece-lined interior. This outfit works for school, weekends, coffee dates—you name it!
What do you think of our boots fashion guide?
Would you wear these boots? Which style is your favorite? Leave a comment and let us know!