This post may contain affiliate links, which means we may receive a commission if you purchase through our links. Please read our full disclosure here.
This post will show you how to style t-shirts for every style and occasion.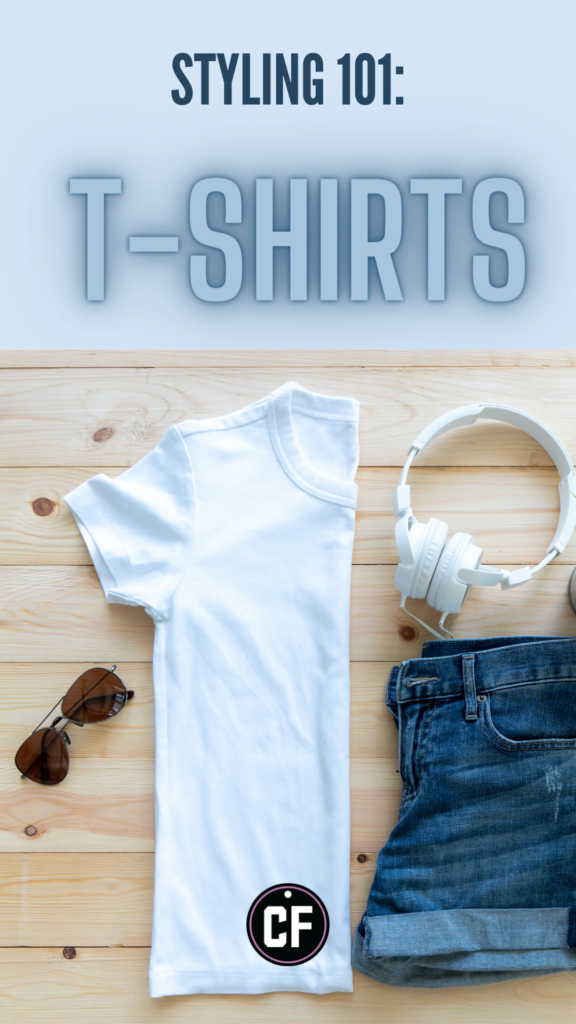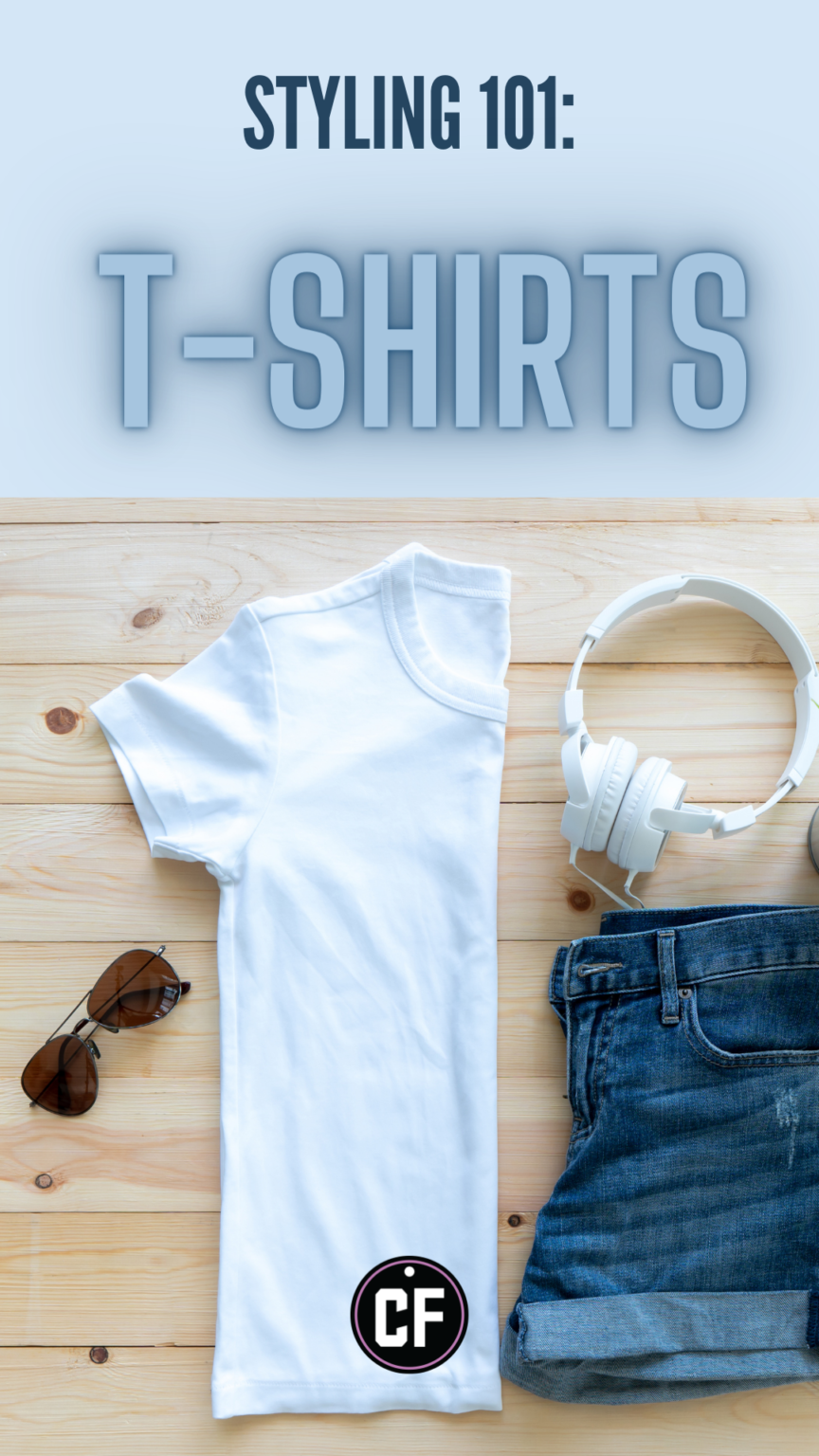 Fashion is fun. Styling an outfit is a fantastic way to get your creative juices flowing. But, sometimes (and for some of us), it can be overwhelming. Look, I get it. It's a fast-paced, ever-changing industry. Trends and styles come and go in the blink of an eye. It can be too much to handle if you are dipping your toes into the pool of fashion for the first time.
I'm here to help.
In this new series, I'll give you styling advice on some of the most confusing and difficult styling areas. I'll outline all my tips, tricks, and hacks to help you create amazing outfits. Also, I'll exemplify everything in three degrees of difficulty so it can be easier to see what you can do.
This week, I'll give you all the tips and tricks to style t-shirts in fun and unexpected ways. 
T-Shirts in Fashion: A History
T-shirts, also called tees, are shirts named for the T shape of their body and sleeves. They are generally made of stretchy, light, and inexpensive materials. Traditionally, they are "crew neck" shaped, characterized by short sleeves and a round neckline. T-shirts don't have a collar, which differentiates them from blouses, shirts, and polo shirts.
T-shirts are a staple in everyone's closet and it is easy to see why. They're comfortable, easy to layer, available in every fit imaginable, and every brand – high-street or designer – has them in a bunch of designs and colors available.
Historically, t-shirts evolved from undergarments in the 19th century to outerwear garments in the 20th century. T-shirts became even more popular in the 1950s after Marlon Brando wore one in the film A Streetcar Named Desire. After this, t-shirts became a fashionable, stand-alone, general-use casual item.
T-shirts are for everyone. They are among the most versatile, personalizable, and comfortable items in every closet. We wear them throughout our lifespans and for every season.
Despite their amazing qualities, we have relegated them to the realm of casual and left it there. We tend to look down on t-shirts. We love them, but, somehow, they've become our last resource or the blank canvas for something more exciting. Today I'll show you how to change that.
How to Create Outfits with T-Shirts: Tips, Tricks, & Hacks
So, how do we style t-shirts for all areas of our lives? How can we take advantage of the most constant item in our closet? I'm here to help. I believe t-shirts can play a larger role in our outfits than they currently do.
Here are some tips and tricks to use your t-shirts everywhere and for everything.
Accessorize to elevate. Maybe you want to wear just a simple T-shirt and jeans, but you want to polish it up. Use accessories and shoes to elevate your look without sacrificing simplicity or comfort.
The type of tee matters. Neutral, graphic, oversized, baby tees, whatever type of t-shirt you wear affects your outfit. Be aware of how different t-shirts impact your outfits and use them to your advantage.
Opposites attract. Pair your t-shirts with their opposites for a modern and stylized look. Their opposites are tailored pieces, flowy or frilly fabrics, glittery and sparkly items, etc.
Make t-shirts your statement piece. T-shirts don't have to be the backdrop all the time. In particular, graphic and oversized tees can become the statement piece of your outfit.
Layer up! Layers are the best fashion hack for life, which is true for styling t-shirts. They're insanely easy to layer and layering is the easiest way to elevate any tee.
Now, let's put this to the test.
T-Shirt Outfits: Fashion Guide
Easy – Outfit #1
Let's start with a T-shirt's best friend in this day and age: a good pair of jeans.
T-shirts and jeans have been paired up for nearly a century. They're the go-to outfit for most people, whether they're into fashion or not. For me, my go-to version of this look consists of a white t-shirt, mom jeans, and a pair of Converse.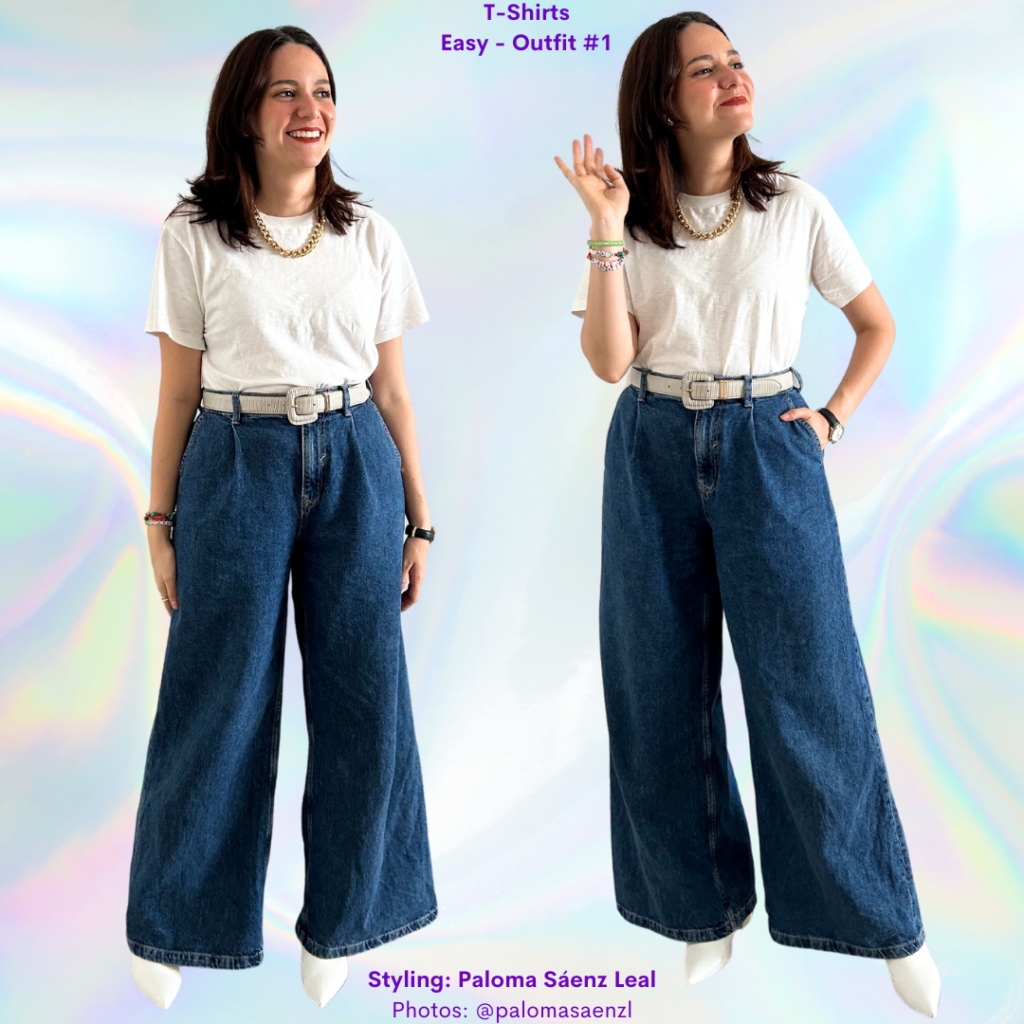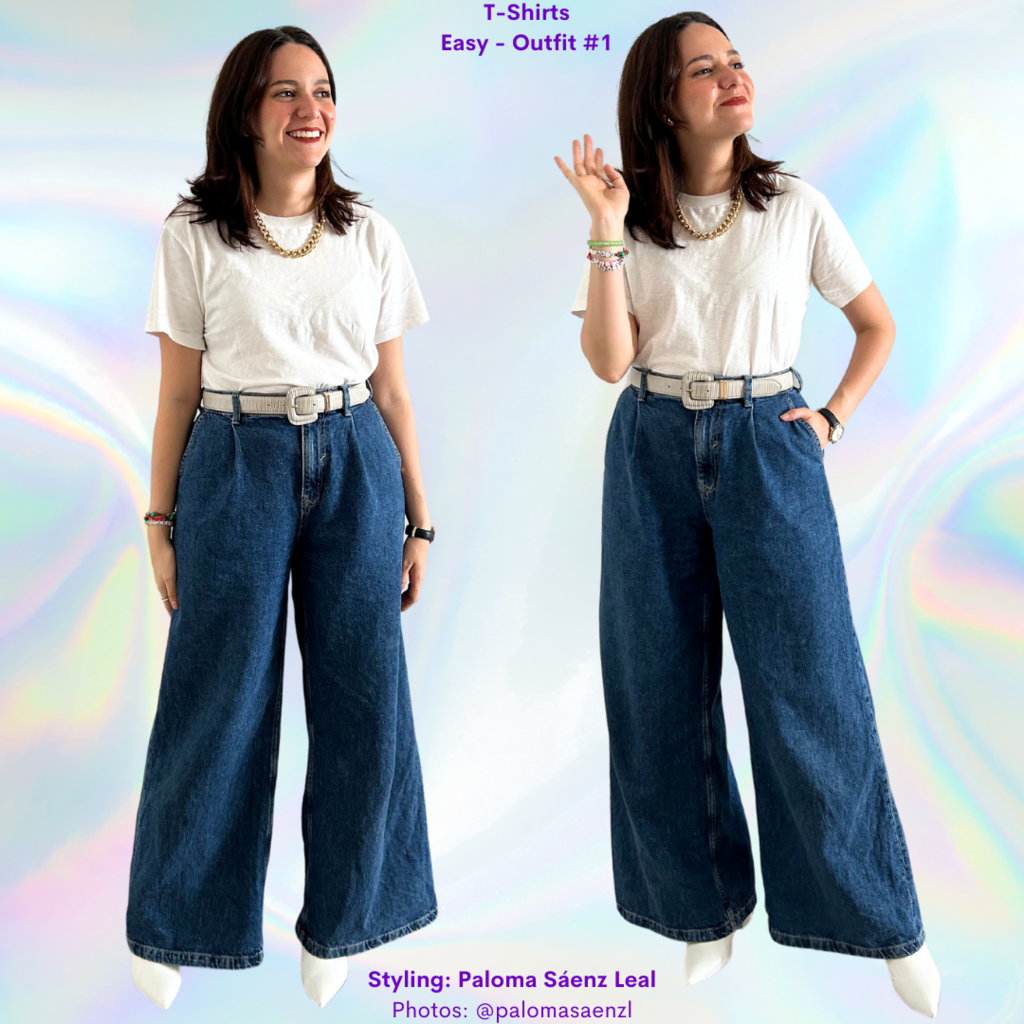 To create an elevated version of this look, I started off with a white cotton t-shirt. This t-shirt is as classic as they come: it is not cropped, fitted, or distressed; it has the classic rounded crew neck and short sleeves.
Instead of mom jeans and sneakers, I wore a pair of wide-leg, tailored jeans and white booties.
Next, I accessorized consciously, adding gold earrings, gold rings, and a gold chain to bring that shine to the t-shirt and closer to my face. Finally, I wore a white belt.
This type of look exemplifies why you must understand the fit and cut of your chosen items.
Two really casually cut items, i.e., mom jeans and t-shirts, give off a casual look. If you instead choose a similar item with a different, more tailored cut (e.g., the tailored jeans), the look will be elevated. The same happens with shoes. While my booties are pointy and have a bit of a heel, any boot will feel dressier than a sneaker here.
Easy – Outfit #2
Now, what about graphic T-shirts? Graphic t-shirts are everywhere and they carry a lot of sentimental value for a lot of people. You don't get a concert tee or a shirt of your favorite movie, show, or book, without giving it special meaning.
But, they can be tricky if they have a big, colorful design. What do we do? Treat them like you would any patterned item and apply the same swapping-an-item-for-another principle.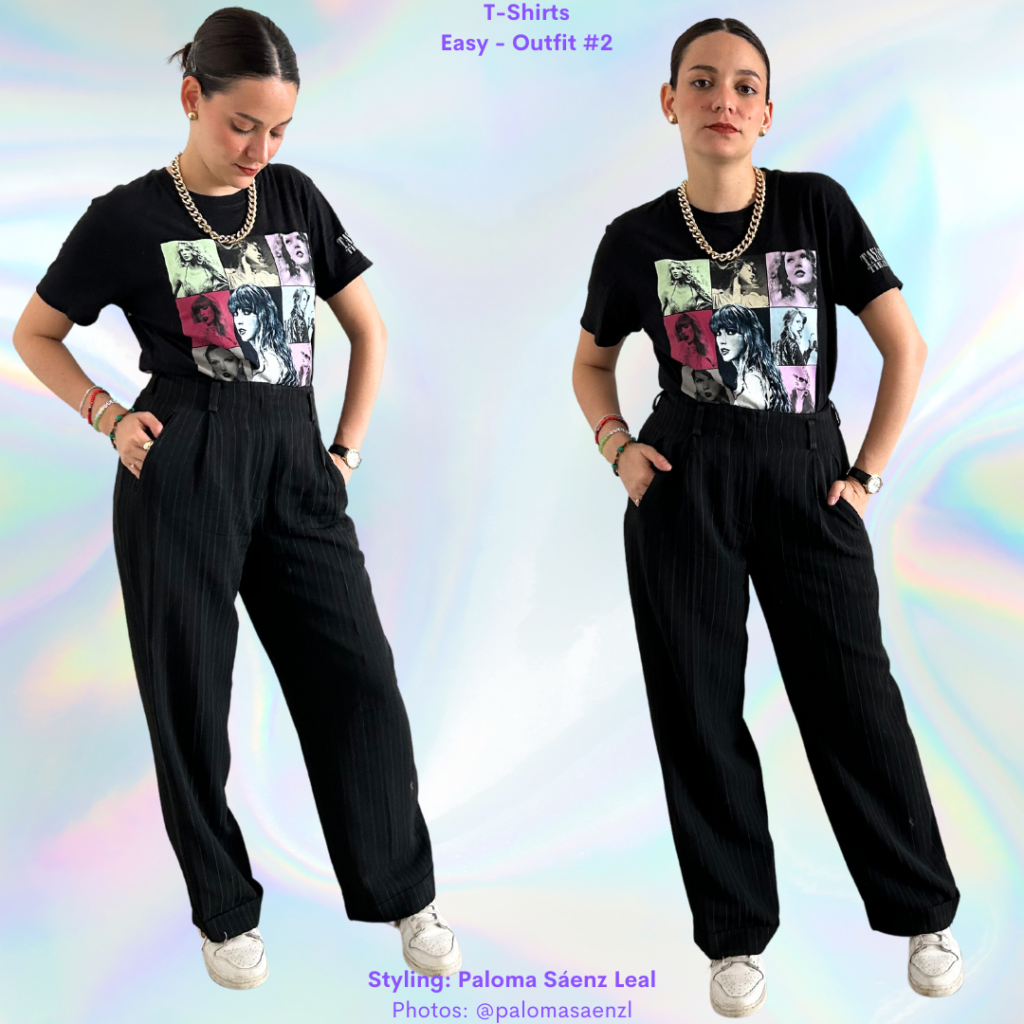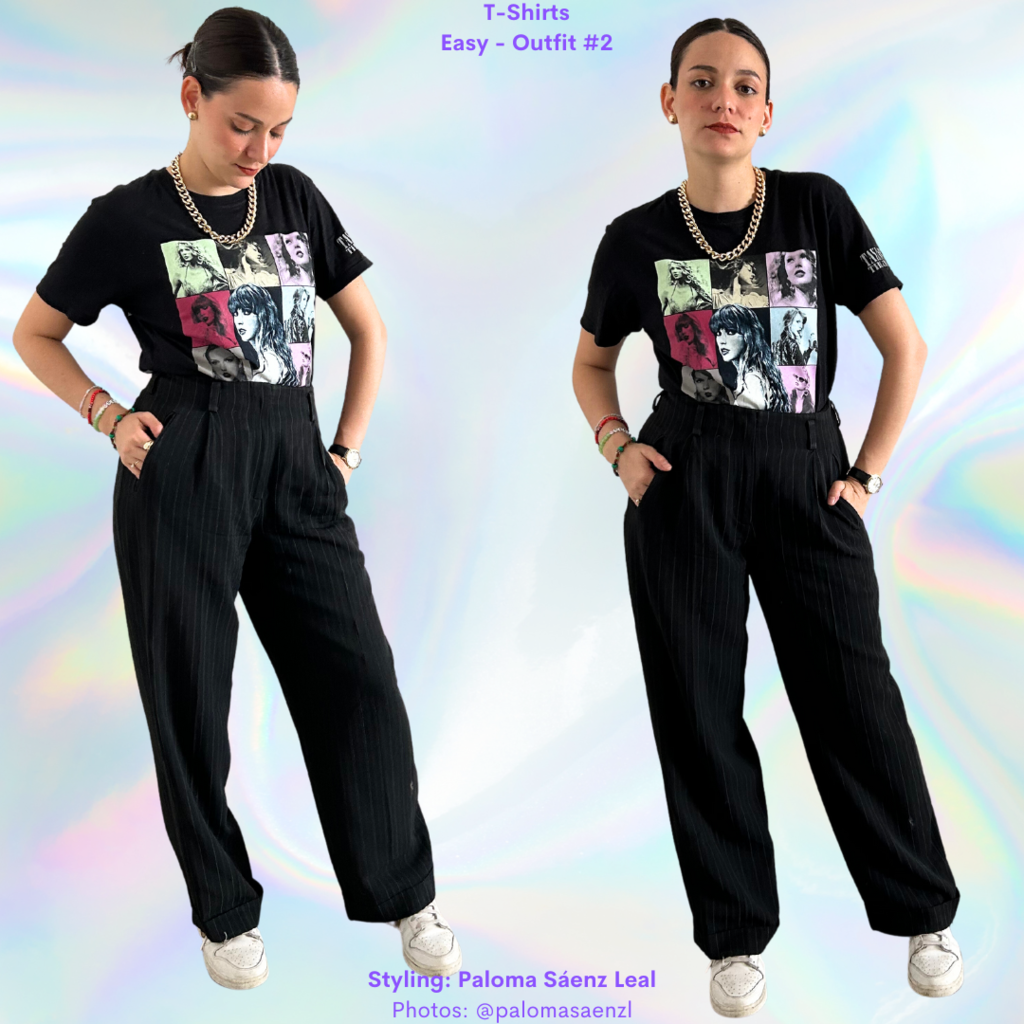 Take a look at this outfit I created. I started with a black concert T-shirt that has a bunch of colors in its graphic. Then, instead of jeans, I added a pair of black pinstripe trousers. I tucked in the t-shirt to not lose my waist.
For shoes, I chose white sneakers. For accessories, I wore the same gold chain and gold earrings. To finish it up, I put my hair in a sleek low bun.
Can you see how small changes make all the difference? Thanks to some tailored pants and a few accessories, I don't look casual or frumpy. Also, remember hair is an accessory too. By putting it in a bun, I didn't clutter my top frame and let the necklace and graphic tee shine.
Medium – Outfit #3
When you think of the opposite of a t-shirt, what comes to mind? Immediately, button-up shirts, suits, trousers, ultra-glam or glittery items, right?
These items are your best asset to elevate t-shirts and take them out of the casual realm.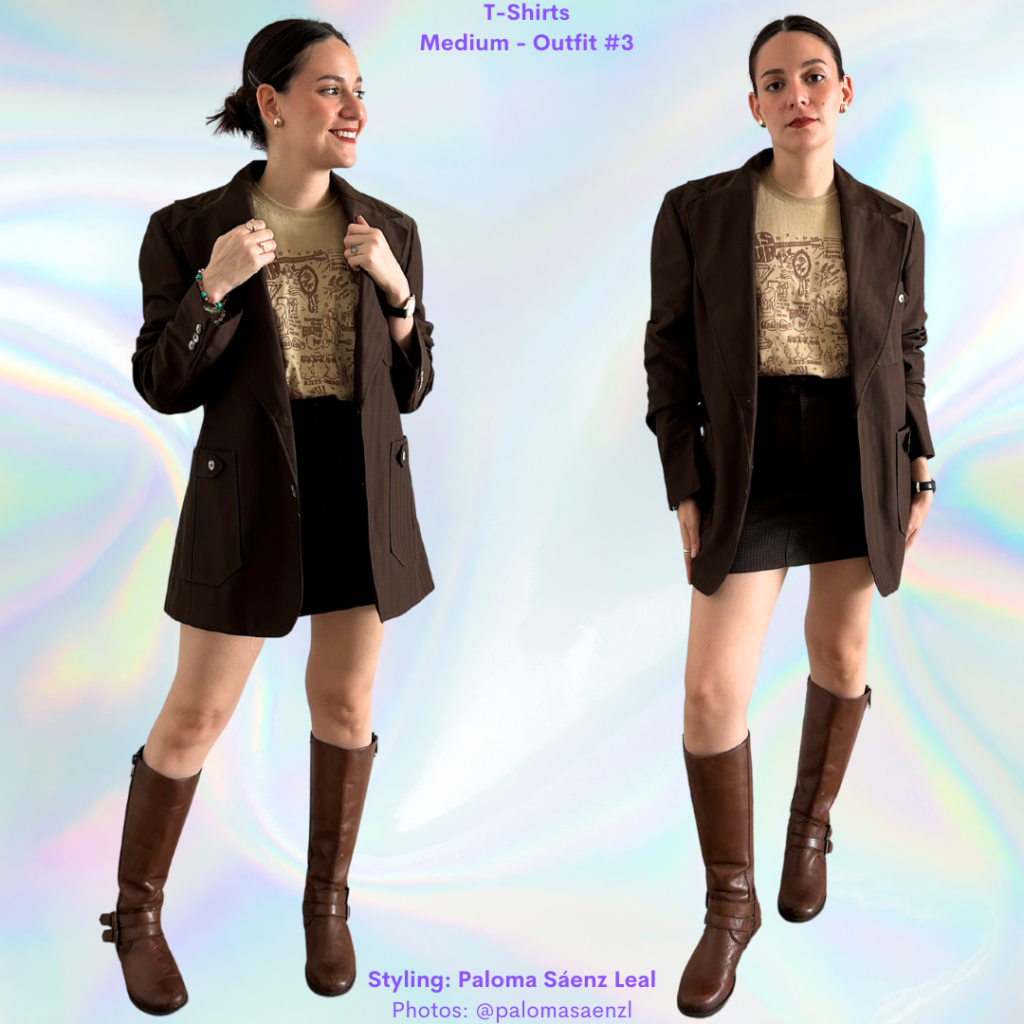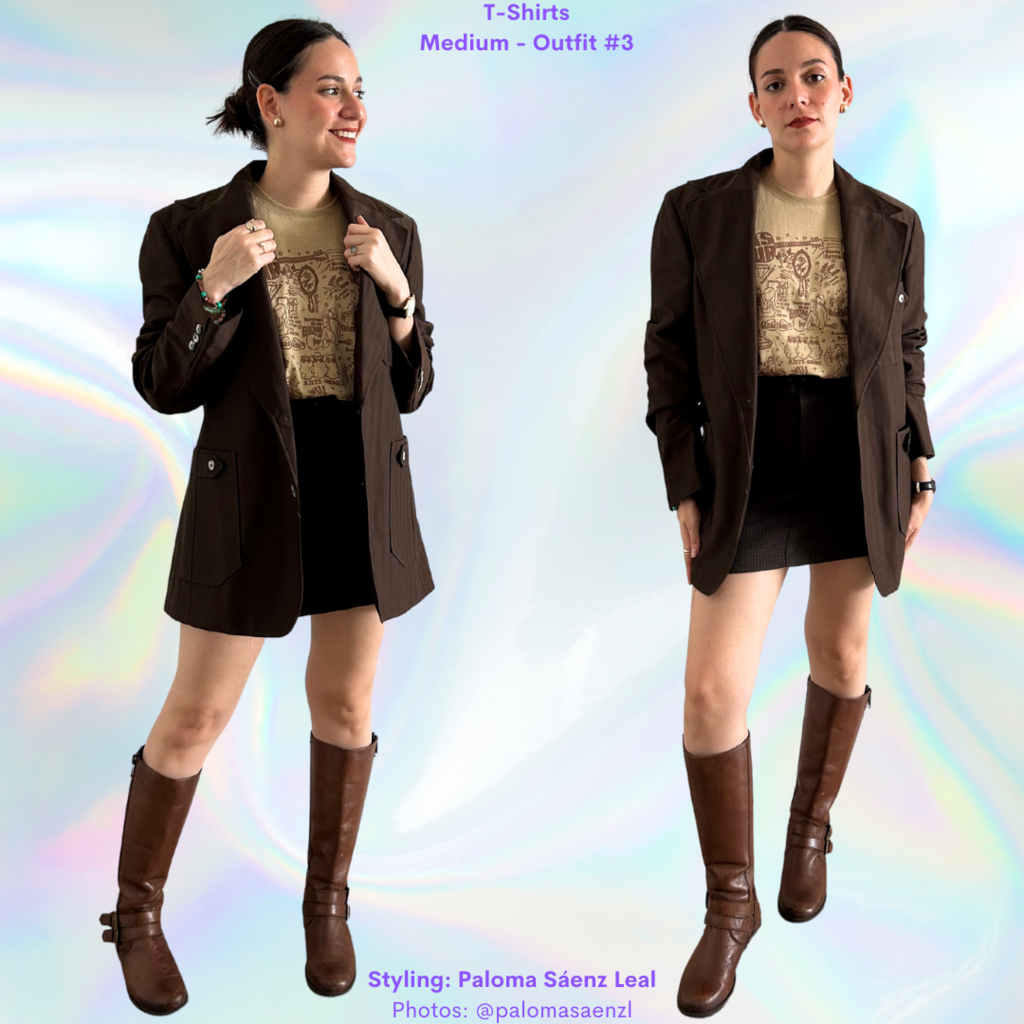 For this look, I wanted something preppy. I started with a tan graphic tee and based the palette of the outfit on the colors of the t-shirt. Then, I wore a brown mini-skirt with a tiny houndstooth pattern. To add a layer, I threw on a chocolate brown oversized blazer. Finally, for shoes, I went really preppy with a pair of cognac riding boots.
The blazer and skirt are more formal than a t-shirt, but the top doesn't seem out of place because the colors make everything look cohesive. When you're wearing a blazer with a graphic tee, pay attention to the colors of both. If the blazer is neutral, it'll be easier to pair with any t-shirt.
Medium – Outfit #4
Now, instead of going for the structured, preppy look, let's take a detour to the glittery side of the spectrum. Metallics, sequins, foils, and all the shiny materials you can think of are among the easiest ways to bring a simple t-shirt to life.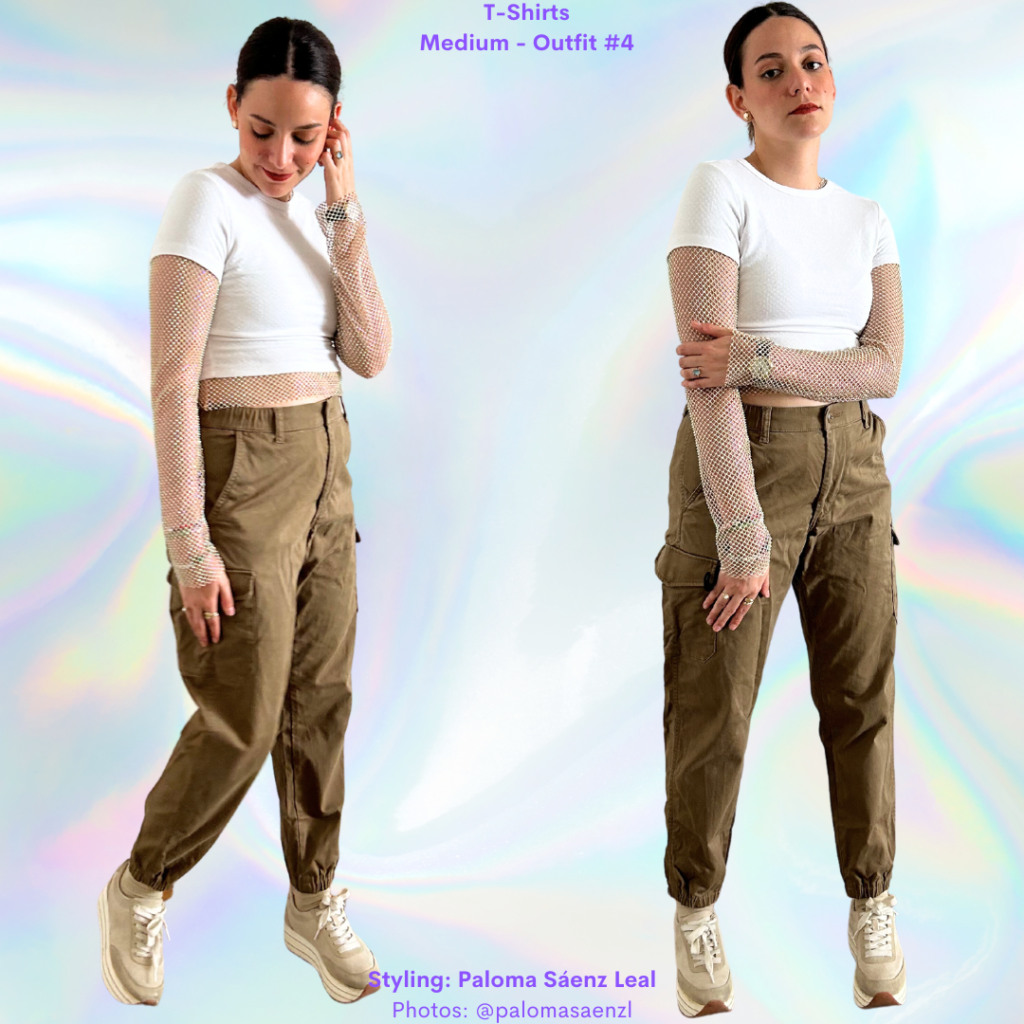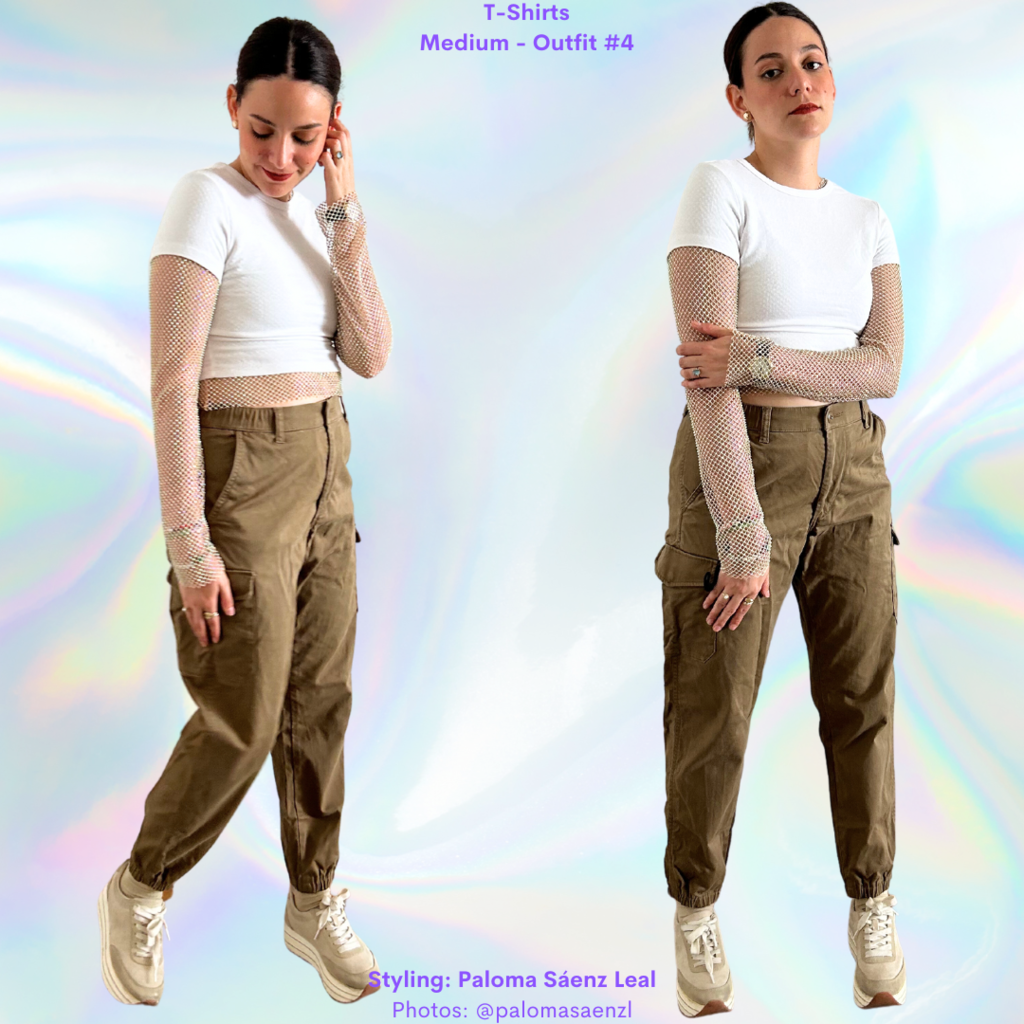 Now, for this outfit, let's tackle street style a bit more. For this look, I wore a white baby t-shirt and a pair of olive green cargo pants. Baby tees have been everywhere lately and cargo pants are on the horizon as one of the most popular trends for Fall/Winter.
I kept working with layers and added a mesh top with iridescent and gold diamantés. For shoes, I wore a pair of gold and beige platform sneakers. And finally, to keep the shiny gold theme going, I accessorized with my rounded gold earrings and gold rings.
Sometimes, t-shirts do take a back seat and that's okay. But it's important to know what type of tees are the best for this.
Baby tees and cropped t-shirts are great to layer because you do not have to fight excess fabric. They're also the best to wear with very high-waists and as a layer with button-up shirts and flowy dresses. On the contrary, oversized t-shirts can be challenging to layer if they're not your main piece.
Difficult – Outfit #5
Talking about oversized T-shirts, they're my favorite type. They're so comfortable and cozy. But, what do you do with really, really oversized T-shirts? And ones that have a design on them, too?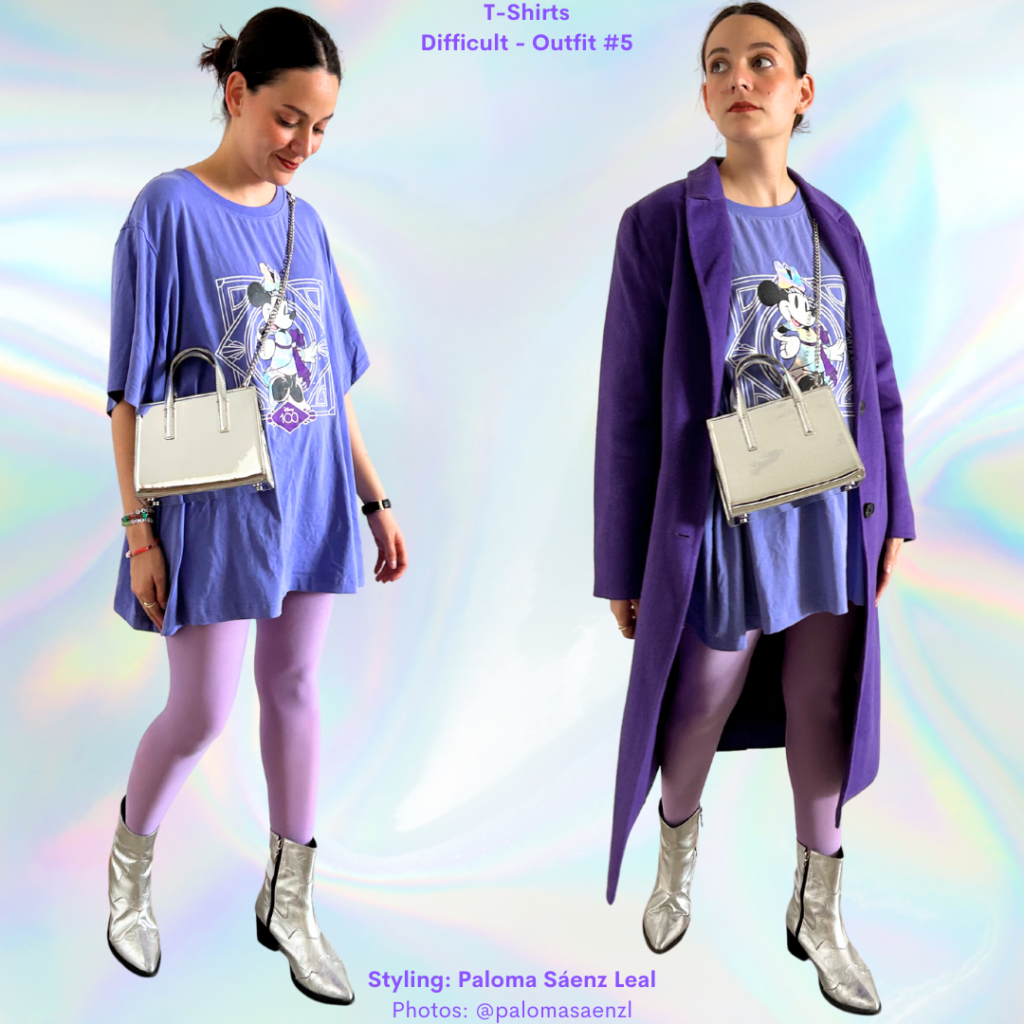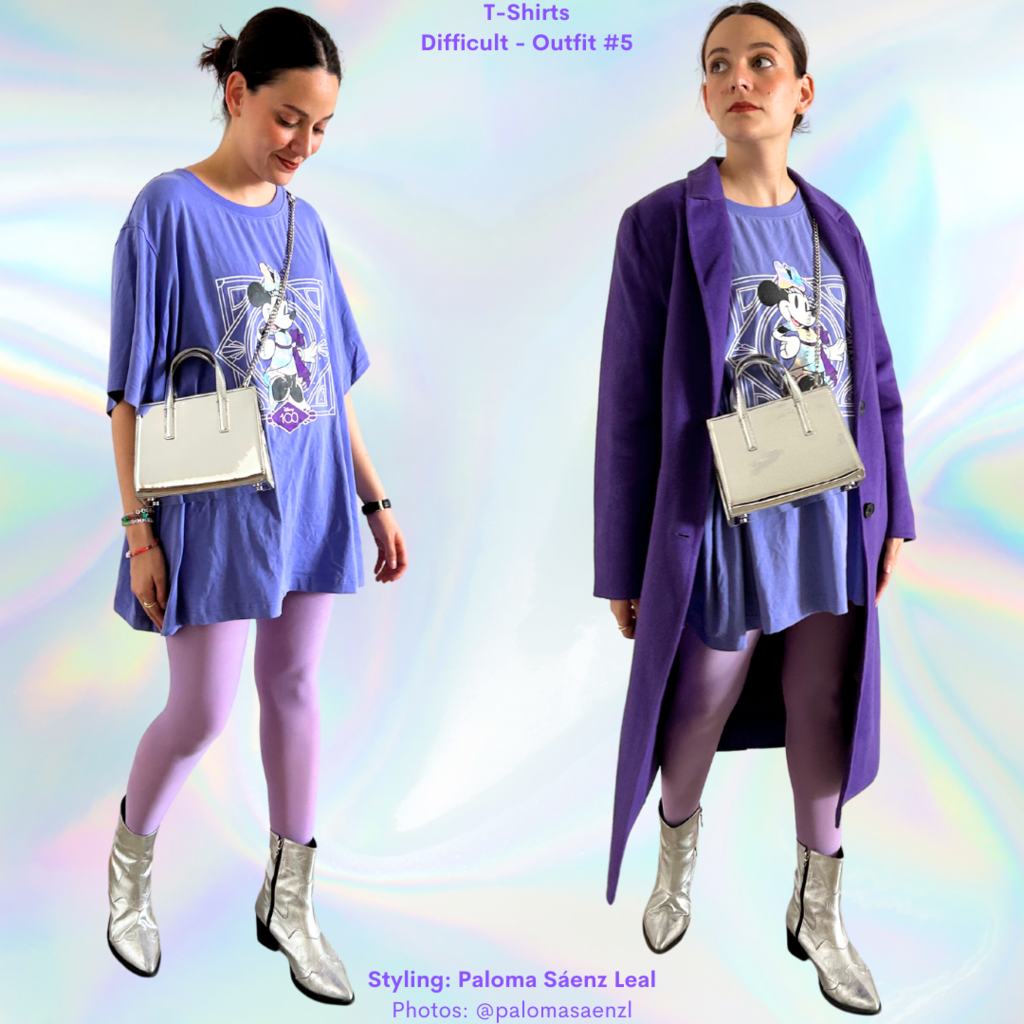 Take the opportunity to make your oversized t-shirt the star of the show. This idea is both simple and challenging due to the size of the shirt.
First, let's talk about the base of the look, an oversized purple t-shirt that has a holographic design. As it is truly large on me, I wore it as a dress. If this was during early summer, I would wear a pair of sneakers and be done. But we're going into Fall now, so I put on lilac tights.
Since the t-shirt has a holographic detail, I added a pair of silver boots and a silver purse to continue that line of colors from head to toe. Just to give you an idea of what I would do if it were colder, I added a purple wool coat as an example.
Oversized shirts work great with biker shorts, tights, and leggings. Sneakers always seem to appear wherever an oversized tee is. But, this is another way to wear them less casually and more for a cool dinner or going out.
If you want to do something similar in warmer weather, make sure that the tee has a length that you're comfortable wearing as a dress, and add a nice pair of platforms, mules, or espadrilles.
Difficult – Outfit #6
As mentioned earlier, t-shirts come in every material, fit, and color under the sun. And while I love my simple cotton tees, I do have a special love for metallics.
Metallic t-shirts are a great way to elevate a simple outfit without doing anything other than putting your clothes on. Right now, thanks in part to Taylor Swift's The Eras Tour and Beyoncé's Reinassance World Tour, metallic t-shirts are easy to find.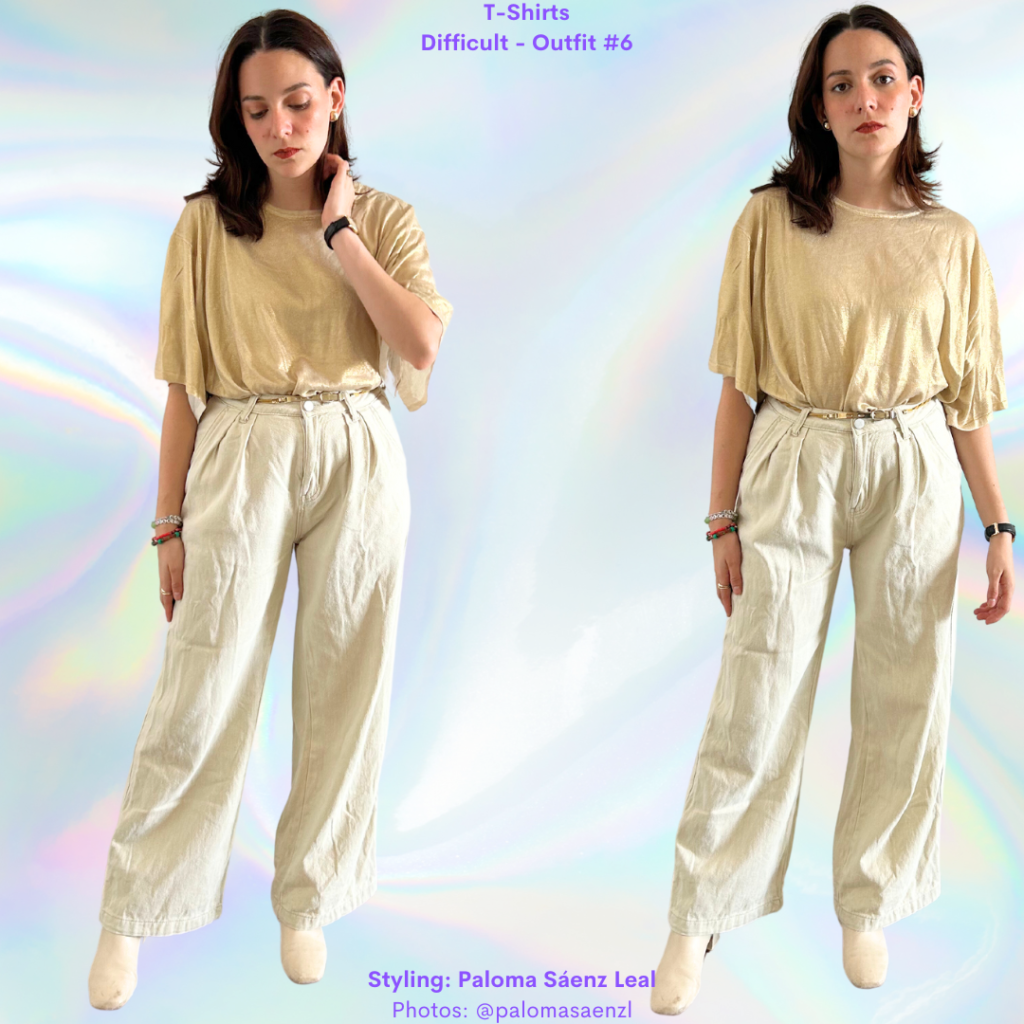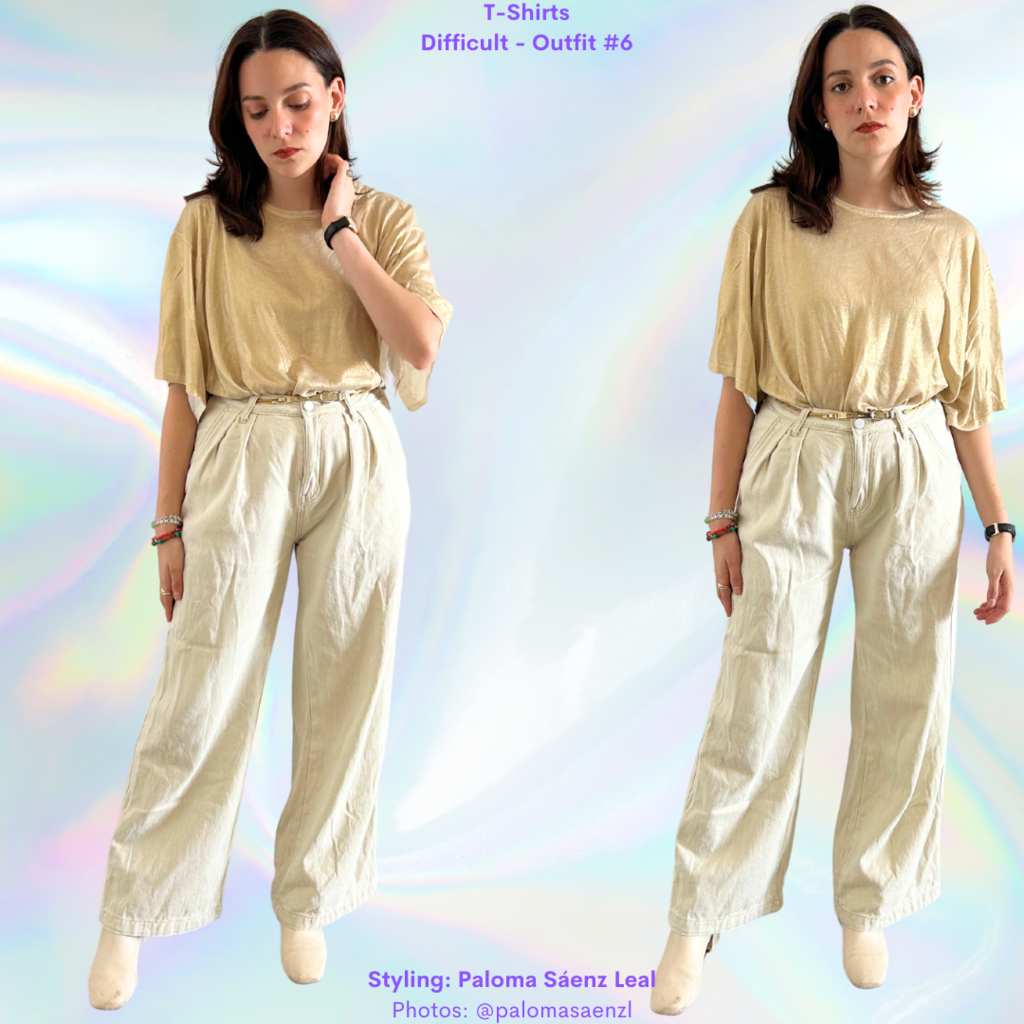 Now, I wanted to recreate my first look with a metallic tee. First, I wore a gold T-shirt. It is on the looser, oversized fit side of things, so I tucked it into a pair of wide-leg, tailored jeans in off-white.
Instead of white booties, I chose a pair of squared-toe, off-white booties. Finally, I added a gold chain belt and the same gold jewelry from the first look as accessories.
You may have noticed that this is basically the exact same outfit as #1. Both jeans are the same cut and I wore booties and accessorized with almost precisely the same items. I could wear this tee with the exact same jeans, belt, and booties from the first look, but I wouldn't let the warm t-shirt shine with these cooler-toned items.
If you want to wear blue jeans with gold, try light-wash jeans or warmer-toned ones. The reverse applies to silver; dark wash, cooler-toned jeans will allow silver to shine more.
Difficult – Outfit #7
We're quickly approaching the colder seasons of the year: Fall and Winter. And colder weather means layers. Layers, layers, layers.
One of my favorite trends is tulle (or mesh) long-sleeve tops. They have been around for a while, but now they dominate all the "Basics" sections in stores.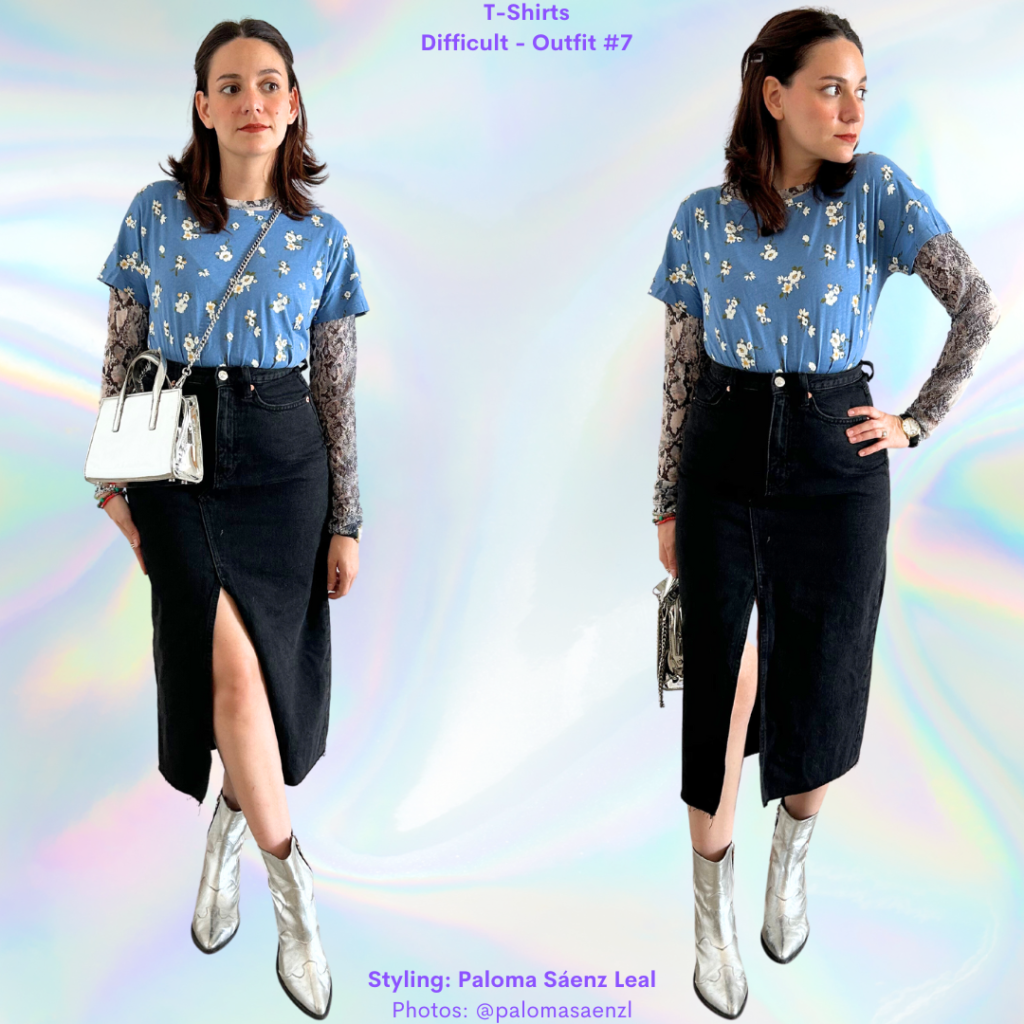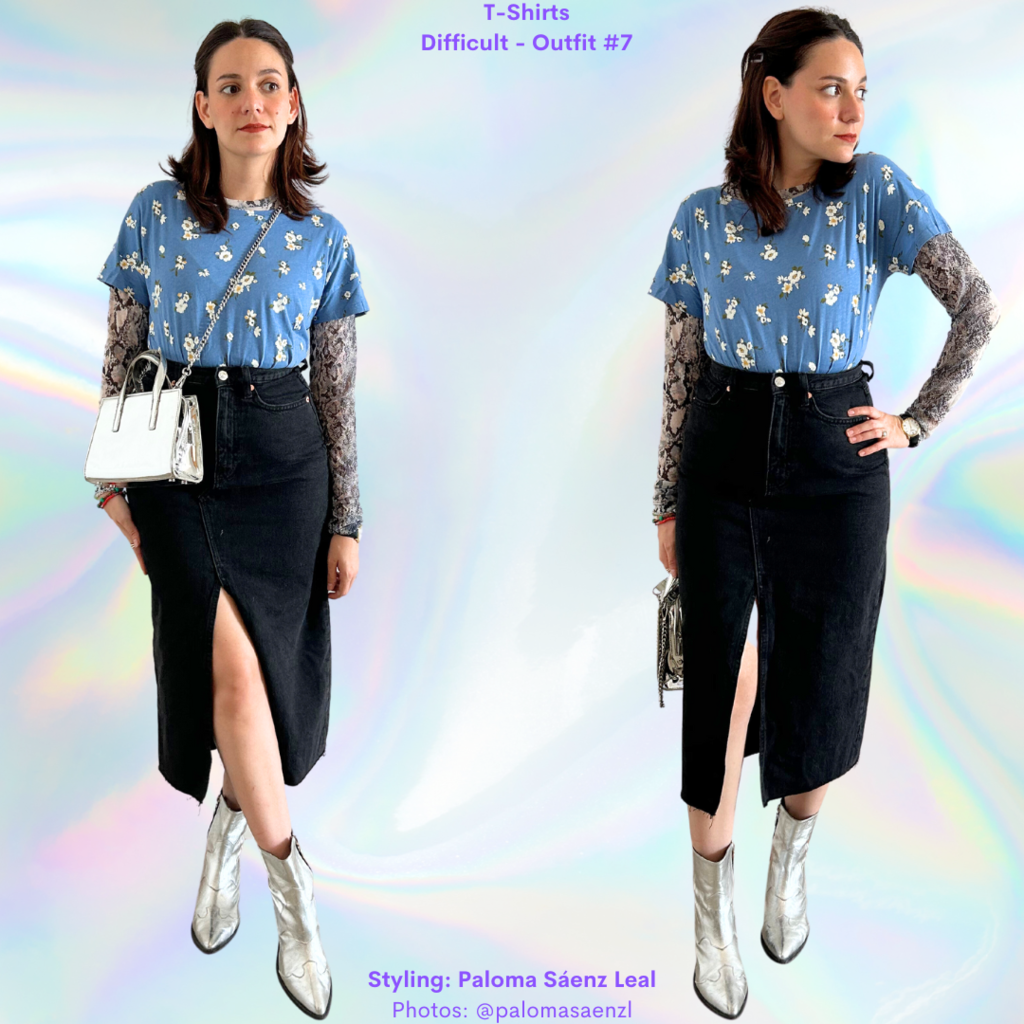 For my transitional weather look, I wanted some pattern mixing. First, I put on a blue snake print mesh top that has long sleeves. Then, I layered with a blue floral print t-shirt. For bottoms, I added a high-waisted black pencil skirt.
Finally, I wore a pair of silver cowboy boots and a silver purse to add some shine to the blue-toned outfit.
As always, remember that the key to pattern mixing is colors and size. The snake print is small and repetitive, while the floral print is larger and more sporadic. Both, while being slightly different blues, are muted in hue, which helps them work together.
Difficult – Outfit #8
What styling post would this be if we didn't cover at least one non-neutral monochromatic look?
Right now, bright colors (or colors in general) are having a renaissance. And, while Fall/Winter fashion always leans more neutral and minimalistic, many more colors are trending than in past years. And one of those colors is purple in all its variations.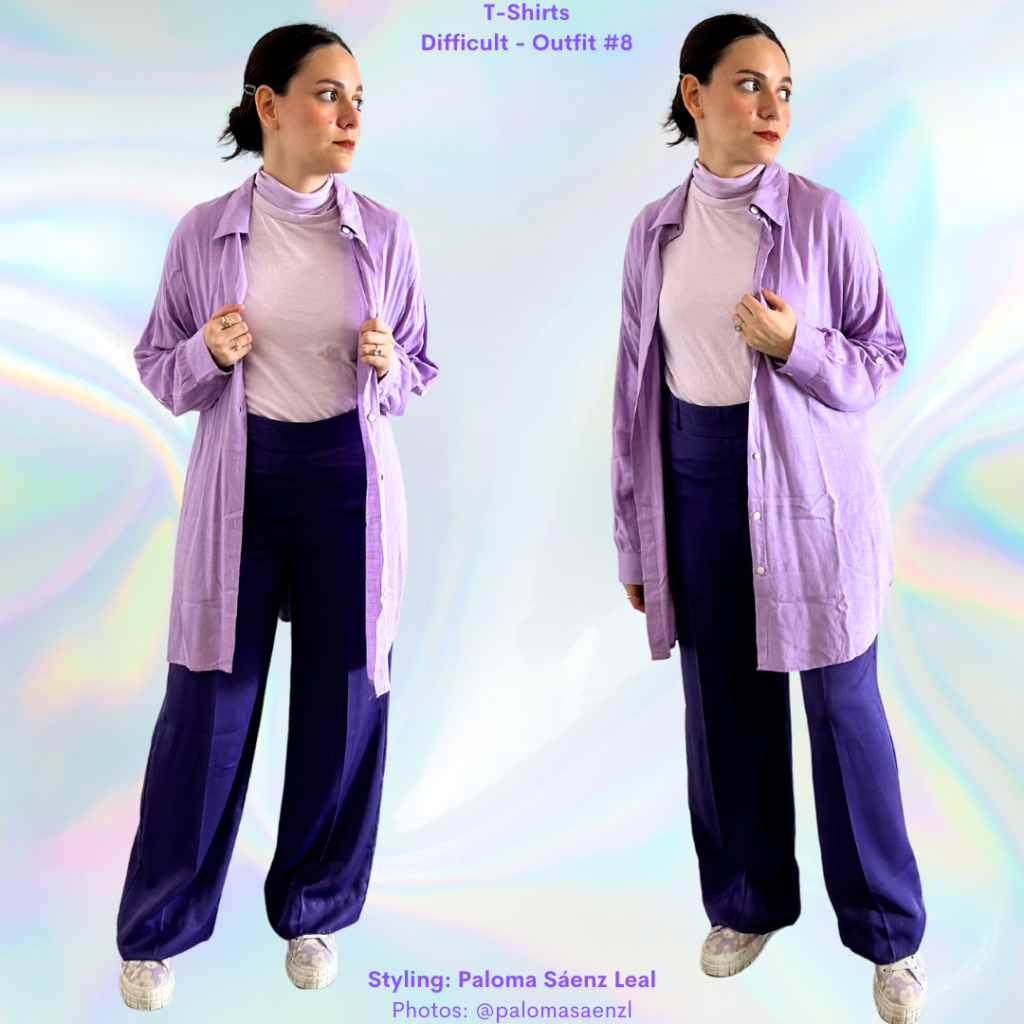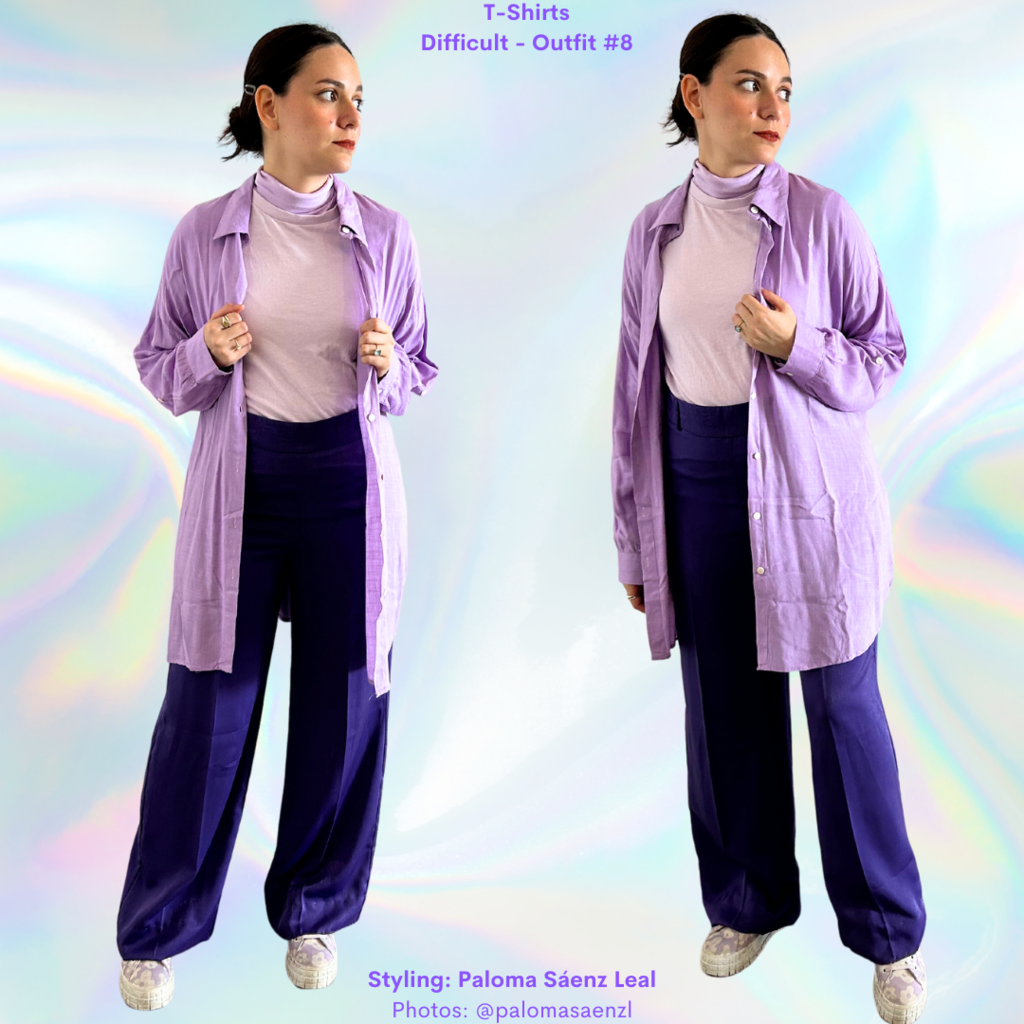 To create this look, I started with a lilac turtleneck shirt. This turtleneck is in a thin fabric, so it's better for early Fall and layering. For my T-shirt, I chose a lilac tee. Now, for bottoms, I grabbed a pair of wide-leg, bright purple pants. For shoes, I wore lilac platform sneakers. I finished by layering on an oversized lilac shirt.
The key to layering colorful t-shirts is to play with them like you would any colorful item. Be mindful of color theory, but have fun with them. They're as versatile as neutral tees and will get you out of a fashion jam if you're in one. When going monochromatic, play with different textures, hues, and tones to give the outfit more depth.
What are your favorite ways to style t-shirts?
How much do you wear T-shirts? Would you wear any of the outfits? Do you have any styling questions? Let us know in the comments below!