This post may contain affiliate links, which means we may receive a commission if you purchase through our links. Please read our full disclosure here.
This post will show you how to dress like a Virgo, with Earth sign-inspired fashion tips.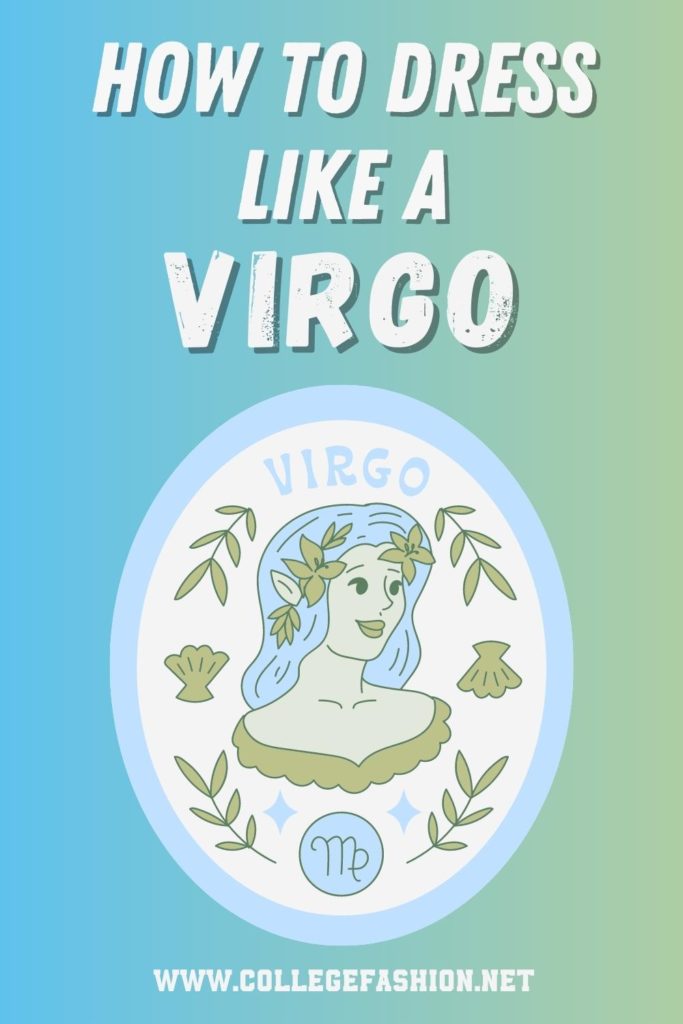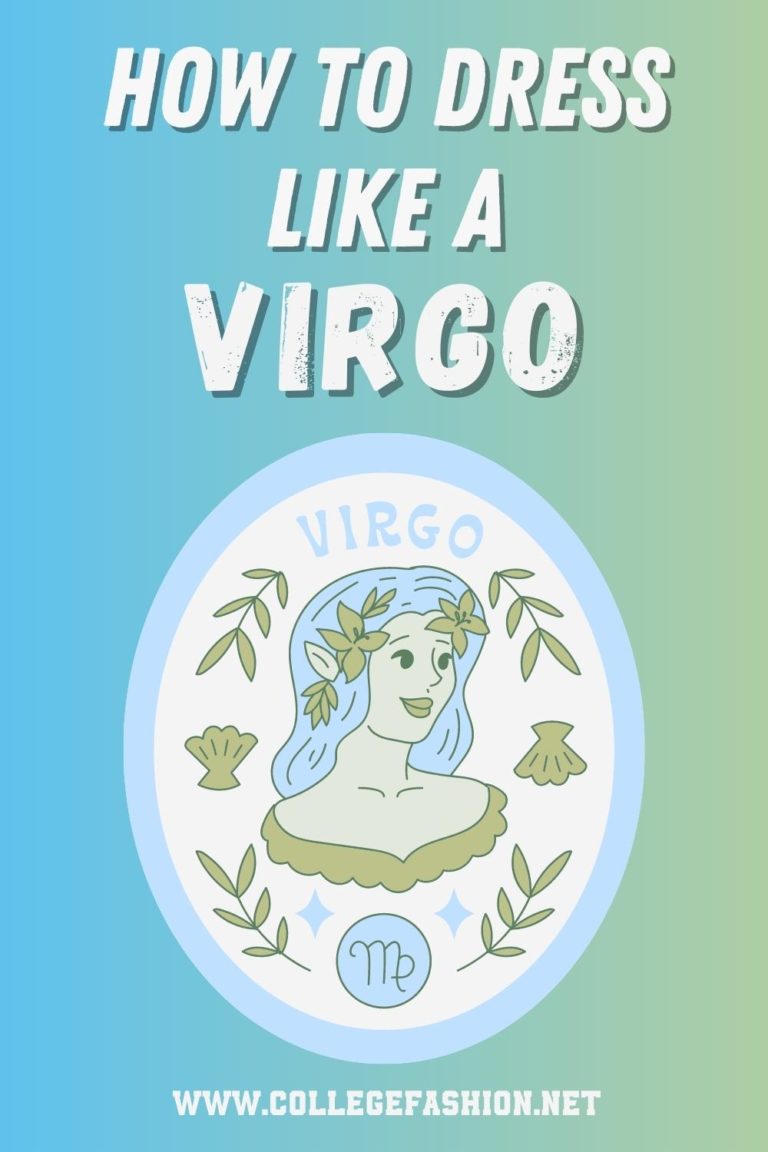 Welcome back to our zodiac fashion series, where we give you fashion tips inspired by your sign and show you how to dress to maximize your best qualities based on astrology.
We're continuing our series with Virgo, an earth sign that applies to birthdays between August 23 – September 22.
If you're a Virgo looking to refresh your wardrobe or are just curious about how a Virgo would dress, read on for our Virgo style guide, full of tips on incorporating your sign's style into your everyday look.
MORE ASTRO STYLE: Aquarius Style Guide, Pisces Style Guide, Aries Style Guide, Taurus Style Guide, Gemini Style Guide, Cancer Style Guide, Leo Style Guide
How to Dress Like a Virgo
If your closet is a chaotic mess, you should call a Virgo to help you out. These pragmatic peeps are arguably the most organized sign of the zodiac, with a knack for processing and organizing information and always happy to lend a helping hand. There's a good chance that their closet—along with their room and every other aspect of their life—is organized to perfection thanks to their systematic way of thinking. (Though contrary to popular belief, Marie Kondo is not actually a Virgo!)
You can count on a Virgo to have a carefully curated wardrobe: everything they buy is thought-out and has a purpose. Virgos tend to be major perfectionists in just about everything that they do, and this extends to their style, too. They always look perfectly put together, and never overlook details (not even the smallest ones), which means they will always have *just* the right accessories to take their ensembles to the next level. This attention to detail is often what sets their ensembles apart from the crowd.
Though they have a methodical, practical vibe that can translate to a smart, minimalistic fashion sense, this certainly isn't always the case. Just look at famous Virgos like Beyoncé, Blake Lively, and Zendaya, who all know how to show up and show out in fashion-forward, eye-catching outfits. Whether they're in bright colors, shimmering sequins, or daring cut-outs, these fabulous women prove that Virgo style is anything but boring. Instead, it's best described as meticulously fashionable.
Virgo Outfits
Want to wear a Virgo outfit? These Virgo-inspired pieces are based on the zodiac sign's defining personality traits and are all under $100.
Mock Neck Sleeveless Sweater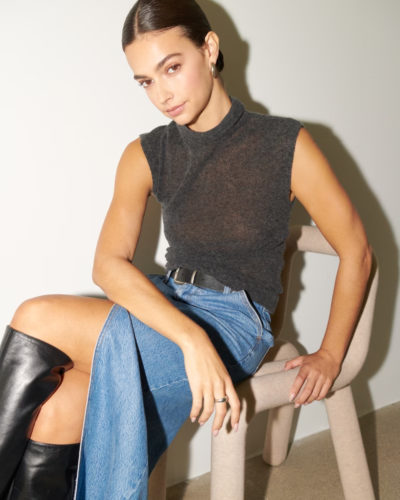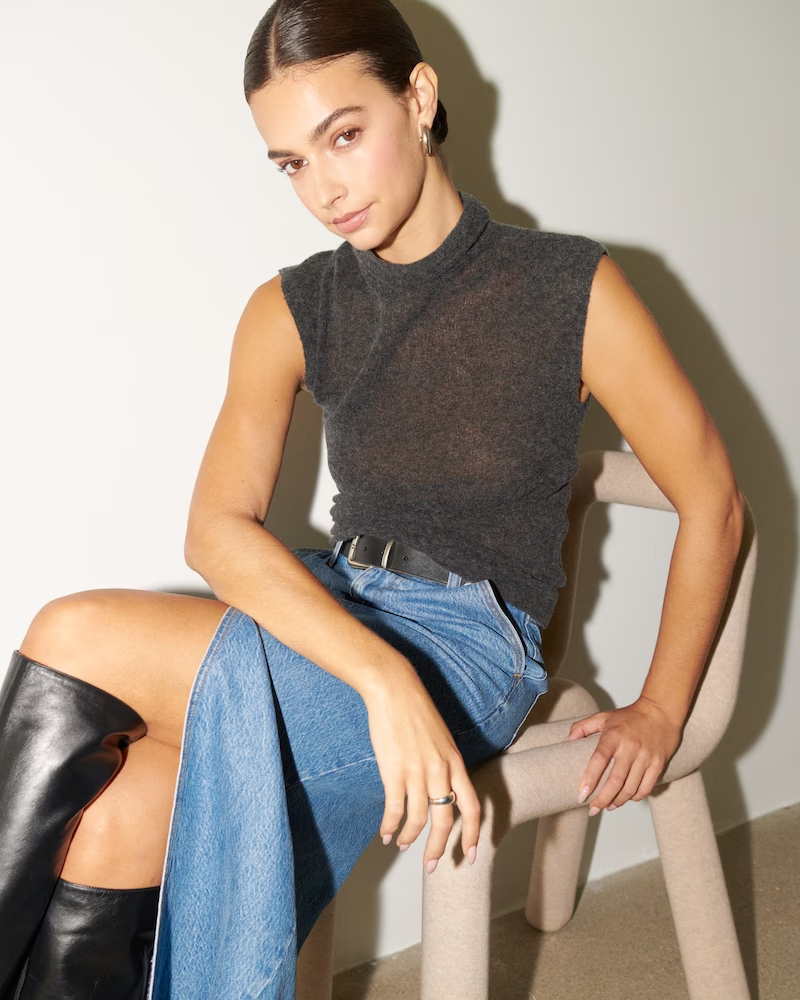 Look instantly polished with this sleeveless mock-neck sweater that is an amazing transitional piece as we head into the fall.
While Virgos are down-to-Earth, they also deeply care about design details, so they're sure to appreciate this sweater's Merino wool-blend material, which really elevates it.
When styled with a denim maxi skirt, statement earrings, and knee-high boots, this outfit is about as perfect as it gets.
Double-Breasted Blazer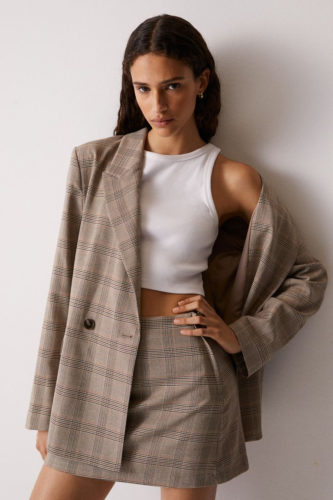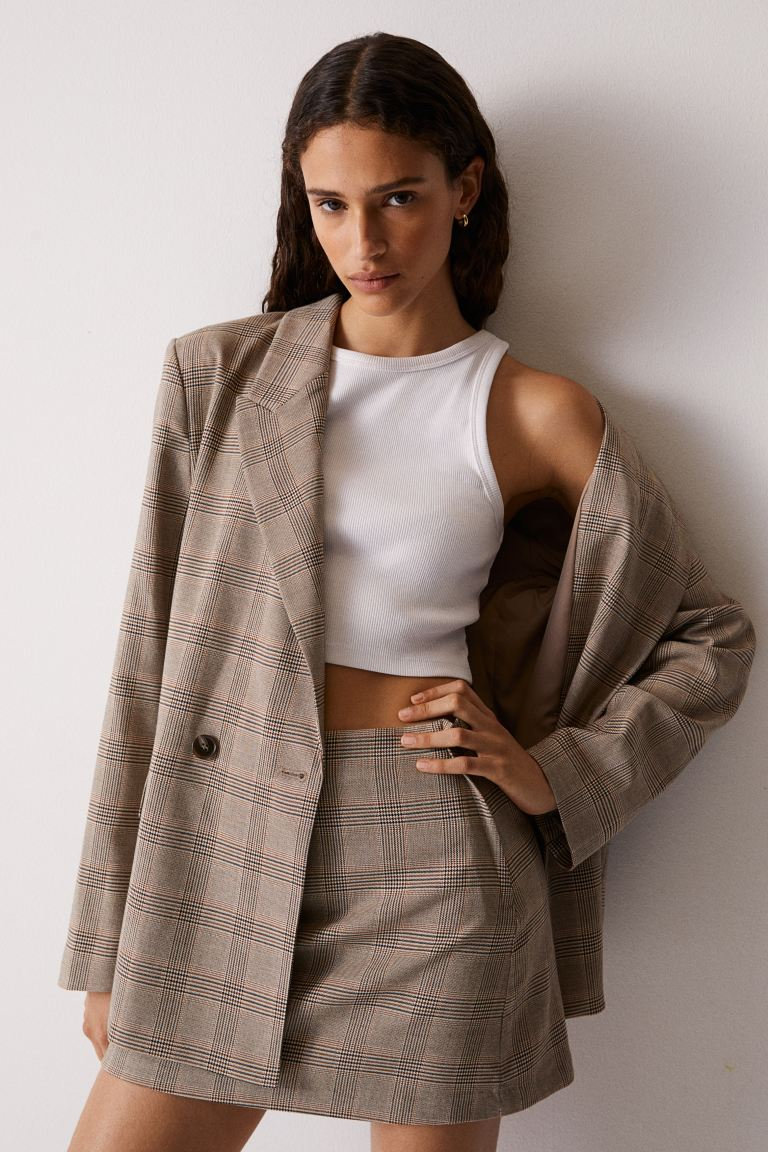 Virgos love having structure in their lives, so you'll want to fill your wardrobe with structured pieces like a sharp double-breasted blazer.
Wearing a blazer is sure to make you look and feel put-together, which is a Virgo's goal when getting dressed. And if you want to step it up a notch further, try styling this blazer with its matching mini skirt for an extra-coordinated and put-together look.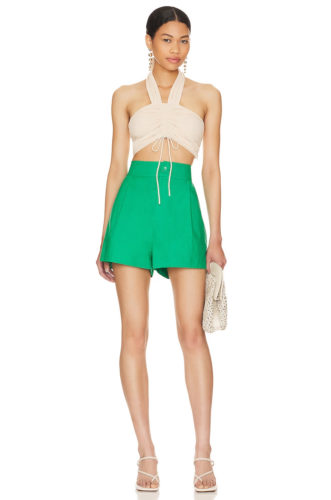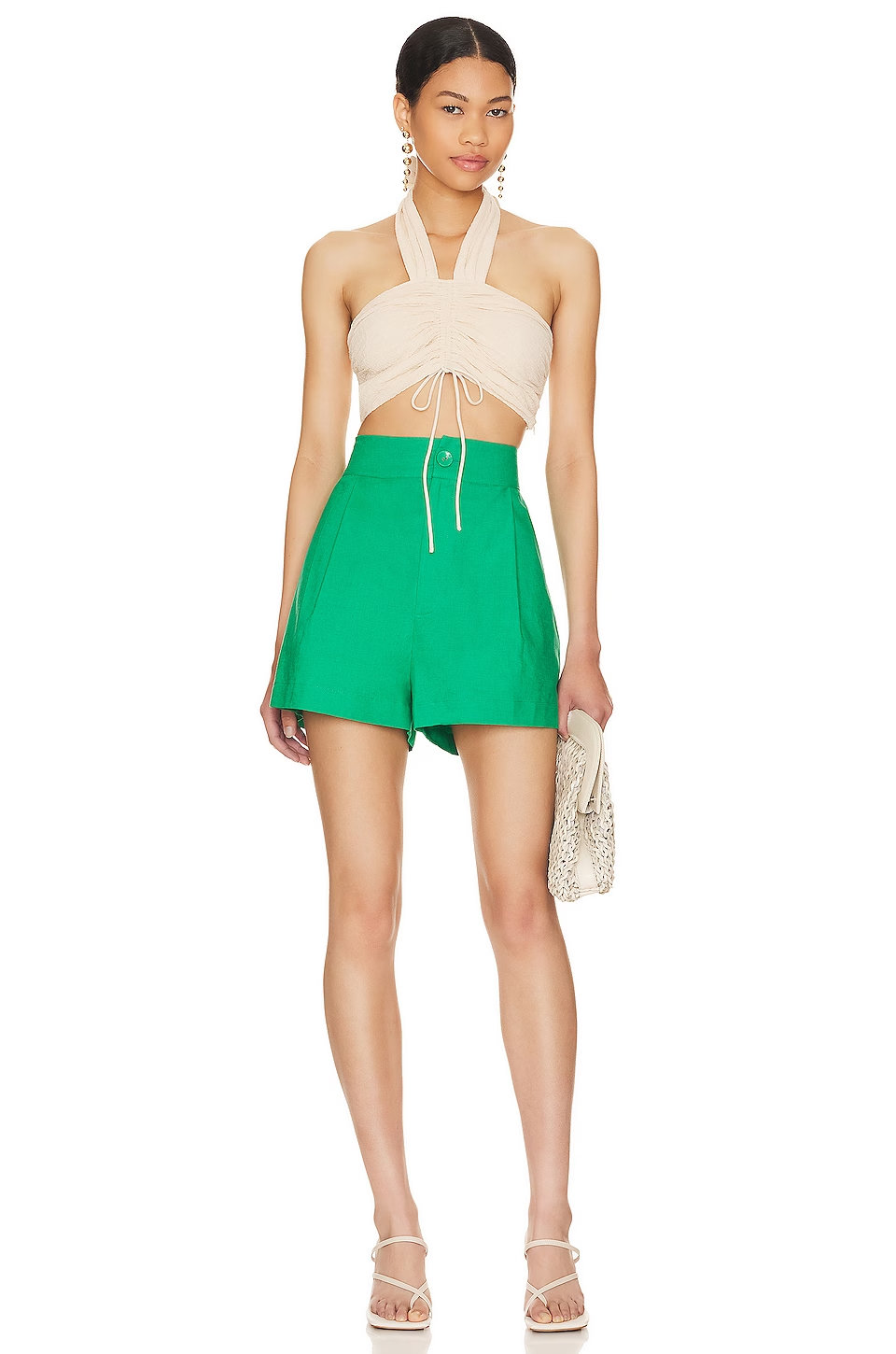 With an eye-catching shade of green and clean, tailored design, it's no wonder these are named the "Virgo shorts."
They are the perfect balance of bold yet classic, and they are sure to set you apart from the crowd. Style them with neutral items like a cute crop top, sandals, and chic accessories for a fashion-forward look. The shorts look fabulous with a classic button-down shirt tucked in. (See below!)
Button-Down Shirt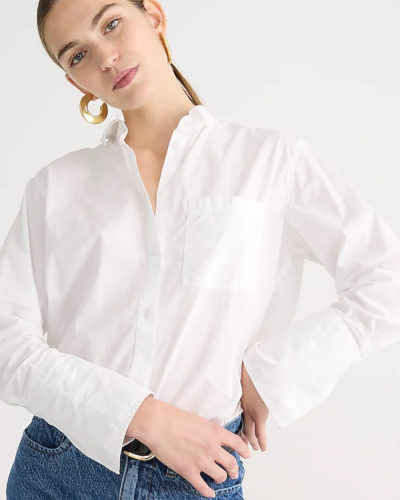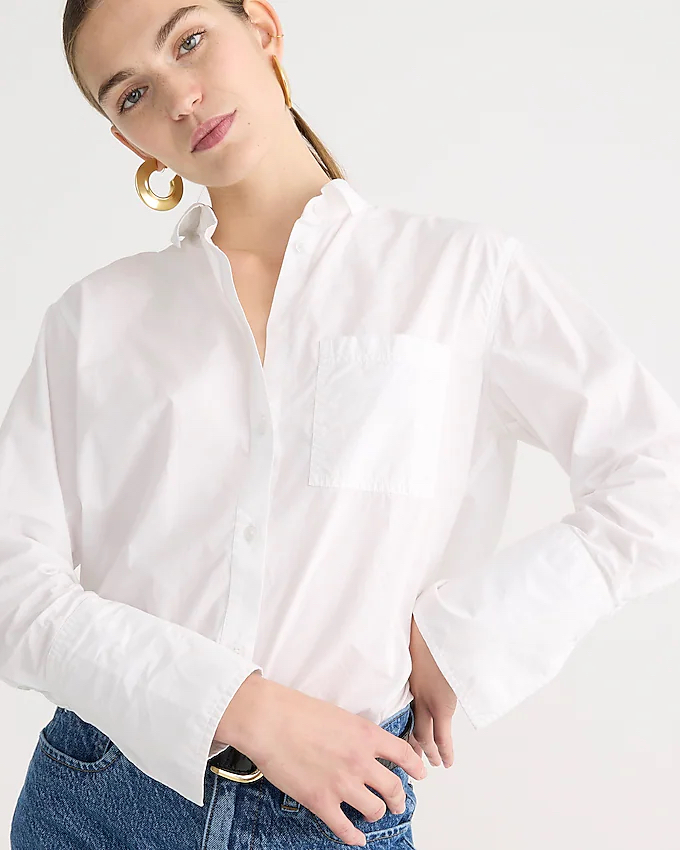 Virgos adore a crisp, classic button-down shirt as it speaks to their neat, practical sensibilities. A white button-down is an item that will never go out of style, is extremely versatile, and belongs in pretty much everyone's wardrobe, making it a piece that a Virgo will totally invest in.
Creating a capsule wardrobe is something that Virgos excel at, and a basic white button-down is a capsule wardrobe staple. Wear it to school, work, or out and about on the weekend—the styling possibilities are endless, especially when accessorized with a Virgo's accessory expertise! (Think statement jewelry, a chunky belt, etc.)
Printed Lace-Trim Mini Dress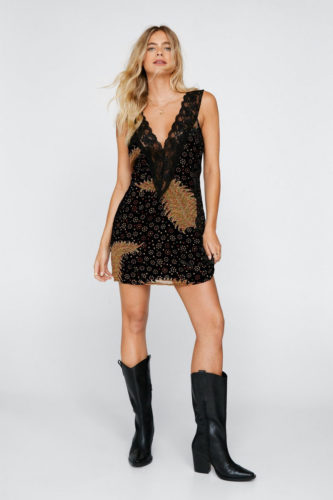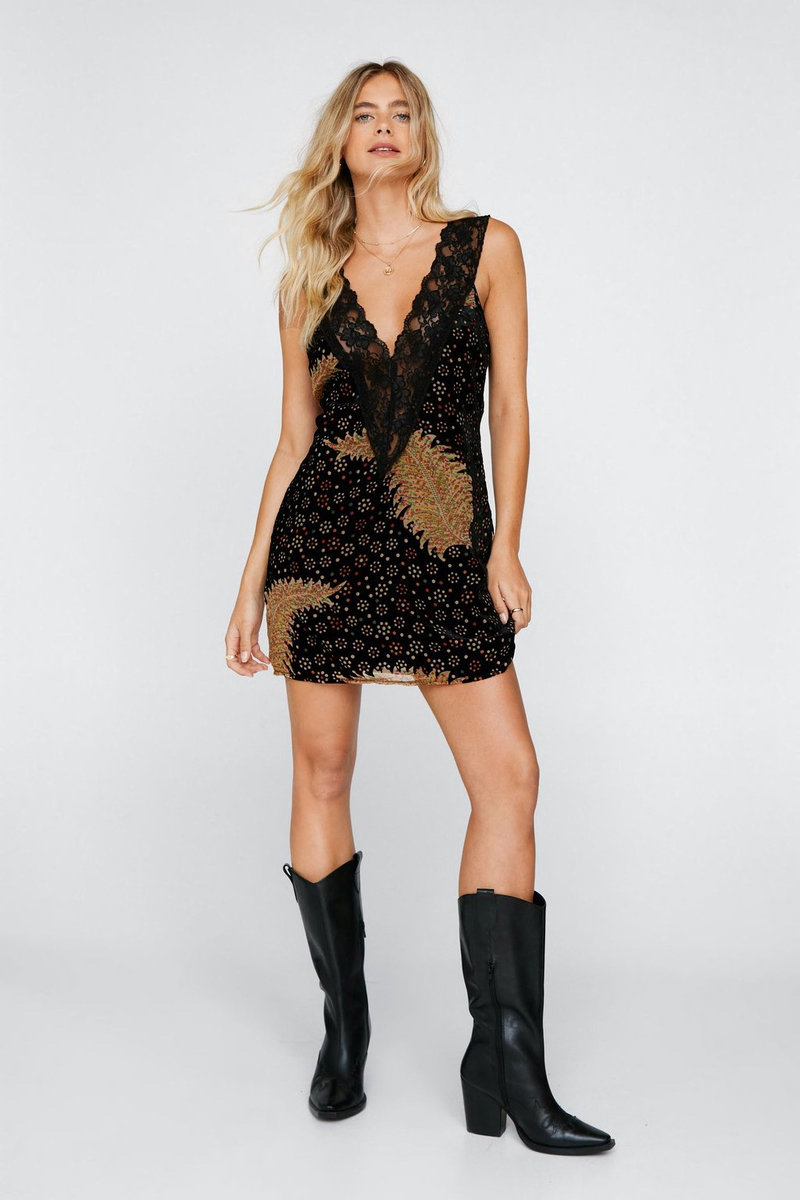 Virgo is an earth sign, so there's a good chance you favor earthy tones and prints and/or clothing with a touch of bohemian flair.
This black mini dress with an earthy feather print is boho while still looking polished thanks to its lace-trim V-neckline and subdued color palette, making it ideal for a Virgo. Plus, it can be worn all year round: with sandals in the spring and summer and layered over a turtleneck with tights and knee-high boots in the fall and winter. Virgos adore practicality!
Sequin Fringe Mini Dress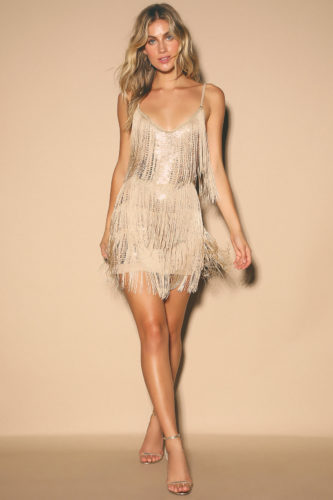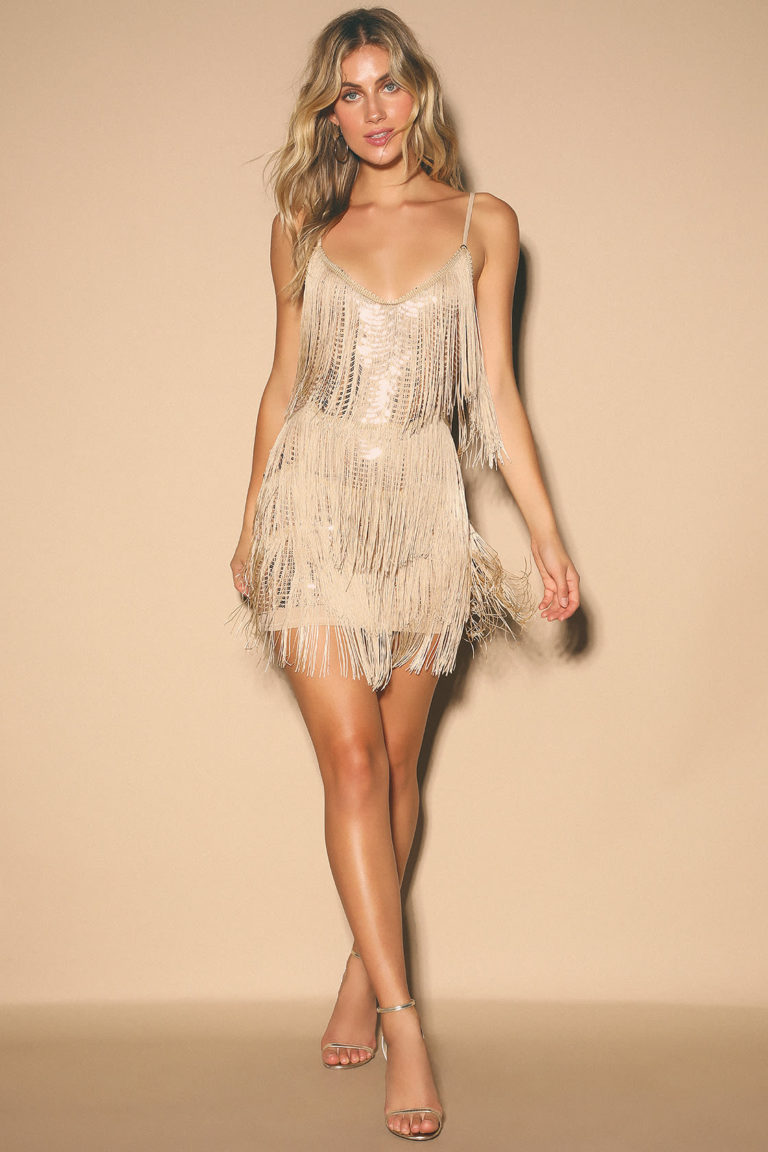 If you're on the hunt for the ultimate birthday celebration dress to mark the occasion, look to the Virgo regent, Queen Bey, for style inspiration.
While on her Renaissance tour, Beyoncé has graced the stage in plenty of sequined looks, including an epic silver sequin fringe Gucci look. You can get a similar look for yourself with this sequin fringe mini dress, which is certainly fit for the birthday girl who's ready to dance the night away! (Or, of course, for any other situation that involves dressing up).
Wear it with killer heels and gold-tone jewelry to amp up the glam vibe, even if you aren't on a world tour yourself.
Virgo Accessories & Shoes
Virgos never overlook the details, no matter how small… which applies to the details of their outfits, too! Finding the perfect accessory to bring an outfit together is a Virgo superpower, so leave it to them to have the cutest accessories to elevate their looks.
August Birthstone Necklace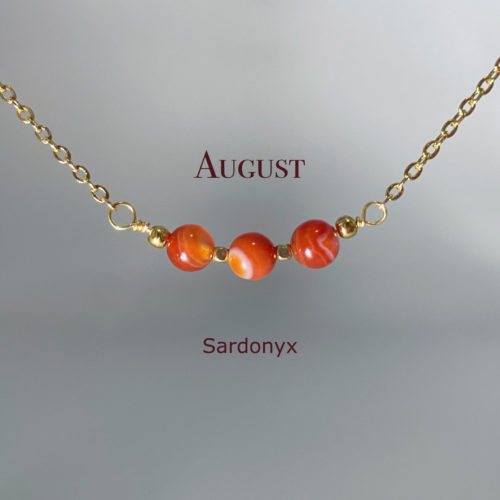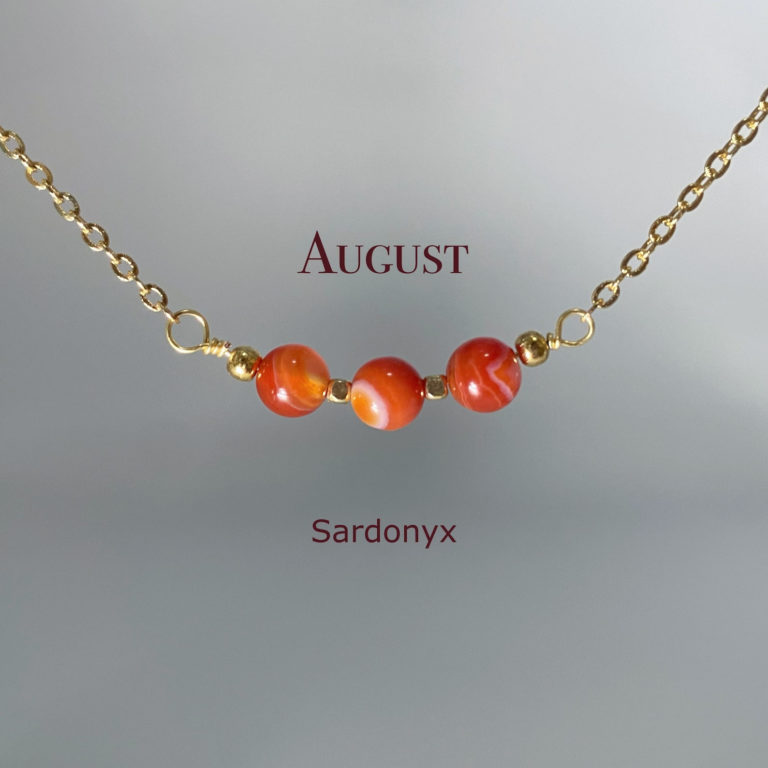 If your birthday is in August, you have not one, but three birthstones to choose from: peridot, spinel, and sardonyx.
Since we suggested that August Leos wear peridot, why not wear sardonyx as a Virgo? This gemstone is associated with clear communication (along with strength, protection, and courage), which is a key Virgo trait. In fact, Virgo is ruled by Mercury, the messenger planet of communication (which, BTW, also rules Gemini).
By wearing sardonyx (like in the form of this cute necklace), which can serve as a means of protection, you may also amplify your communication abilities and feel more courageous.
September Birthstone Bracelet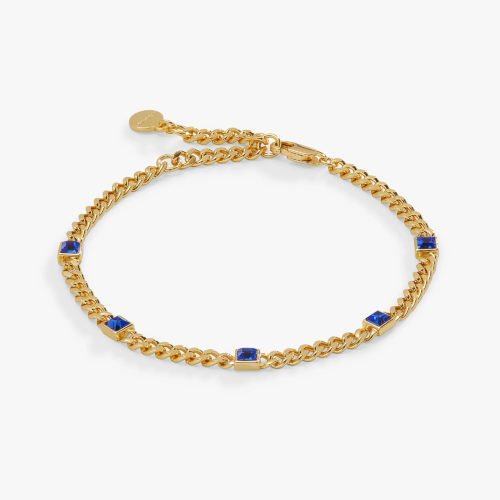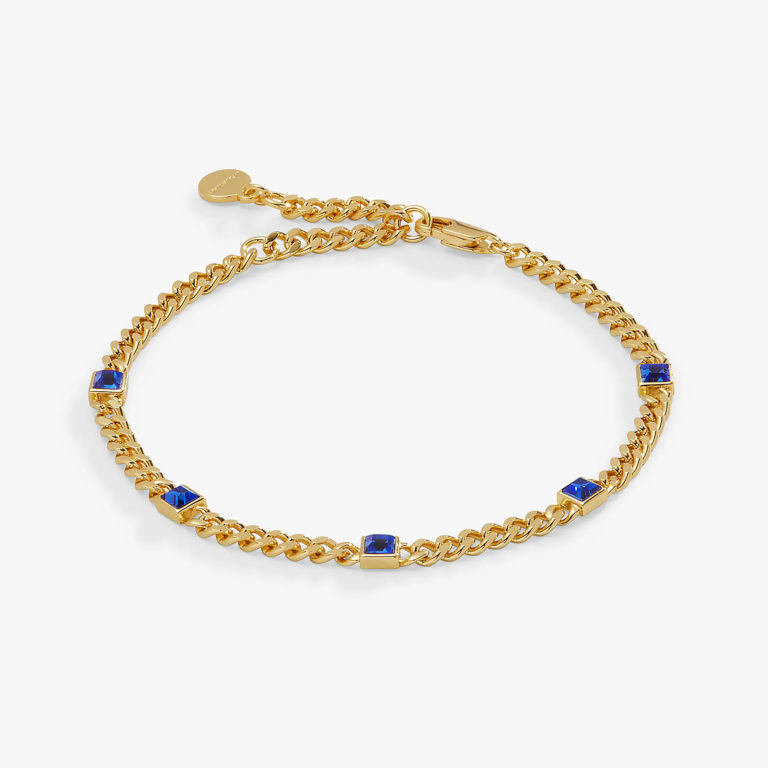 If you're a Virgo born in September, your birthstone is sapphire, a beautiful blue gemstone that symbolizes truth, loyalty, and wisdom, among other things.
Attract abundance and tap into sapphire's symbolic properties with a stylish gold-tone curb chain bracelet with sapphire crystals.
This everyday statement piece will elevate your ensembles thanks to its luxe look, adding just the right amount of sparkle and shine.
Structured Shoulder Bag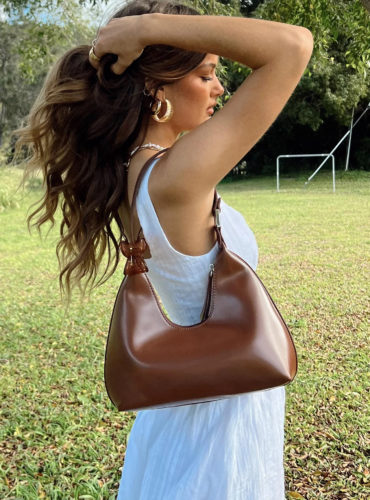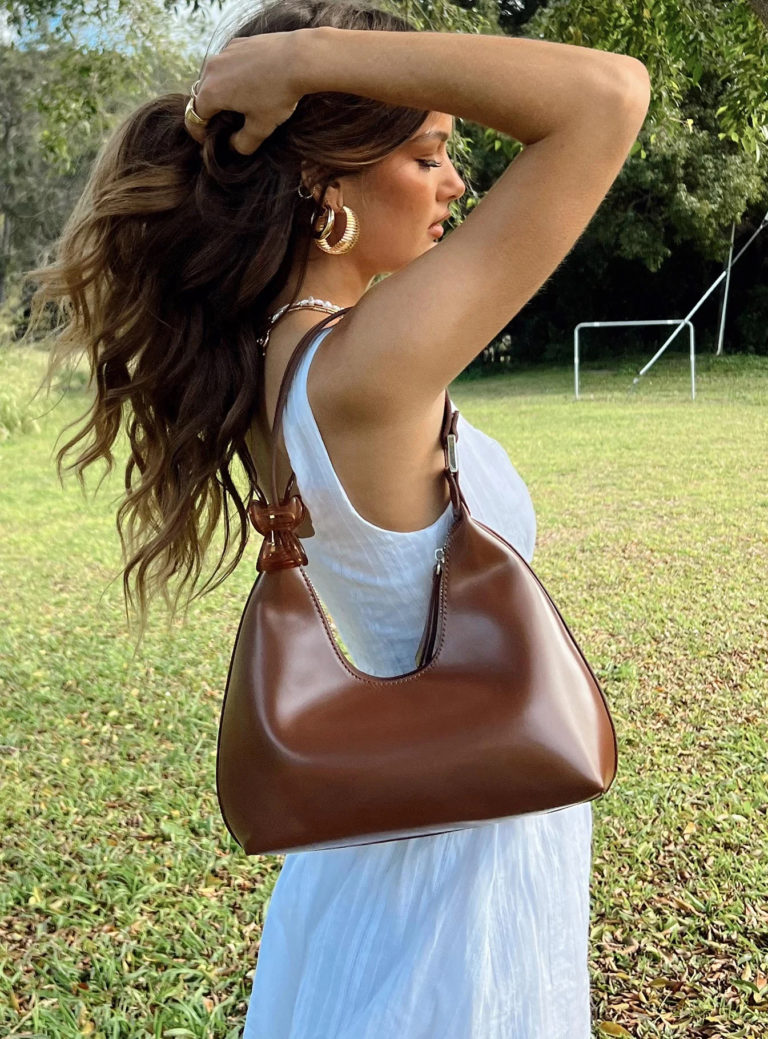 Virgos always have the perfect accessories that make an impact and bring their outfits together, and they know that a chic handbag is one of the best ways to do this.
This brown structured shoulder bag looks way more expensive than it is, thanks to its chic shape and smooth, glossy faux leather material.
Its rich, earthy brown color is also right up this earth sign's alley.
Bronze Ankle-Strap Heels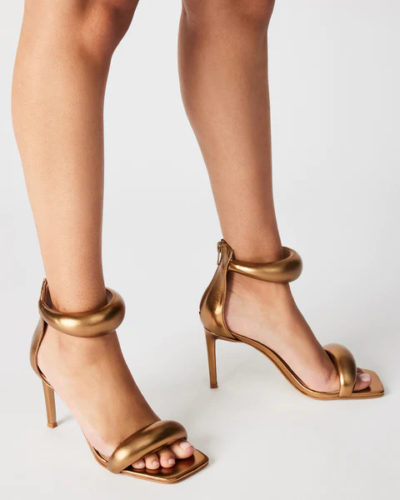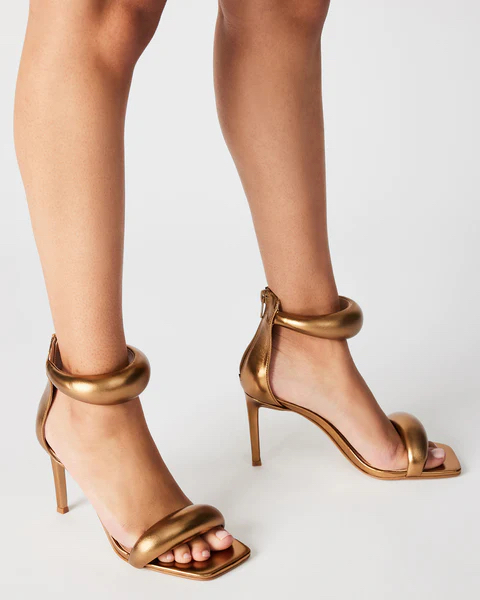 One thing that Virgo style star Blake Lively is known for is her impeccable taste in footwear—in particular, her eye-catching heels, worn both on Gossip Girl and in real life.
Take a page out of Blake's style book with these square-toe bronze ankle-strap heels that have an architectural design for ultimate impact. The straps are tubular for a 3-D effect, while the shimmering shade of bronze is super unique. These would also be perfect for pairing with that sequin fringe mini dress (above)!
Rectangular Buckle Belt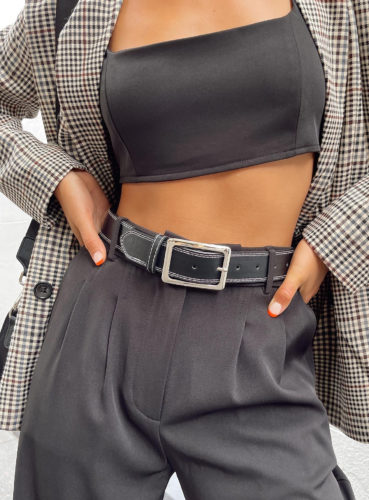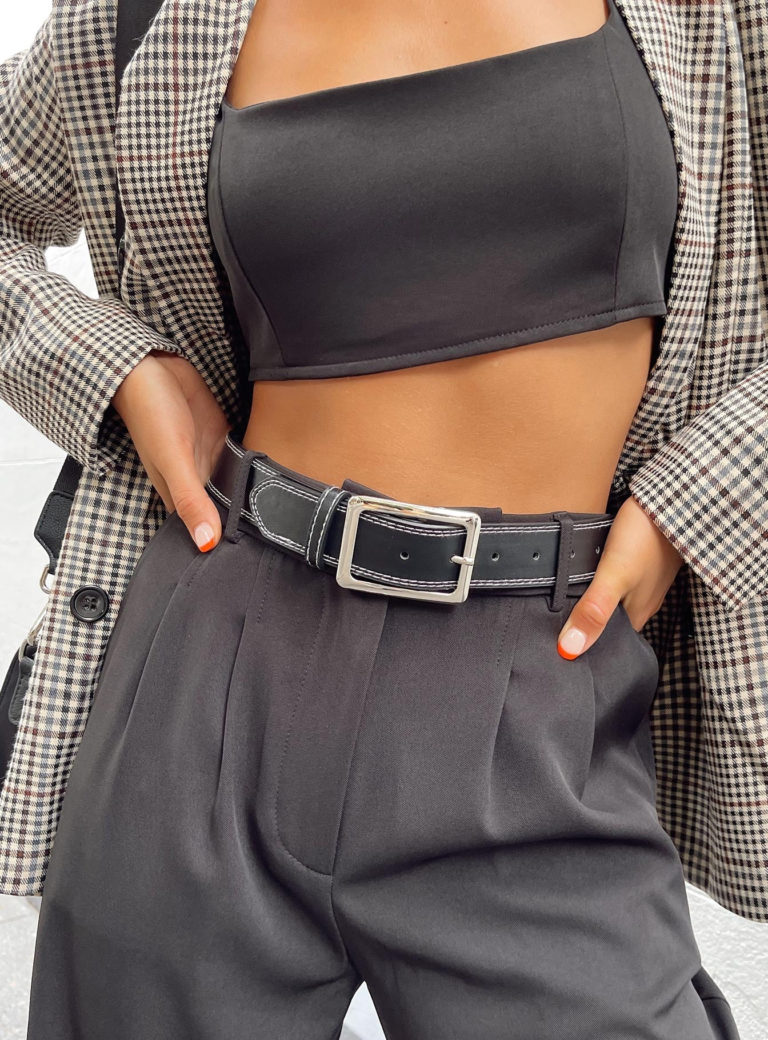 A nice belt can instantly make an outfit look more put-together and elevated, which is why Virgos don't overlook this classic accessory.
Opt for a belt with a rectangular metal buckle and special detailing, like contrast stitching. This belt's white contrasting stitching gives it a bit of flair while still having an overall streamlined look.
Virgo Cell Phone Case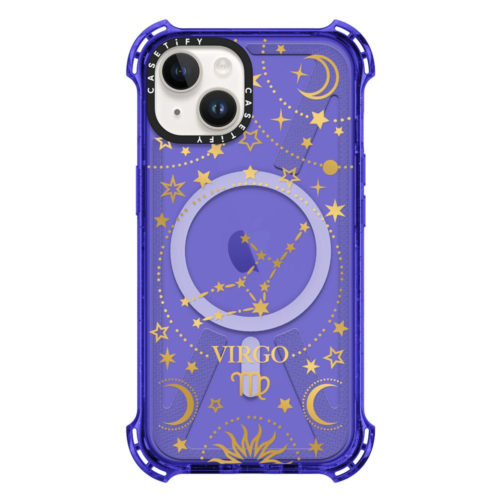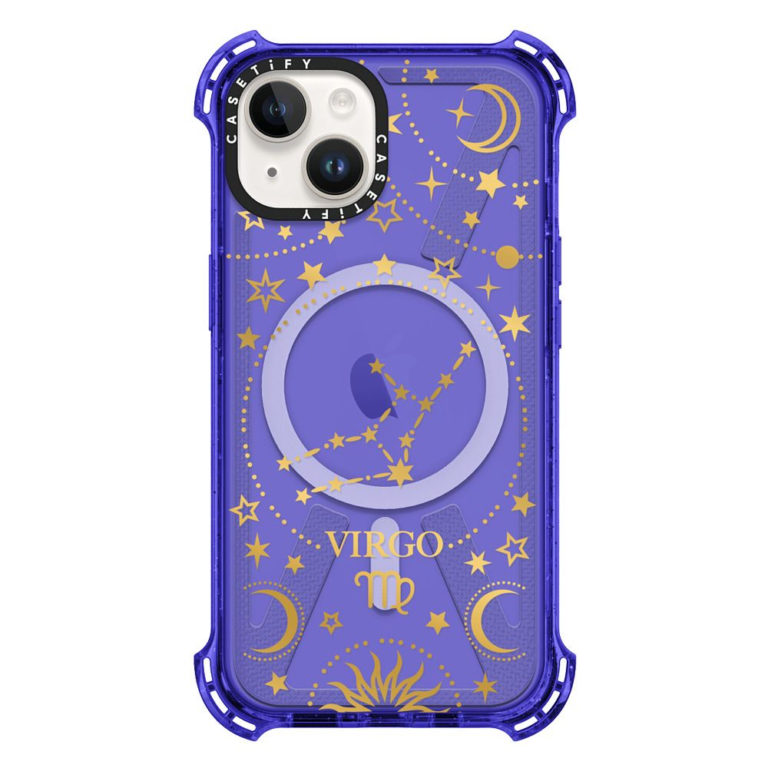 Show off your star sign with this Virgo cell phone case that features the Virgo constellation along with celestial designs. This case isn't just pretty; it's ultra-durable and protective too, with its bounce corners and impact-absorbing technology. If you are a Virgo who is prone to dropping your phone a lot, you definitely want to consider this one!
What do you think of our Virgo style guide?
Do you agree with these Virgo fashion picks? Which of these looks is your favorite? Leave a comment and let us know!